If you've been car shopping at a dealership, you're probably aware that there are charges aside from the vehicle price and applicable taxes. These fees often include title fees, pre-delivery inspection fees and destination fees, but you may not have heard about a doc fee until you're actively hammering out a deal with a salesperson.
What is the doc fee all about, and is it legit? Here's what you need to know about doc fees and other dealer fees when you're buying a car.
Looking at a used car? See if there's anything in its history you'd want to know about beforehand with a VIN Lookup – run 50 vehicle searches per month with a Bumper subscription!
What is a doc fee?
As a fee often charged to car buyers, the doc fee can feel vague or misleading. "Doc" is short for "documentation" or "document," which helps illuminate what the fee is all about. Documentation fees are charged by dealerships to complete the paperwork necessary and file it to the proper channels.
While it seems like a simple process, there are several contracts and forms that the dealership has to fill out. That includes a financing agreement that needs to be filed with the lender, title documentation to be submitted to the DMV, extended warranty forms filed with providers and taxes paid to the state. For new cars the vehicle needs to be "RDR'd," meaning having a Retail Delivery Report processed to assign the car to an owner and initiate the vehicle warranty.
That's more work than one salesperson can realistically perform. Doc fees help pay salaries for people you probably never see including the comptroller, accounting staff, administrative assistants and management.
Unlike other fees, the doc fee goes straight into the dealership's coffers. It's a flat-rate fee and there's no breakdown provided regarding how that fee is disbursed, so it's possible that some of it ends up going straight to profit.
How much is a doc fee?
The amount of a dealer doc fee, unfortunately, isn't flat or price regulated across the country. From one dealership to the next and from state to state, doc fees can vary by hundreds of dollars.
In 15 states, the dealer doc fee has a capped amount, however dealerships can choose to sell a car with lower fees or without any doc fee at all. In the remaining states, there are no limits on how much they can charge.
When there isn't a cap on the fee, it's up to the dealer to set the doc fee amount. It's primarily based on the market. They might charge fees ranging from nothing at all to $1,000. However, the fee has to be charged on all new and used vehicles alike, so it can't be so steep that buyers find it too unreasonable to add to the selling price.
Keep in mind that each state has the ability to legislate their own documentation fees or dealer fees, and they're subject to change. Since most car buyers are annoyed by the added fees, don't be surprised to see more states implement maximum doc fee limits.
Lowest doc fee states
The following states all have dealer doc fees averaging $200 or less.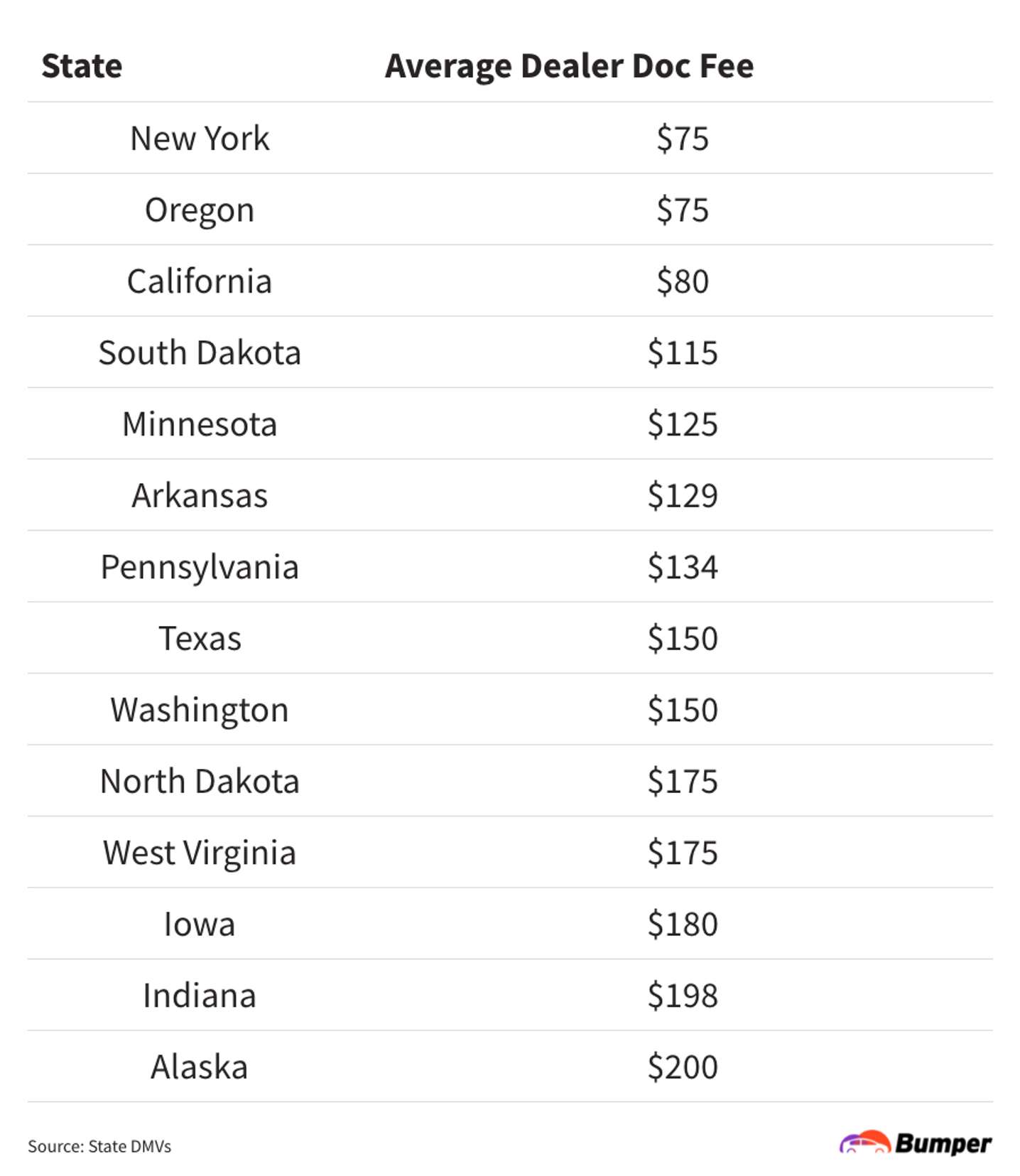 Are doc fees negotiable?
From dealership to dealership, the doc fee has the potential to be different even in states where a limit has been imposed. Skipping the dealer doc fee may be possible if you search for one that doesn't charge it on any sales.
The kicker for doc fees is that most states legislate that they have to be charged uniformly. Whether you're buying a new or used car from a particular dealership, they must apply the same doc fee to your transaction.
There's the odd state like Connecticut where the law says that the documentation fee is negotiable, but that's a rare exception.
Rather than trying to negotiate the doc fee, it's better to focus on the overall selling price. You may have better success getting the dealer to drop the sale price rather than fighting to scrap the doc fee.
If you aren't locked into one dealership—say there are four Chevrolet dealerships within a relatively close drive—it could help to call each one ahead of your visit to find out their doc fee and how rigidly it's applied.
Is there a tax on the doc fee when buying a car?
You pay taxes on the doc fee, but it's not a separate line item. The doc fee is part of the car's final sale price, and that's what gets taxed. For example, if you purchased a vehicle for $29,000 at a dealer with a $200 doc fee, you would pay sales tax on the $29,200 total.
That's why it's recommended that you focus on the car's out-the-door price rather than the fee itself. In the end that's the only number that matters.
Other car buying fees
In the auto industry, you can't escape fees. Some are direct from the manufacturer while others are legitimate charges from the dealership. But not all fees are on the up and up. They could be a way for the dealership to collect easy money through "mandatory" services, driving up the price of your purchase.
Legitimate fees
These fees are what you can expect to find on the typical dealership invoice, and they're legitimate. You can't get away from paying these fees.
Destination fee
Going by names that include "destination fee," "destination charge," "freight charge" or "freight, delivery charge," it's the cost of getting vehicles from the port to the dealership. Destination fees are included on the dealer invoice from the manufacturer, can be seen on the window sticker and the cost is passed along to you, the customer. Destination fees vary between carmakers but are typically between $900 and $1,200.
Title and license fee
When you buy a car from a dealer, they usually take care of filing the paperwork with the DMV on your behalf. It comes with a fee though. Each state is a little different and the charges are according to the prescribed state amounts. Expect anywhere from $50 up to a few hundred for title, and licensing is according to predetermined rates from the DMV.
Sales tax
The taxman always gets his portion. On car sales at a dealership, the sales tax is collected on the invoice and submitted to the state on your behalf. This will be an amount calculated according to the state's tax rates.
Registration fee
Registering your car is a separate process from licensing in several states. The registration fee is collected by the dealership rather than making you wait in line at the DMV. It can range from nothing to a few hundred dollars, depending on the location and the make and model.
Regional advertising fees
Some carmakers tack a fee onto their vehicles to offset the cost of advertising and promotion. While it might seem like something that goes against normal business practices, it's nonetheless incorporated into vehicle pricing with manufacturers like Nissan and Toyota. It can be anywhere from $250 to more than $2,000.
Fees you should never pay
Some fees that dealers try to charge are a flat-out rip-off. If you're faced with any of these fees, question them prior to signing anything and negotiate them away. Otherwise, find a dealership that doesn't charge them.
Dealer prep fee
Before you take delivery of your car, most dealers will detail it and possibly fill the tank with fuel. While that's a nice thing to do, a select few might try to charge you extra for it under the guise of a dealer prep fee. Essentially, this is a fee for giving the car a courtesy wash and gassing it up, but those are things you should get at no charge.
ADM fees
Literally, an ADM fee is telling you you're getting ripped off. It's an acronym for "Additional Dealer Markup," which means it's being sold for more than the sticker price or retail price. If that sounds hinky, it's because it is.
The very rare instance where an ADM might be acceptable is for a specialty or limited production model where competition to purchase one is extremely high. Even then, you can probably locate a dealer that won't charge an ADM fee to sell you a car.
VIN etch
In principle, VIN etch is a good idea. Each body panel is marked with a serial number in the event the vehicle is stolen and disassembled for parts, and you're sold an "insurance" to pay you a lump sum if it happens. However, virtually no one ever tries to collect on a VIN etch. It ends up being a scheme that pays the dealership money with almost no chance of any benefit to you.
Floor plan fee
Dealers are charged a fee for vehicles in their inventory on a monthly basis—it's a cost of doing business. Some dealerships like to collect that interest back from the unassuming customer as a fee on the invoice, but it isn't the customer's fault that the dealer hasn't moved their inventory quicker. A floor plan fee should be scrubbed from a sales agreement before you sign.
Additional delivery or destination fees
A destination fee is paid as indicated on the window sticker, and that's fair. However, a dealership may try to double-dip on the delivery or destination charge on the invoice. It can be easy to confuse the customer since the legit destination charge is sometimes wrapped up in the total selling price, not the fees that are separated out. You need to keep a close eye on the pricing to catch additional delivery charges sometimes.
What to do if you suspect you're being scammed on fees
Dealers are in business to make money. But if they color outside the lines and charge more than is fair, you have options.
If you're being charged more for a dealer doc fee than the state's capped amount, the first thing to do is confront the dealership. If they don't adjust their pricing "mistake," you are well within your rights to contact the local dealer association. As an example, you can contact the Georgia Automobile Dealers Association for franchised dealers in the state, or the Georgia Independent Auto Dealer Association for non-franchised stores. They'll address the concern.
Other fees aren't illegal necessarily, but they aren't ethical practices either. You may not have any legal recourse if they won't reverse their fees or offset them with a discount, but you can make your displeasure known. Customers are free to leave reviews on Google, Yelp and their dealer website to let others know what to expect when buying a car from a shady dealership.
Frequently Asked Questions
Are dealer documentary mandatory fees?
Doc fees are not mandated in the sense that there's any law stating a dealer must charge a doc fee. But many (if not most) dealers charge them as a way of funding back office support staff.
Should i pay doc fees on a new car?
If it's part of a dealer's fee structure, you likely don't have a choice. That's why it's better to focus on the total sale price of the vehicle. If you don't want to pay the doc fee but the dealer won't budge, you may be able to negate it by negotiating the price of the car down by the same amount.
Should I pay doc fees on a new car?
If it's part of a dealer's fee structure, you likely don't have a choice. That's why it's better to focus on the total sale price of the vehicle. If you don't want to pay the doc fee but the dealer won't budge, you may be able to negate it by negotiating the price of the car down by the same amount.
Do you pay doc fees on used cars?
Most likely. Most states require dealerships apply doc fees uniformly across new and used cars, regardless of the price. This makes sense, because the back office documentation is more or less the same whether you're buying a $90,000 luxury SUV or a $5,000 commuter car.
Do I have to pay doc fees when I lease a new car?
Yes. Again, the doc fee helps pay the salaries of the back office staff who process paperwork. A lease involves documentation, so in turn the dealer charges a doc fee.
Can dealers waive doc fees?
Yes, but that doesn't mean they will. In theory, dealers have a sale price below which they simply can't allow a car to be sold. In between that number and the asking price, there's plenty of room to negotiate, and that includes fees. But because the doc fee is earmarked for staff support, the dealer is more likely to negotiate on something else, be it add-ons or the total sale price.