The Ford Explorer has made a significant mark in the SUV segment, providing a valuable blend of performance, safety and luxury. Renowned for its spacious interior, comfortable drive, technological innovations, and robust engineering, the Explorer caters to families and adventurers alike. 
The Explorer matters as one of the original "modern" SUVs, and it was a huge seller because of it, with Ford often moving over 400,000 Explorers per year. It blended cool SUV looks with a more convenient drive thanks to the clever designs detailed below. This brought minivan convenience and comfort without the '90s stigma. Explorer also delivered excellent four-wheel drive performance, if your weekend adventures involve more than hauling people. Over the years, it has undergone several redesigns, each enhancing its features, performance, and safety measures.
Get 50 Ford Explorer searches and vehicle history reports per month with a Bumper subscription!
VIN Character Breakdown for Ford Explorer
Every vehicle has a 17-character Vehicle Identification Number (VIN) that provides details about its specifics. Let's break down what each character in the VIN represents for the Ford Explorer:
Decode an Explorer's VIN and get its vehicle history report right here!
World Manufacturer Identifier (WMI): The first three characters indicate the vehicle's country of origin and manufacturer.

Common WMIs for Ford vehicles made in the United States include 1FM.

Vehicle Descriptor Section (VDS):

4th Character (Series/Trim):

K - Base Model
L - XLT
8 - Limited
W - ST
9 - Platinum

5th Character (Engine Type):

A – 2.3L EcoBoost I-4
N – 3.0L EcoBoost V6
P – Hybrid 3.3L V6

6th to 8th Characters: These typically represent additional vehicle attributes like body type and restraint system.

Vehicle Identifier Section (VIS):

9th Character: This is a check digit for validation.
10th Character (Model Year): Encoded annually; for instance, M could stand for 2022.
11th Character (Assembly Plant):

K – Chicago, Illinois, USA

12th to 17th Characters: Sequential production numbers identifying the specific vehicle.
History of the Ford Explorer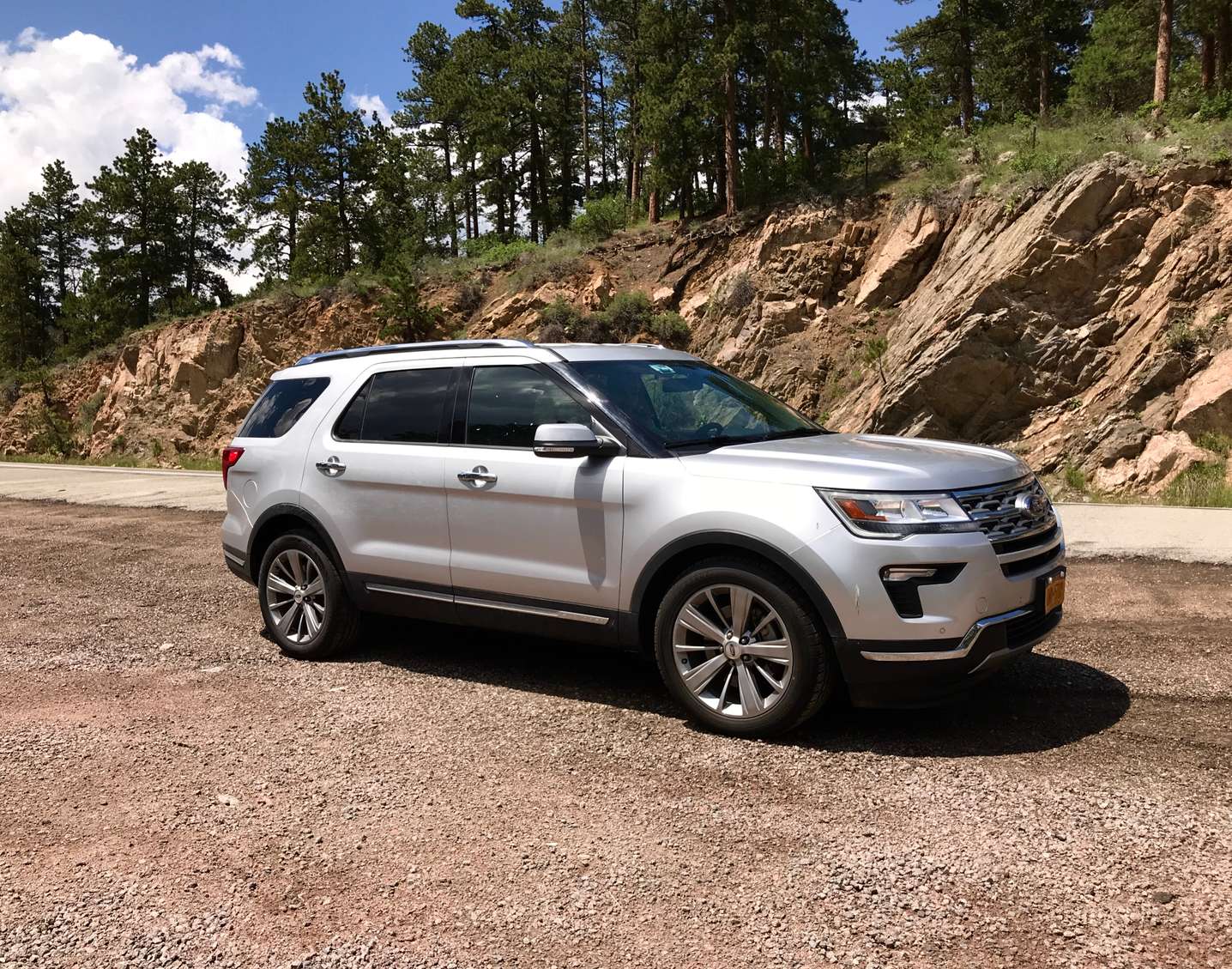 Jeff Bukowski/Shutterstock.com   The Ford Explorer is one of the original modern SUVs. The old-school
Ford Bronco
and International Scout of the 1970s gave way to compact SUVs like the Ford Bronco II and Chevrolet S-10 Blazer, thanks to high gas prices and changing buyer tastes.
Ford saw the market changing again in the late '80s, with buyers looking for practicality, comfort and performance in a bigger package and released the new Explorer for 1991. Initially built on the Ford Ranger truck platform, the Explorer delivered truck-like off-road capability with a quieter, family-friendly interior with comfortable seating for everyone, sound insulation, better legroom, and a covered cargo area. It was the first vehicle approved for both the hardware store and the country club. 
Every generation of the Ford Explorer has been popular, but which one is right for you? 
First generation (1991 - 1994)
The 1991 Ford Explorer was something new and different, and attracted a lot of attention. The front end shares square, rugged features and looks with the Ranger of the era. Using a truck frame and engine paired with a closed passenger cabin wasn't a unique idea, but the new Explorer was larger than the previous Bronco II while being more family-oriented with increased passenger space, comfier seating, and additional sound-deadening material. The only engine was a 4.0L V6 with 155 horsepower, while the transmission choice was a five-speed stick shift or four-speed automatic. Either transmission sent power the rear wheels standard, or optionally all four wheels. 
The first Explorer's interior borrows heavily from the pickup, filled with single-color hard plastic surfaces that are uncomfortable for passengers. It's useful, but lacking luxury or tech. 
There were few trim levels then, just base XL, additional features XLT, and the top trim Eddie Bauer, focused on an outdoors theme. "Outdoors" isn't meant in an F-150 Raptor adventuring kind of way, but Eddie Bauer features added badges, a chrome grille and two-tone paint to represent the outdoor clothing brand, and inside, added power leather seats. The Explorer had plentiful rear legroom and 42 cu-ft of cargo space, which still holds up well today. It was good enough for Motor Trend's Truck of the Year award, the first time it had ever been given to an SUV.  Although the engines and interiors are dated, this Explorer remains a retro off-road-capable SUV.
Second generation (1995 - 2001)
Ford brought more of everything for the Explorer's first revamp. Visually, it's a major restyle up front with a sloped hood and rounded fenders, while mostly everything behind the A-pillar remains the same. The late '90s Explorer is still Ranger-based but with noticeable improvements to driveability and additional features. New this year is an optional V8. Inside, the interior gained two airbags and optional side airbags in 1998. A major styling choice, the  2-door and 4-door body styles returned with the update, but 4-door models sold better and are easier to find today. 
While still a truck chassis, the Explorer gains a car-like front suspension for reduced harshness and more stability. The base 4.0L returns with 160 hp, but XLT and higher can get the 5.0L V8 borrowed from the Mustang GT. Max towing is now 5,800 lbs. Updates include a powerful version of the 4.0L for 1997, making 210 hp. E-85 flex fuel was available starting in 2000. 
Base XL has cloth seats, a weak sound system and 15-inch wheels. XLT added power leather seats, a 6-disc CD system, a reclining rear bench seat and rear passenger heat/air controls. Limited overtakes Eddie Bauer as the top luxury trim level, with single-color paint and running boards along with 16-inch wheels. The two-door model lived on another year as Explorer Sport, then was dropped due to low sales. This classic Explorer would be a good pick for those seeking a low purchase price and operating costs for a traditional body-on-frame SUV. 
Third generation (2002 - 2005)
The familiar face looks like a smaller Ford Expedition, but this Explorer is all-new underneath. Not a Ranger chassis this time, the Explorer was designed frame-up as an SUV. You'll notice this in the lower step-in height and cargo floor, which is seven inches lower than before. It now features a car-like rear suspension, for even more passenger comfort and interior room. This sets the stage for crossovers that would appear later. A longer wheelbase means more legroom, allowing a desirable third-passenger row. Don't need it? The third row folds flat into the floor. 
Under the hood, the 4.0L got bumped to 210 hp, joined by a 4.6L V8 making 240 hp. 2002 was the last year for a manual transmission in the Explorer, with the five-speed automatic taking over all trim levels. Ground clearance is up a half-inch to 9.2 inches, and max towing increases to 7,300 lbs. 
Four-wheel drive has computer assistance now, providing instant power to the wheels that need it, not just blindly sending power to all four wheels. This can help out massively in slippery conditions. The pedals and steering wheel are adjustable so everyone can get comfy, but the side curtain airbags are optional so check the build specs before buying. This Explorer is a great introduction to SUVs, with friendly sedan-like characteristics and big towing ability for your weekend adventures. 
Fourth generation (2006 - 2010)
Ford played it safe with the new 2006 Explorer, making big changes underneath the familiar exterior design. The new frame and body mounts provide chassis stiffness and silence the suspension noises over rough roads. The sharpened and updated design is handsome but conservative to the point of blending in. Base XLS trim was dropped and XLT became the base trim with previously standard features like power drivers seat now an option. This Explorer features even more safety features and tech than before.
Updates in 2007 added an AUX port, useful if you still have your iPod. Side impact airbags are standard from 2008 forward, as is Ford SYNC infotainment. If you're towing, 2009 adds standard trailer sway control. The same old 210 hp 4.0L V6 was falling behind the times, with zero to 60 taking over 10 seconds. 
The V8 is the one to get, now making 292 hp and paired with a six-speed auto. This Explorer earned praise for a quiet interior, thanks to smart engineering like aerodynamic mirrors that reduce wind noise. Reviewers noted a smooth ride and control over all road surfaces (even off-road) and plenty of interior room for people and cargo. Reviewers complained about sedate styling and how it "feels like a truck," but if those aren't issues to you, this Explorer is an excellent family hauler.
Fifth generation (2011 - 2019)
Well, this is different. With previous Explorers, the "sport" in SUV seemed to be buried under the "utility." 2011 brought the Explorer a clean-sheet design that looks more like Range Rover than from the blue oval. Ford was bold in the engineering, too, replacing the body-on-frame build with a car-like unibody and standard front-wheel drive. The change to a crossover was controversial, but award-winning.
Oddly, this chassis is based on the Volvo S80 and shared with the last Ford Taurus. This Explorer is technically a mid-size crossover, not an SUV, bringing all the benefits and drawbacks of that class swap. Expect improved comfort, fuel economy and car-like driving mannerisms at the expense of max towing. 
Inside, the refresh delivers more headroom and shoulder room with a surprising 50% increase in cargo behind the third row. Eddie Bauer trim, and its distinctive two-tone paint are gone, as is the V8. Base Explorer gets a four-cylinder driving the front wheels with an optional 3.5L V6 and all-wheel drive. The 2.0L four has 240 horsepower, while the V6 has 290 hp and both engines have the six-speed auto. USB ports link with the infotainment, but they're slow for music, so just use them for charging. Driver assistance features show up with this generation, as does a back-up camera. 
A 2013 update adds a hotrod 3.5L EcoBoost engine with 365 hp for ST trim, while the four-cylinder upgraded in 2016 to a 2.3L with 280 hp. The ST trim is the sport trim with performance suspension tuning, while Platinum topped the trim levels with exclusive wheels, automatic parking, a heated steering wheel and much more. This Explorer is a powerhouse with modern features families will appreciate. Check this one out if you want a comfortable drive and big towing ability for pulling heavy weekend toys.  
Sixth generation (2020 - present)
2020 brought an evolutionary design change to the Explorer with an all-new chassis underneath. While this year switches back to rear-wheel drive with optional all-wheel drive, it also continues the Explorer tradition of a quiet interior thanks to active noise cancelling technology. Other Explorer characteristics return, including a composed ride due to a smart suspension with selectable drive modes, and all-day comfort thanks to ergonomic and heavily bolstered seats. 
A new hybrid delivers excellent fuel economy at an EPA-estimated 28 MPG combined city/highway, proving you can have fuel savings with a huge cargo room in the same vehicle. Base, XT and Limited have the 300 hp 2.3L under the hood, while Platinum gets 365 hp in the 3.5L V6. The ST gets a performance version of that engine with 400 hp. Even the hybrid is stout, with 318 hp. A 10-speed auto is the only transmission available. 
Standard features include driver assistance tech like automatic braking and blind-spot monitoring, plus the nearly mandatory Apple CarPlay and Android Auto. Base is only sold to fleets, so you'll likely see XLT as the base model. Mid-level Limited trim is the only way to get the hybrid drivetrain. The top two trims have an exclusive 10.1-inch touchscreen.
It also adds leather, 20-inch wheels, a 12-speaker Band & Olufsen audio system and adaptive cruise control. Look for the optional towing package for a max weight of 5,300 lbs. With near-luxury touches and features, the newest Ford Explorer could be the ideal mix of on-road and off-road performance, passenger comfort and cargo hauling.
Looking for a new Explorer? Check out our huge inventory right here!
Conclusion
The Ford Explorer remains a staple choice for those desiring a mix of performance, comfort, safety and luxury in an SUV. Armed with the VIN's insights and a detailed vehicle history report, buyers could start assessing whether their selected Explorer meets their expectations.
Frequently Asked Questions
How has the Ford Explorer evolved over its generations?
The Explorer has transitioned from a truck-based SUV to a more refined and versatile unibody construction. Modern Explorers boast advanced tech like SYNC® 3 infotainment with a 10.1-inch screen, and enhanced safety features such as Ford CoPilot 360TM for a bird's-eye view of your surroundings, plus options like the sporty ST trim and the energy-efficient hybrid model.
What common issues should potential buyers be aware of?
Some older Explorers have faced transmission and suspension issues. The older 4.0L V6 has a serious timing chain issue. Always check the maintenance history and any recalls to ensure all problems have been addressed.
What to look for in a Ford Explorer's vehicle history report?
Check for accident history, ownership records, maintenance logs and any signs of flood or fire damage. Also, make sure recalls have been addressed.