As we enter the deadliest 100 days of summer for driving fatalities involving teen drivers, an analysis by Bumper suggests more teens were killed on roadways last year than in the same time period over the previous decade-plus—a dramatic reversal in the long trend of declining vehicle deaths.
While the pandemic cleared roadways, Americans also saw a spike in motor vehicle-related fatalities. It remains to be seen if this dangerous driving pattern holds in the summer of 2021, as more Americans lower their guard and hit the road in a resumption of prepandemic activities.
Bumper used historical accident data from the National Highways Traffic Safety Administration (NHTSA) and Federal Highway Administration and 2020 fatality estimates from the National Safety Council (NSC) to determine its findings.
Key takeaways
Fatal accidents involving teen drivers hit new highs. NSC estimates motor-vehicle deaths in 2020 reached 42,060, up 8% from 39,107 in 2019 and the highest total since 2007. Bumper estimates the 2020 accidents involving young drivers (ages 15 to 20) killed 5,213 people, the most since 2009.
Teen drivers are about three times more likely to be involved in fatal accidents. Teenage drivers make up only 3.8% of the estimated 228 million licensed drivers in the United States, according to the latest government data, but on average from 2017-19 account for 12.4% of all fatalities.
Kentucky, Montana and Mississippi are deadliest for teen drivers. Measured by fatalities per 10,000 licensed teen drivers, states with the highest estimated rate in 2020 were: Kentucky (8.46), Montana (7.29), Mississippi (7.08), Arkansas (6.92) and New Mexico (6.77). States with the lowest predicted rates: Massachusetts (1.43), New Jersey (1.74), Hawaii (2.00), New York (2.09) and New Hampshire (2.14).
Several states see more than half of teen driving deaths during summer months. Between June and September, some states see more than half of the total year's teen driver-related fatalities, based on 2017-19 averages. That list is led by Montana (53.9%), Maine (53.7%), North Dakota (51.4%) and Idaho (51.3%). States with the smallest percentage of teen driver-associated deaths in the summer are Florida (28.1%), Nevada (28.4%) and Arizona and Hawaii, with 29.6% each.
More than half of victims are under the age of 20. Historically, 56% of fatalities in accidents involving a teen driver are victims 20 years old or younger. Drivers are the most common victim (61%), followed by passengers (28%) and pedestrians (10%).
Speed, alcohol and distractions are the top causes. According to 2019 NHTSA data, 33% of teen-driving fatalities were associated with a driver speeding, compared to 26% of fatal accidents among all age groups. That's higher than the 28% of drivers in teen driver accidents who had at least some alcohol in their system, compared to 33% for all age groups. Distracted driving, such as text messaging while at the wheel, accounts for 12% of teen fatalities, compared to 9% for all age groups. Accidents can happen for a variety of reasons, but it's important to stay educated on the most common causes of car accidents to stay safe on roadways.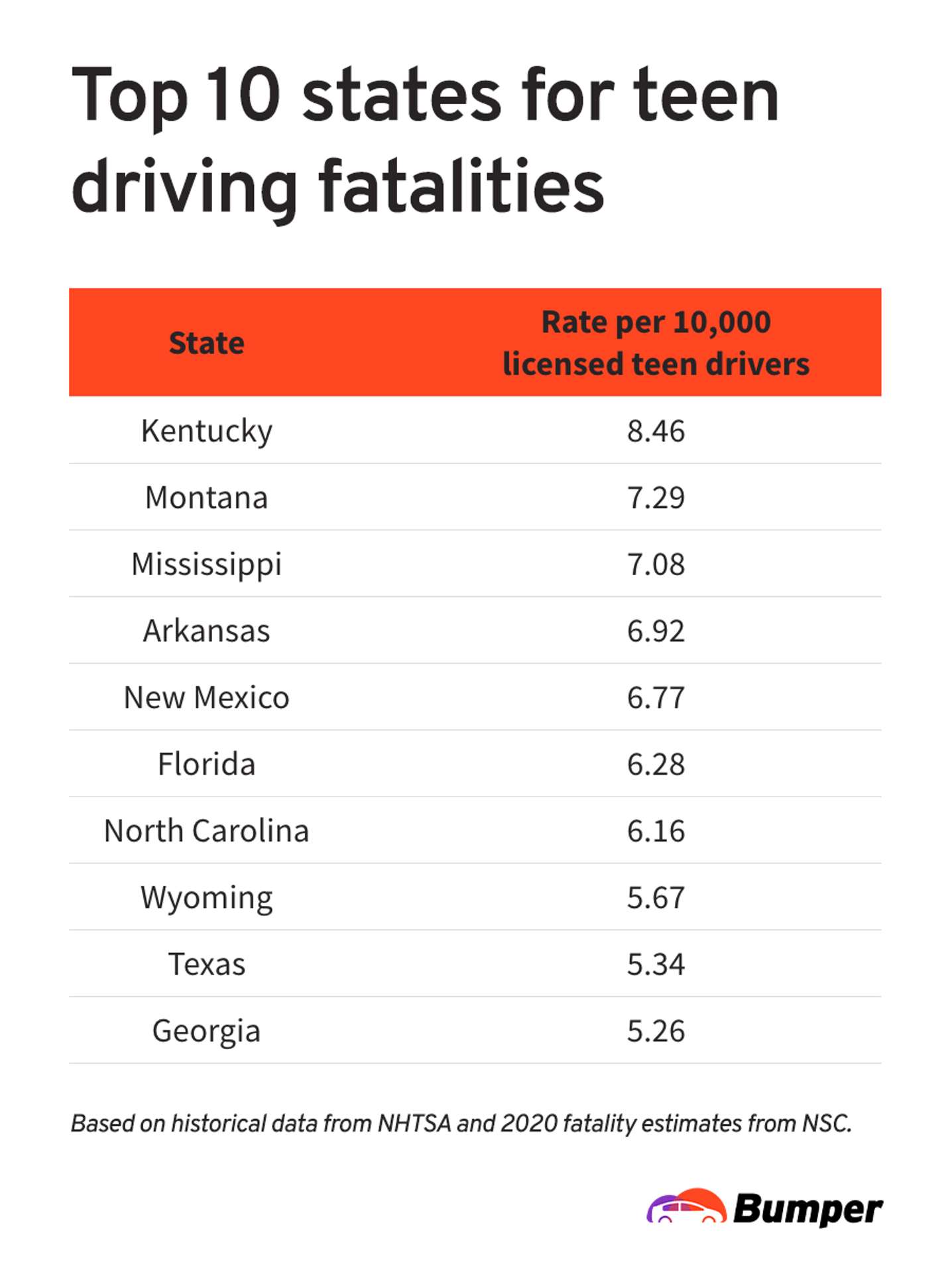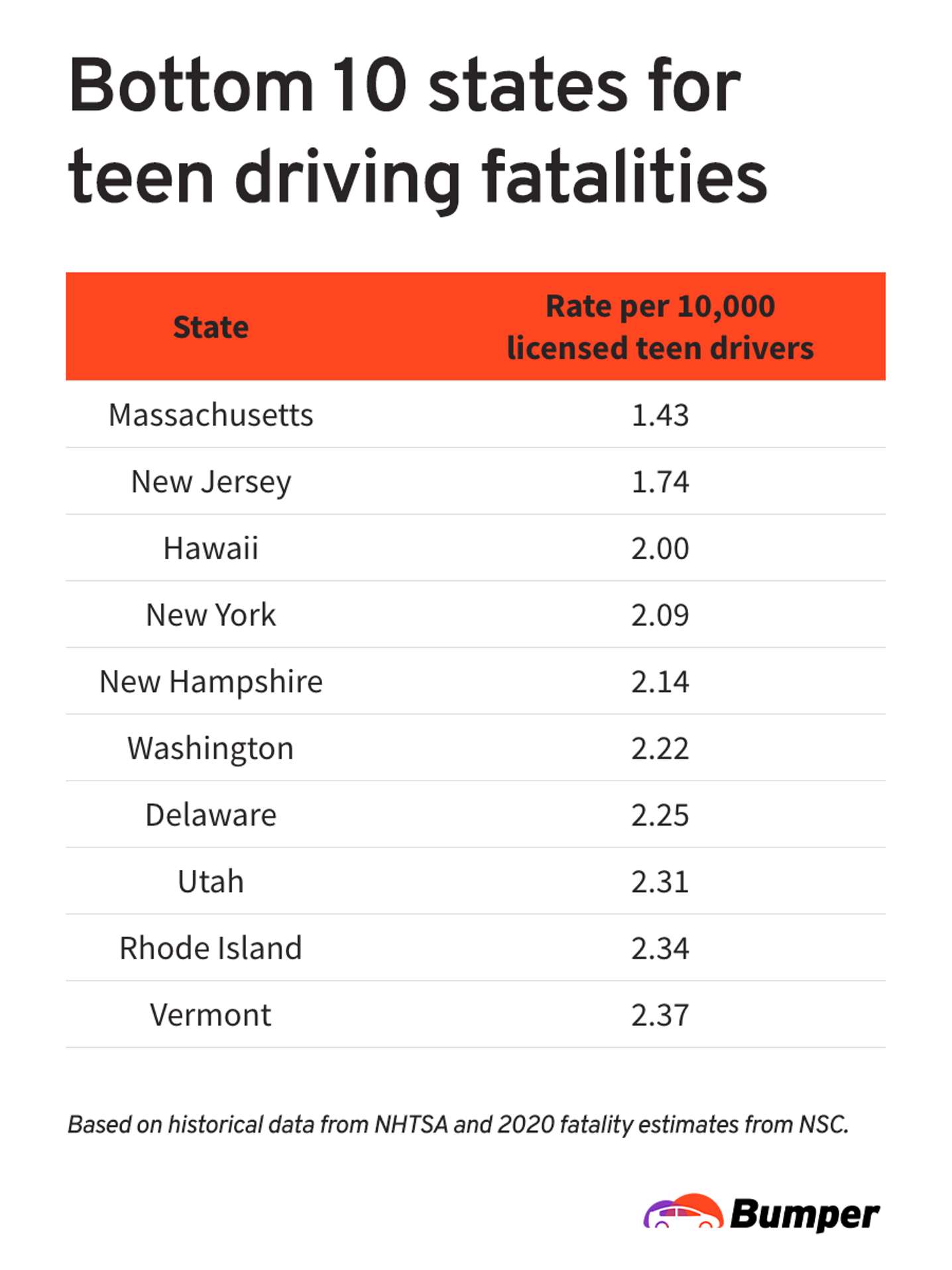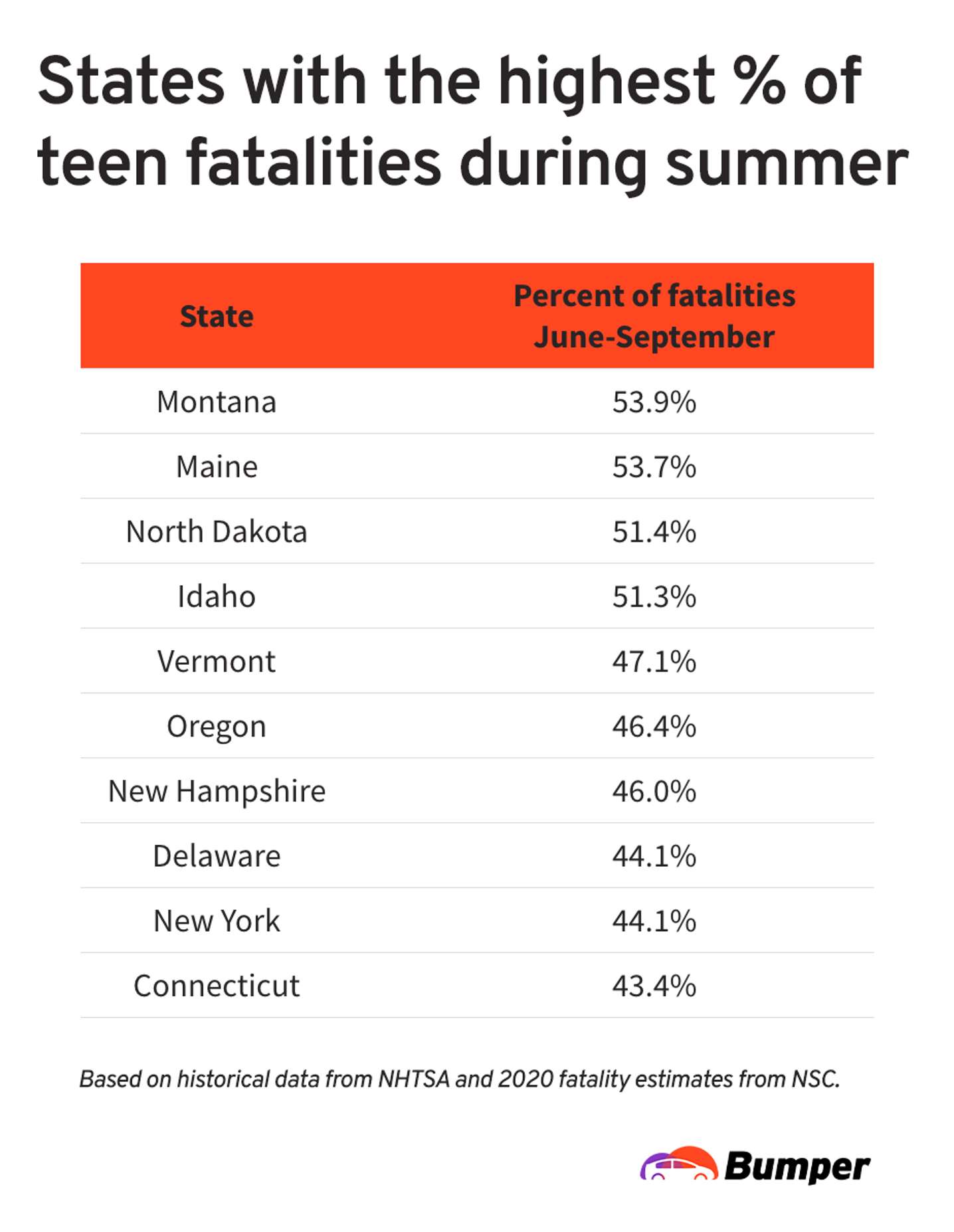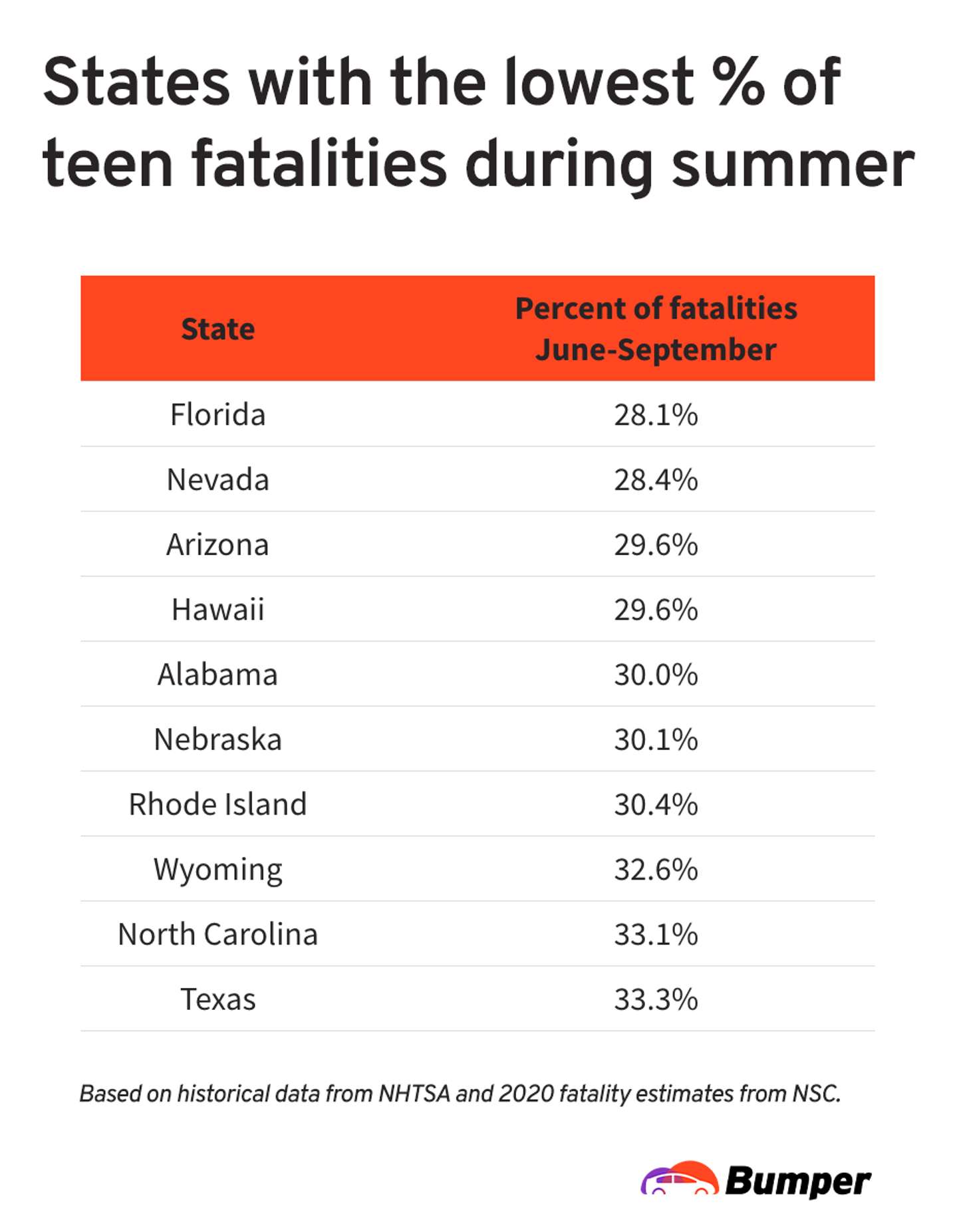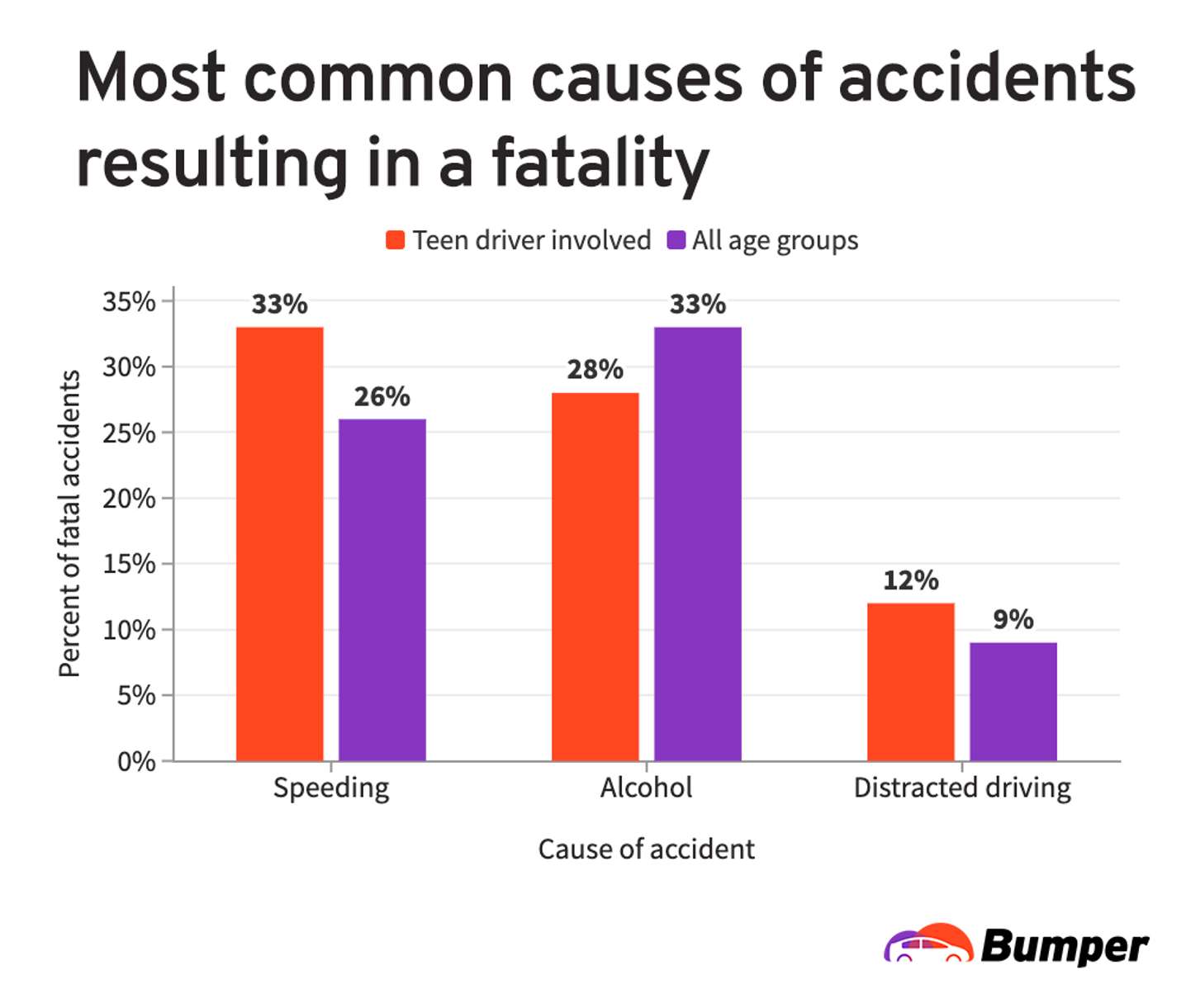 You can find more information on teen driver accidents here.
Methodology
Bumper examined 2017-19 accident data from the National Highways Traffic Safety Administration and 2020 fatality estimates from the National Safety Council to determine its findings. The number of licensed drivers came from 2019 Federal Highway Administration data. While we use teenage and young drivers interchangeably in the study, the NHTSA defines young drivers as between the ages of 15 and 20.
For more information, contact Kerry Sherin, [email protected].
About Bumper
At Bumper, we are on a mission to bring vehicle history reports and ownership up to speed with modern times, with accurate reporting at fair pricing, including a VIN number lookup tool.