Earlier in November, the National Oceanic and Atmospheric Administration (NOAA) announced a 90% likelihood the United States is entering a La Niña winter. As if on cue, a massive storm struck the Pacific Northwest, swelling rivers past record level, triggering landslides and leaving tens of thousands without power.
"The powerful storm, focusing its fury on the Pacific Northwest and the north central United States, is exactly the type of weather system characteristic of La Niña," the Washington Post noted.
As the nation's weather is hit by a second straight La Niña winter, Bumper examines the impact La Niña has on automobile crash rates across the country.
Bumper analyzed monthly weather patterns and state-level fatal crash rates from 2005 through 2019 to examine how La Niña months impacted weather-related driving accidents. We found that increases in weather-related crashes broadly follow how the US jet stream changes during La Niña winters—with many Pacific Northwest, Northern Rockies and Ohio Valley states seeing increases in fatal crashes while Eastern Seaboard and southern states see the greatest declines.
Top takeaways
Oregon, Idaho and Iowa see the greatest increase in fatal crashes during La Niña winters. Comparing weather-related fatal crashes to crash rates during non-La Niña months, we found Oregon had the highest increase of fatal crashes at 36.6%, followed by Idaho (32.6%), Iowa (29%), Minnesota (27.9%), Wyoming (27.8%), Washington (27.4%), Illinois (27.1%), Vermont (24.3%), Pennsylvania (23.3%) and California (21.5%).
Virginia, Rhode Island and Delaware see the greatest drop in fatal crashes during La Niña winters. During the past 15 years, weather-related fatal crashes drop most during La Niña months in Virginia (-66.2%), Rhode Island (-26.4%), Delaware (-21%), Utah (-18.5%), Florida (-18%), Connecticut (-15.6%), Maryland (-13.6%), Alabama (-13.4%), Oklahoma (-11.9%) and North Dakota (-11.2%).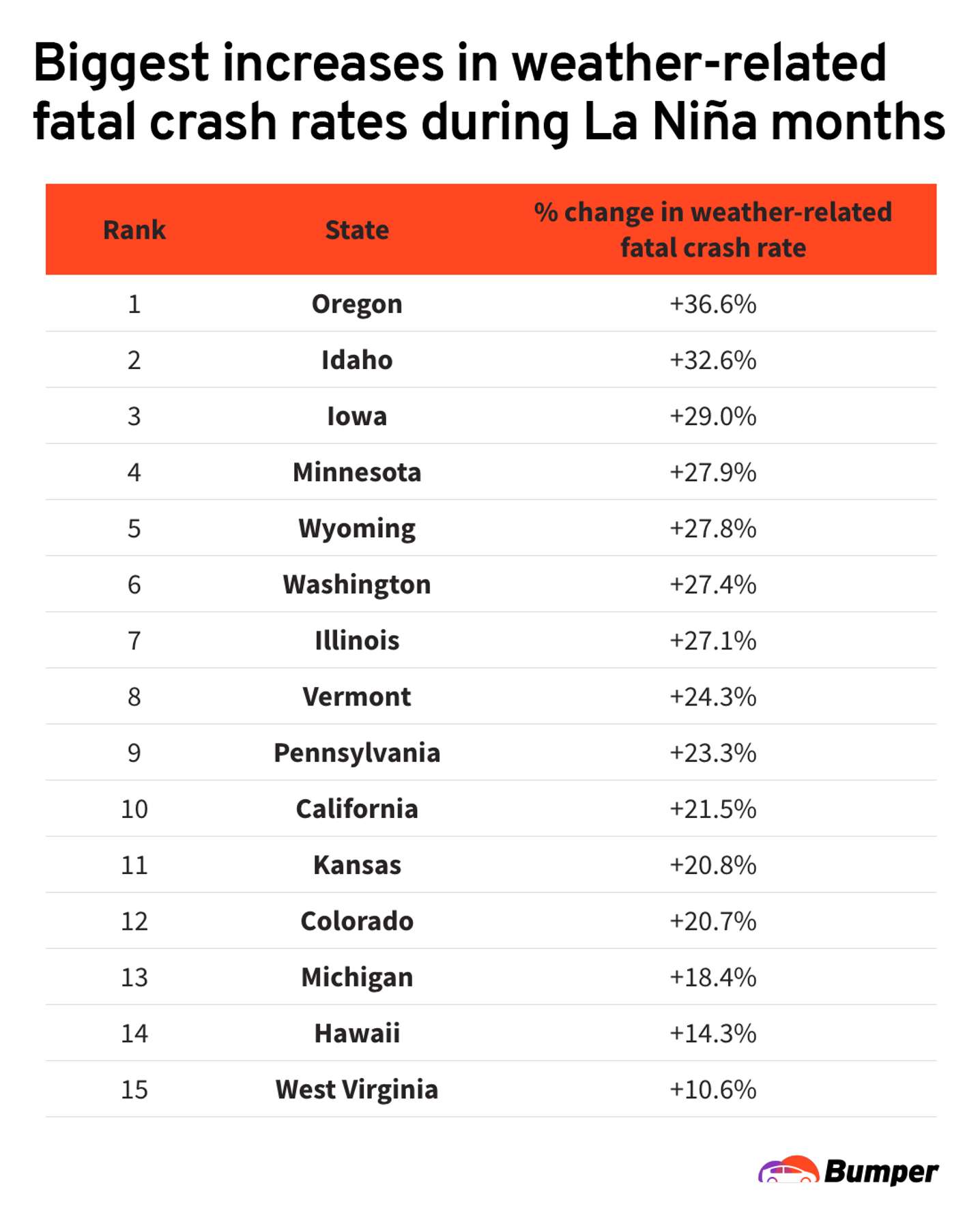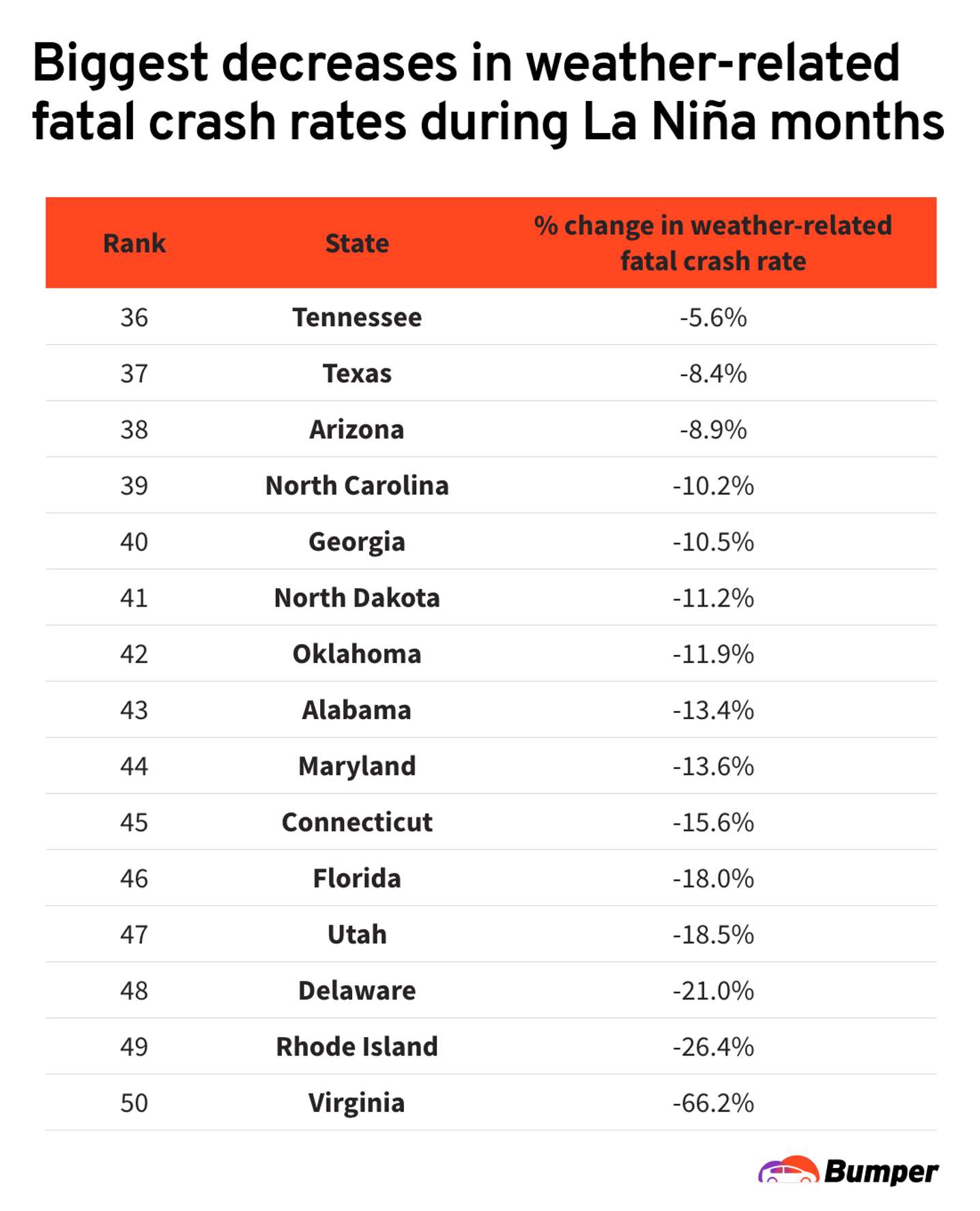 Fatality rates during La Niña months
Looking at fatality rates per million licensed drivers in each state, here are the top and bottom states for fatal crashes during La Niña months from 2005-19.
West Virginia, Montana and Kentucky have the highest fatal crash rates. During La Niña months, West Virginia has the highest average rate of fatal crashes with 5.72 per month per million licensed drivers in the state, followed by Montana (5.45), Kentucky (5.42), Oklahoma (5.34), Wyoming (4.56), Mississippi (4.44), Idaho (4.23), North Dakota (3.95), Alaska (3.93) and Oregon (3.89).
Colorado, Rhode Island and Connecticut have the lowest La Niña fatal crash rates. Colorado drivers have the lowest monthly fatal crash rate with 0.79 fatalities per million drivers, followed by Rhode Island (0.95), Connecticut (0.98), New Jersey (1.17), Arizona (1.23), New Mexico (1.26), Maryland (1.28), Massachusetts (1.41), Virginia (1.46), Illinois (1.48) and California (1.5).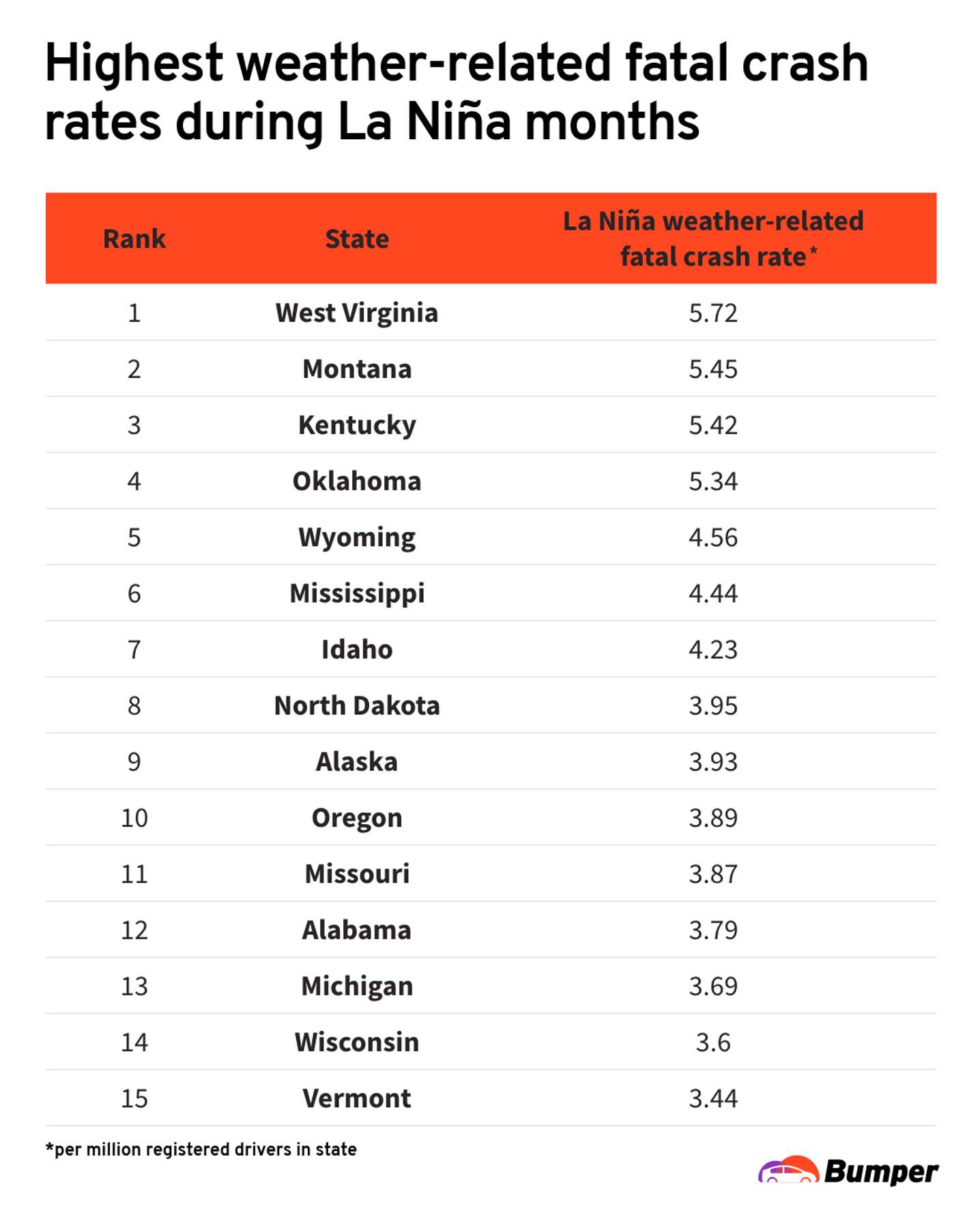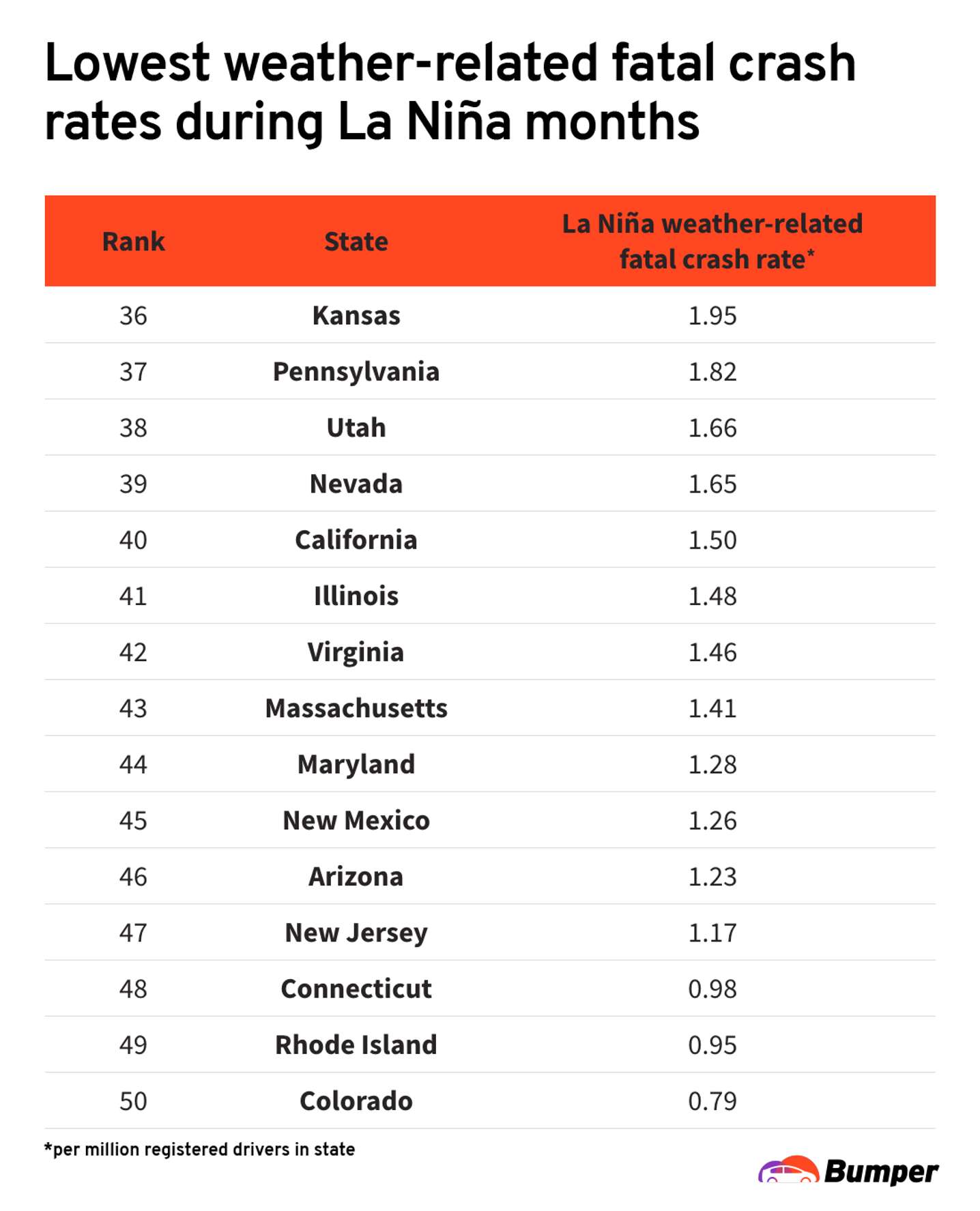 The La Niña impact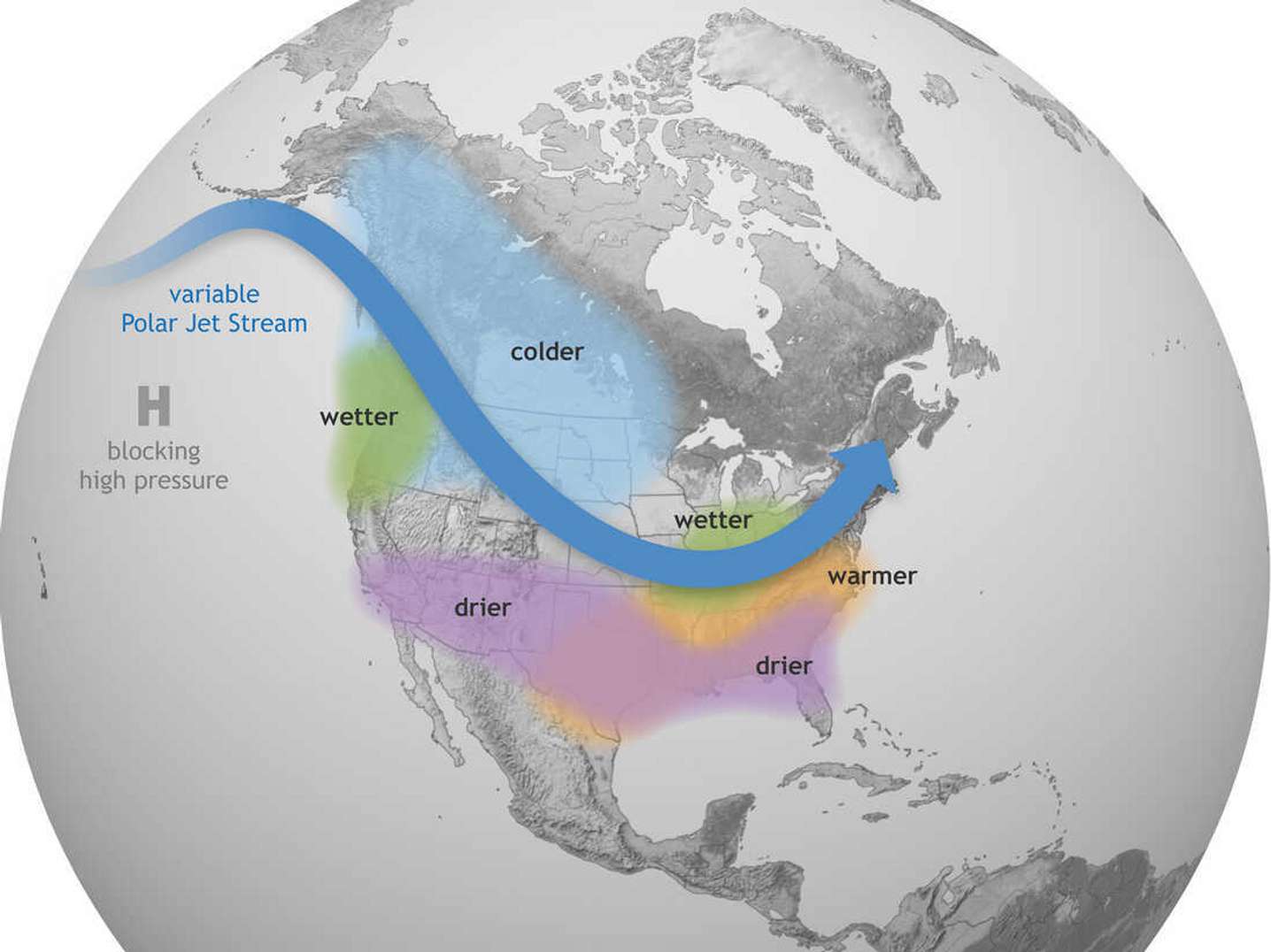 Image: NOAA
According to the NOAA, La Niña is one part of the El Niño Southern Oscillation (ENSO) cycle, which is characterized by cool phases (La Niña) and warm phases (El Niño) of oceanic and atmospheric conditions in the tropical Pacific Ocean. These phases have knock-on effects to weather patterns expected in the US.
A third "neutral" phase occurs when neither climate pattern is present and does not influence US climate patterns. Bumper used weather-related traffic fatality statistics during these neutral-phase months as a yardstick to measure increases and decreases of fatal crashes during La Niña months.
"While the La Niña impact on traffic fatalities broadly follows jet stream patterns, some states—such as Kentucky, Oklahoma, Mississippi and North Dakota—have more weather-related fatalities in general, no matter the presence of La Niña and El Niño," said Julianne Ohlander, a data analyst for Bumper. "On the other hand, states like Colorado and California see a significant percentage increase during La Niña months but overall have comparatively lower weather-related fatality rates."
Methodology
Bumper analyzed monthly atmospheric data from the NOAA and monthly weather-related fatal accidents from the National Highway Traffic Safety Administration from Jan. 1, 2005, through Dec. 31, 2019, to determine its results.
For more information, contact Kerry Sherin, [email protected].
About Bumper
At Bumper, our mission is to give people the tools they need to make the most out of car ownership. Bumper provides accurate reporting at fair pricing, including a VIN number lookup tool, vehicle monitoring and access to a new and used car marketplace—all in one place.