While the coronavirus pandemic has caused many industries to slump, there is one notable exception: the used-car market.
The pandemic has turned the used-car industry into a seller's market as more people turn away from public transportation or look to move outside urban areas. In June alone, franchised car dealers sold 2.1 million used vehicles, a 22% increase from the previous year and the most sales recorded since 2007.
During this used-car boom, Bumper analyzed which makes and models more people are searching for using VIN number search—often the final check of a used car's service history and auto specifications before deciding on a vehicle purchase.
Bumper examined more than 134,000 vehicle searches across all 50 states and the District of Columbia from April 1 through Sept. 15—during the height of the coronavirus lockdowns, reopenings and return to school—to see what trends emerged.
Some of our top findings:
Key take-aways
Ford vehicles are by far the most popular search. Ford vehicles were the top brand searched in 31 states, followed by Chevrolet (15 states), Honda (3) and Toyota (1). Ford and Chevrolet tied for the top spot in one state, Pennsylvania.
Average age of used vehicles searched: 12 years. Most cars searched are between 6 and 10 years old, or between 11 and 15 years (23% each); used cars 1 to 5 years old account for 21% of the used-car searches; 32% of cars were aged 16 years or more.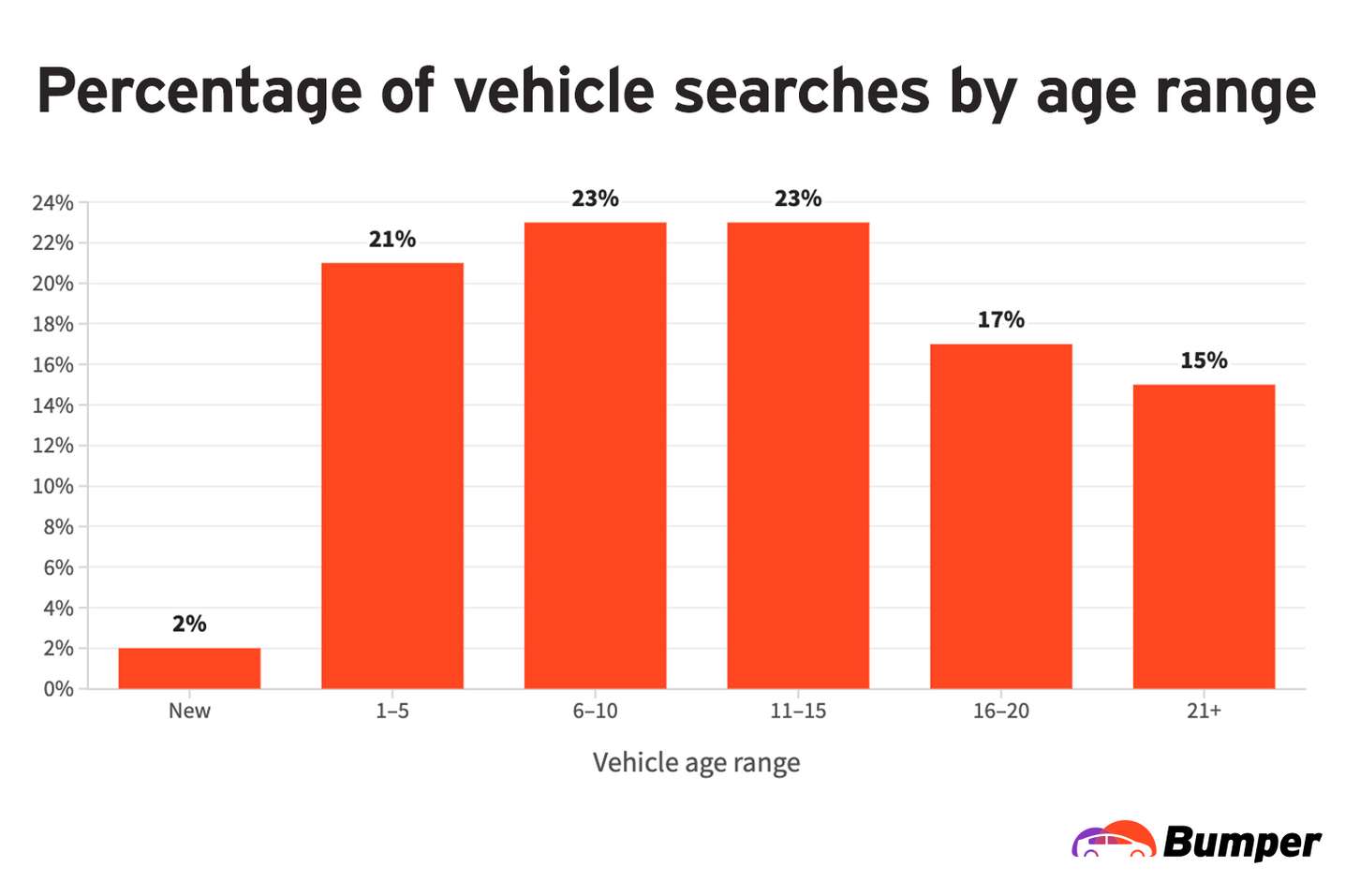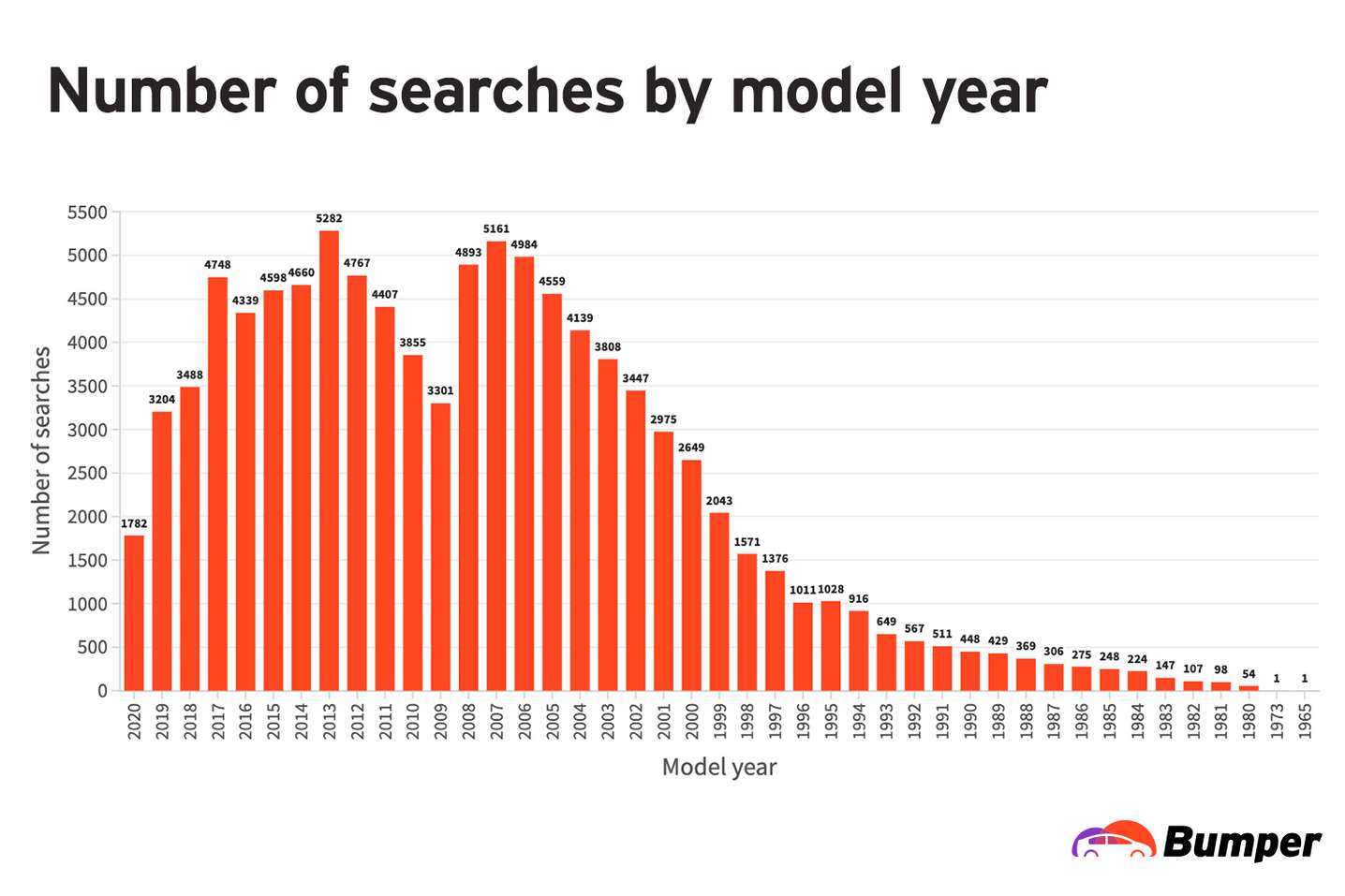 Top 10 most popular vehicles nationwide: The Ford F-150 and the Chevrolet Silverado 1500 pickup trucks were the #1 and #2 most-popular make and model searched, followed by five Japanese sedans: Honda Accord (#3), Honda Civic (#4), Toyota Camry (#5), Nissan Altima (#6) and Toyota Corolla (#7). The top 10 are rounded out by the Ford Mustang (#8), the only sports car in the top 10, followed by two SUVs: Jeep Grand Cherokee (#9) and the Ford Explorer (#10).
The vehicle with the average lowest age on the top 10 list is Nissan Altima (9 years old); the average oldest are Honda Accord and Ford Mustang (15 years each).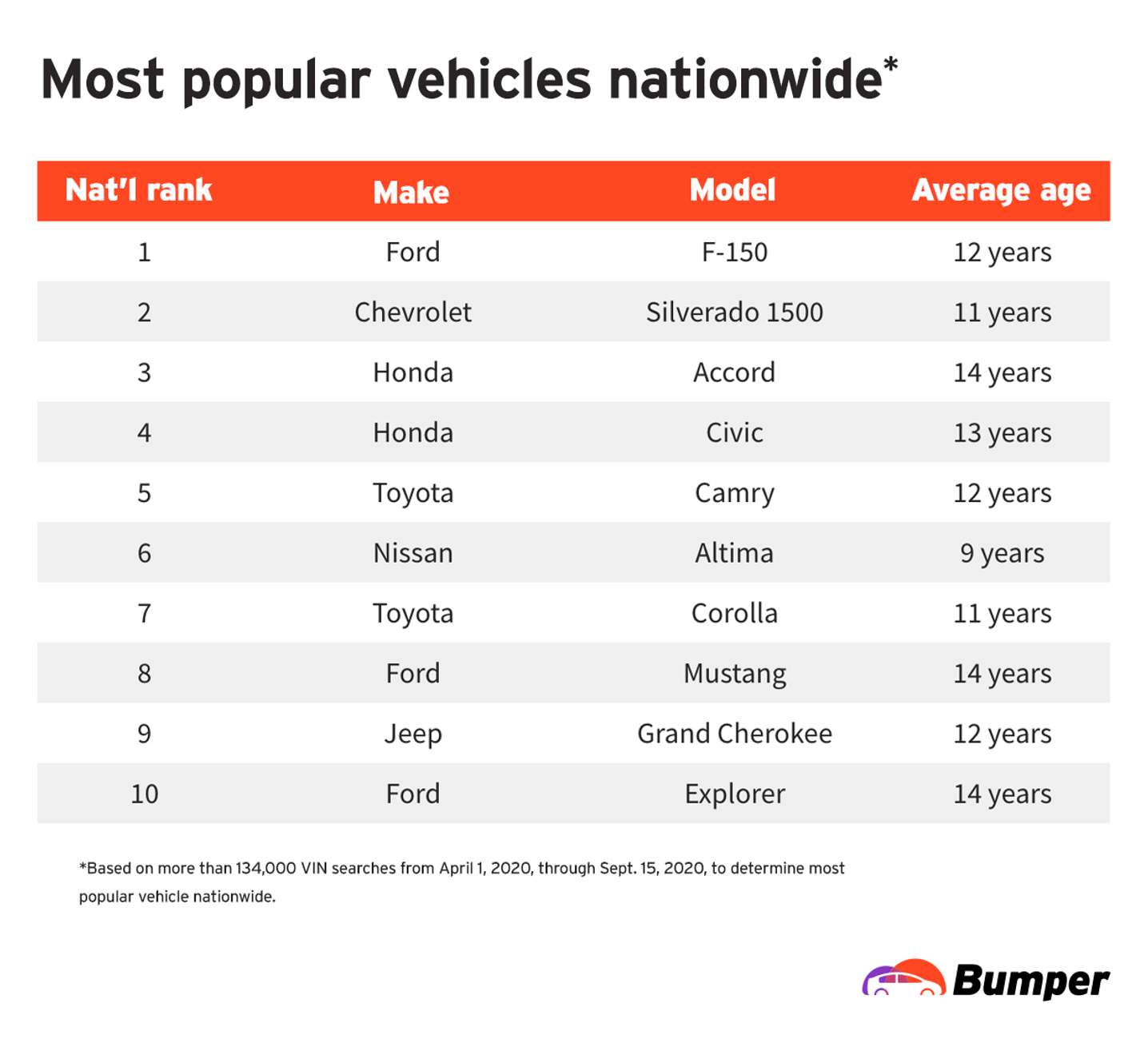 Pickup trucks are the most popular used-car search. In 18 states, Ford F-150 and Chevrolet Silverado 1500 are the #1 and #2 most-searched vehicles, respectively: Alabama, Arizona, Arkansas, Iowa, Kansas, Kentucky, Louisiana, Mississippi, Missouri, Nebraska, New Mexico, North Dakota, Oklahoma, Pennsylvania, Tennessee, Texas, West Virginia and Wisconsin.
In only two states is the Chevrolet Silverado 1500 the top-searched truck ahead of the Ford F-150: Alabama and Minnesota.
Only in four states do the top three most-popular model searches NOT include a pickup truck model: California, Connecticut, New Jersey and New York.
Midsize and compact sedans are most popular in 11 states, dominated by Honda vehicles: Connecticut, Maryland, New York and Oregon (Honda Accord); Maine (Toyota Corolla); Vermont (Toyota Camry); Georgia (Nissan Sentra); California, Hawaii and Virginia (Honda Civic). Honda Civic and Accord tied as the most-searched models in New Jersey.
SUVs were the top search in only three states: South Dakota (Buick Enclave), New Hampshire and Utah (Honda CR-V).
Methodology: Bumper examined 134,366 VIN searches from April 1, 2020, through Sept. 15, 2020, to determine most popular vehicle searches by state.
For more information, contact Richard Gargan, [email protected] or Kerry Sherin, [email protected].