New cars are awesome, from the brilliant paint and new car smell to the peace of mind that the bumper-to-bumper warranty may give you. With a name like "bumper-to-bumper warranty," it has to cover absolutely every issue with the car, right? Not quite. So what does a bumper-to-bumper warranty cover? A lot, but not everything. Here's a look at when warranty work is free and when you pay out of pocket.
What is a bumper-to-bumper warranty?
A bumper-to-bumper warranty is part of a manufacturer's "factory warranty," covering nearly everything on a new car between the front and rear bumpers. Combined with the extra protection of a powertrain warranty, the bumper-to-bumper warranty aims to provide peace of mind to buyers plunking down a lot of money on a brand new ride.
Think of it this way: If there were no warranty, would you still buy that new car, or would you be hesitant? Manufacturers offer bumper-to-bumper warranties as a means of inspiring confidence in their products and overcoming any last objections on the buyer's part.
A long time ago, say 100 years, a vehicle warranty might last only a month. That was an improvement over the very first cars, which offered no warranty.
By 1925, Ford offered its Model T with a warranty of 30 days for workmanship and 90 days for materials. Because the Model T was the car to beat, other manufacturers offered bumper-to-bumper warranties to compete. While a single month seems unreasonably short today, it was better than the previous options at the time.
As manufacturers made better cars with more horsepower, passenger space and eventually gas mileage, they started competing with warranty length. The bumper-to-bumper warranty reached one year/12,000 miles in the 1960s and slowly expanded to three years by the 1990s.
The ironic part (and the reason so many people have to look this up) is that despite the name, the bumper-to-bumper warranty doesn't offer 100% complete coverage. It doesn't even cover the bumpers!
What does a bumper-to-bumper warranty cover?
Despite not covering everything, the bumper-to-bumper warranty does cover a lot, including the most expensive parts of your vehicle. Here's a look.
Engine: From the crankshaft to the direct injection computer, a bumper-to-bumper warranty has you covered under the hood.
Transmission: Automatic, manual, continuously variable transmission or dual-clutch, this expensive piece of machinery is under warranty.
Suspension: Sway bars, shocks and bushings, oh my! No worries—suspension bits are covered by a bumper-to-bumper warranty.
Infotainment: SYNC, UConnect, CUE, iDrive and a bunch of other fancy names for the now-ubiquitous screens in the center console are worry-free and under warranty.
Interior trim and upholstery: Leather, cloth, microfiber and alcantara all receive bumper-to-bumper warranty coverage, as do the heated and cooled seats and seat memory function.
What does a bumper-to-bumper warranty not cover?
That's a pretty extensive list above, so what does a bumper-to-bumper warranty not cover? This list is mostly "consumables," parts the manufacturer expects to wear out through regular use. Even on a one-week-old car, don't expect to use a bumper-to-bumper warranty on any of these items if they fail.
Tires: They can be expensive, so you might figure a $250 tire is covered under a bumper-to-bumper warranty. It's not. Watch out for potholes.
Filters: The oil filter, engine air filter, transmission filter, fuel filter and cabin air filter are all important components but aren't covered under warranty.
Spark plugs: These little parts are critical for engine operation, but they surprisingly fall under the umbrella of "wear parts" and are not covered. At least they are cheap to replace yourself.
Brake pads: Every time you step on the brake pedal, you grind a little bit off the brake pad. Ask if brake pads are covered if you want the service tech to laugh.
Windshield wipers: You probably forget about the windshield wipers until they are all torn up and it's pouring rain. Unfortunately, you're on your own.
How long does a bumper-to-bumper warranty last?
The breadth of a typical bumper-to-bumper warranty is great, but it's not the only factor. How long a warranty lasts varies widely. All manufacturers meet a minimum three-year, 36,000-mile (whichever comes first) bumper-to-bumper warranty, but some go above and beyond as the bumper-to-bumper warranty is getting longer. Here's a look at what to expect.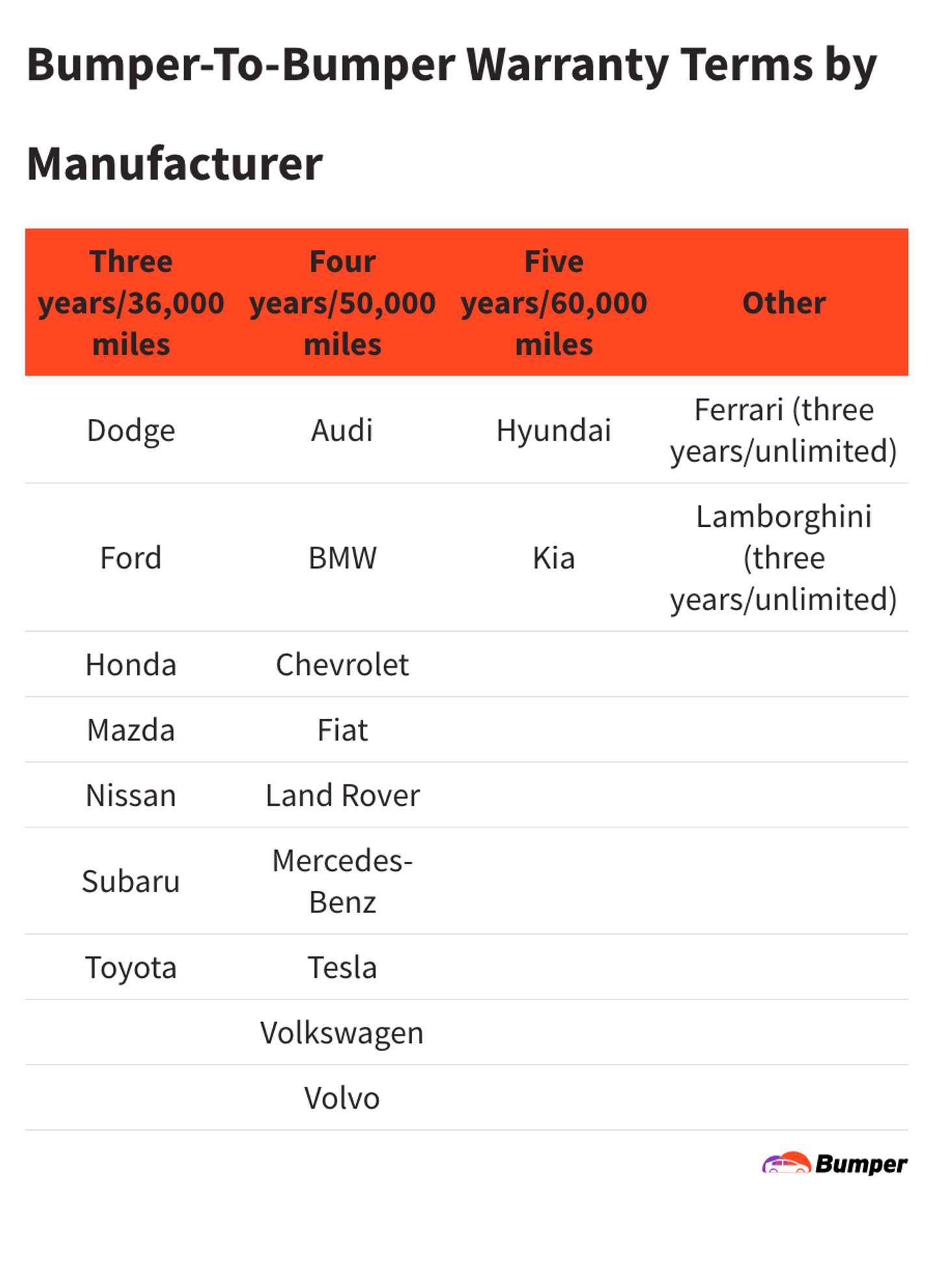 Other types of warranties
Bumper to bumper is the most comprehensive warranty, but it's not the only one available, and it's usually the shortest. If your bumper-to-bumper warranty has expired, you might still be covered under one or more of these warranties.
Powertrain warranty
Powertrain sounds like a new, awful energy drink, but it's actually manufacturer speak for your engine. The powertrain warranty, and "drivetrain warranty," meaning the transmission and other moving parts after the engine, covers all the components that make the vehicle move. Typical powertrain warranties last five years or 60,000 miles, whichever comes first. Covered systems include anything directly involved in vehicle movement, like the engine, transmission, torque converter, axles, transfer case and driveshaft.
Extended warranty
This is what all those scammers are calling you about. While the extended warranty is a real thing, most of those calls are not. The extended warranty from a manufacturer is usually purchased with the vehicle and starts when the bumper-to-bumper warranty ends. An extended warranty extends the length of coverage, not what is covered. This warranty can be bought through the dealership, or a third-party company, such as CarShield, Endurance or CARCHEX.
An extended warranty can be as comprehensive as the factory bumper-to-bumper warranty or it could have lots of exclusions, so be sure to read the fine print. These warranties can add as little as one year of coverage, while at the far end, Ferrari offers an optional 15-year extended warranty for "just" $4,500 per year.
Corrosion warranty
Rust was more of an issue in the 1970s, but it is still a problem for cars that travel across roads that see heavy salt use in winter. The corrosion warranty first appeared when disco was king, offering protection against expensive rust damage for several years. Initially, there were requirements to have the vehicle inspected and treated at the dealership on a regular basis, but today you can usually expect a 12-year, 100,000-mile corrosion warranty regardless of where you bought the vehicle.
Emissions warranty
There's even a warranty for your emissions components. If your vehicle fails an emissions test in the first two years or 24,000 miles, the manufacturer is on the hook to fix the vehicle at no cost. After that, specific emissions components, such as the catalytic converter, are covered for eight years or 80,000 miles. Fortunately for hybrid and EV owners, the batteries are considered emissions equipment, so one of the most expensive parts in the industry is covered by one of the longest warranties, extending out to 100,000 miles.
Should I buy an extended bumper-to-bumper warranty?
Deciding to purchase an extended bumper-to-bumper warranty is a tough choice. On the one hand, cars are built better and last longer than ever before. On the other hand, they are also more complex and expensive than ever before. If you're struggling to make this decision, consider these suggestions.
Extended bumper-to-bumper protection might be for you if:
You keep your vehicles for a long time or at least through the extended warranty period.
You drive for work, such as a rideshare service, pizza delivery or parts runner.
This is your only vehicle and you need it to work every time.
You drive a lot of miles, above and beyond the average.
Consider passing on the extended bumper-to-bumper warranty if:
You are leasing a vehicle you plan to turn in.
You know that you often switch vehicles after five or so years.
You drive fewer than average miles.
You are mechanically inclined and don't mind vehicle maintenance.