Have you ever taken a close look at your car's brake rotors? Brake rotors play a crucial role in your car's braking system, and knowing more about them is important. But what exactly are rotors on a car? Let's take a closer look at them—what they are, where they're located, how they work and when they need replacing.
Looking at a used car? See if there's anything in its history you'd want to know about beforehand with a VIN Lookup – run 50 vehicle searches per month with a Bumper subscription!
What are rotors on a car?
Brake rotors are circular flat discs, usually made of metal such as steel, stainless steel or alloy, that attach to each wheel. When you need to stop, the friction between the brake pads and rotors slows down your car. If you remove your wheel to change a flat tire, the disk you see exposed in the wheel well is the rotor. They were first mass-produced by Citroen beginning in 1955.
How do brake rotors work?
The brake rotor converts kinetic energy into heat through the friction caused by slowing or stopping motion. When you step on your brake pedal in your car, this sends hydraulic pressure throughout your braking system. The hydraulic pressure moves pistons that push the brake pads against the surface of the rotating disc, causing friction and slowing or stopping motion.
Type of brake rotors
The four main types of rotors are smooth and blank, slotted, drilled and slotted and drilled. Each has their advantages and disadvantages.
Smooth & blank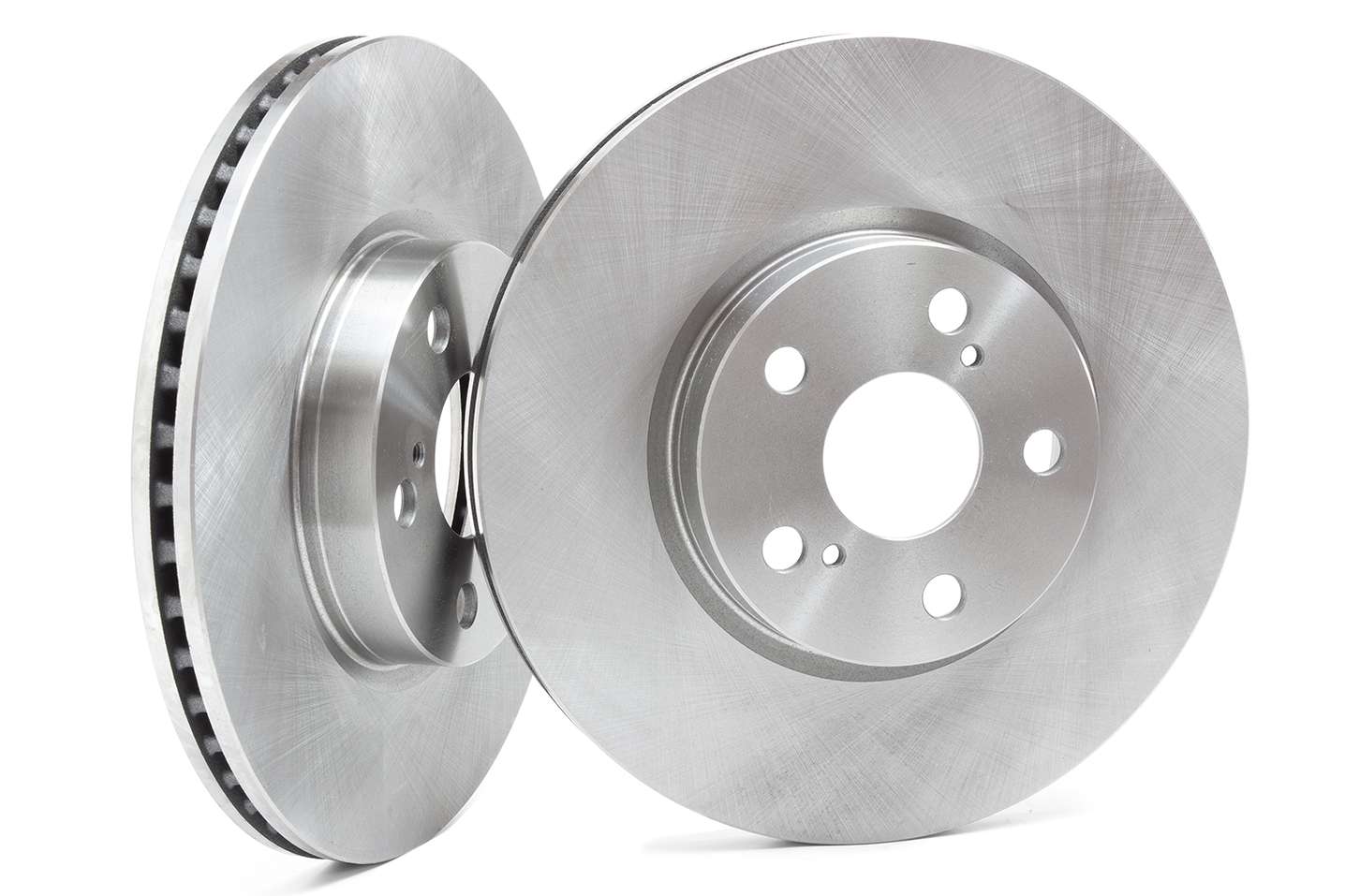 Smooth and blank rotors have no holes or slots cut into them. These come stock on most sedans and many other cars. Still, some heavy-duty trucks need more ventilation to release heat from the brake system to prevent overheating. Vehicles that do not require this extra ventilation typically come equipped with these types of rotors.
Slotted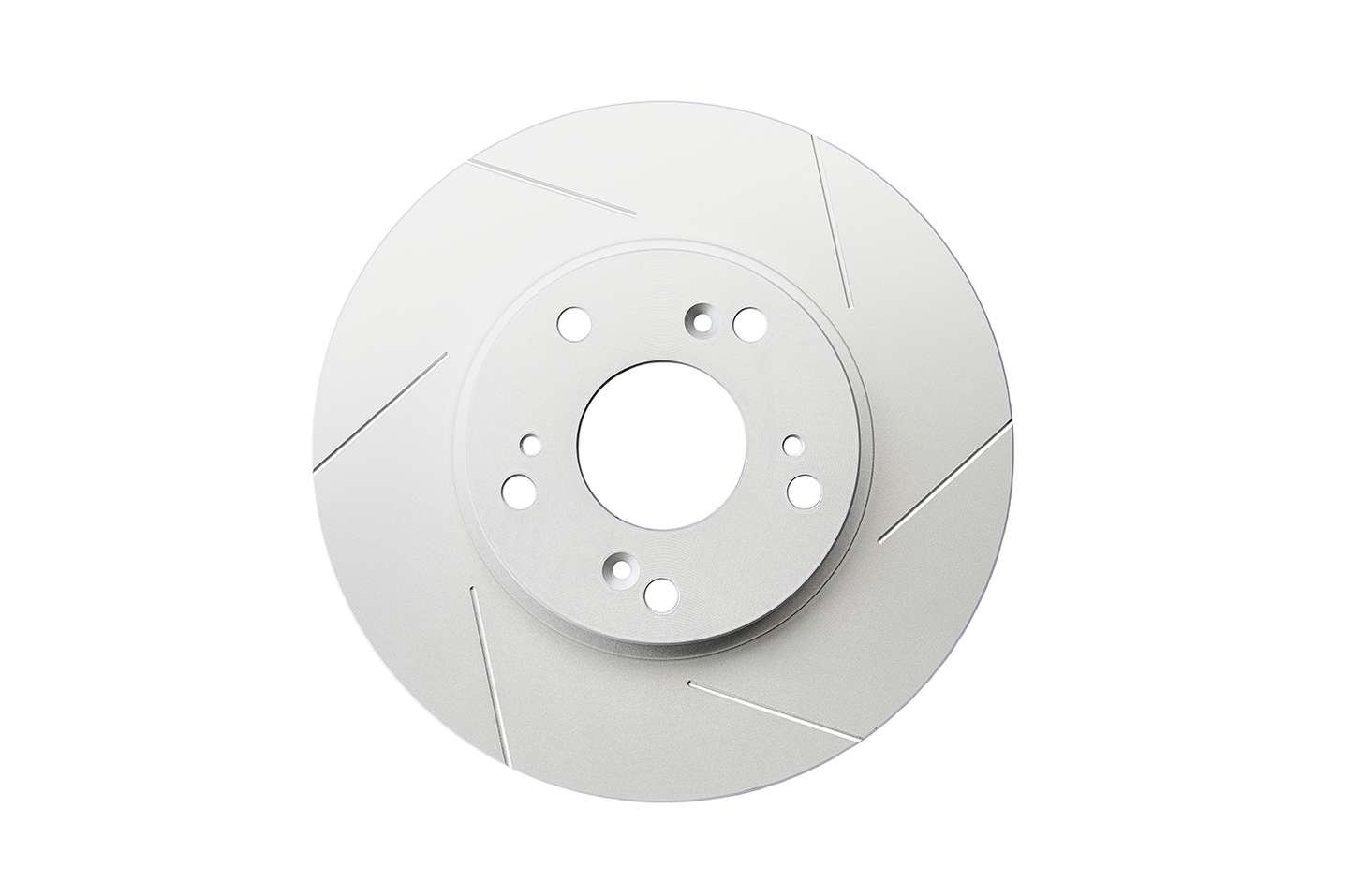 Slotted rotors have slots around the outside circumference of the rotor. The slots are present to release hot gasses generated during heavy braking to prevent brake fade when brakes can no longer bring a vehicle to a complete stop. These rotors also have directional vanes that increase braking performance in wet weather by creating channels for water on the rotor surface.
Drilled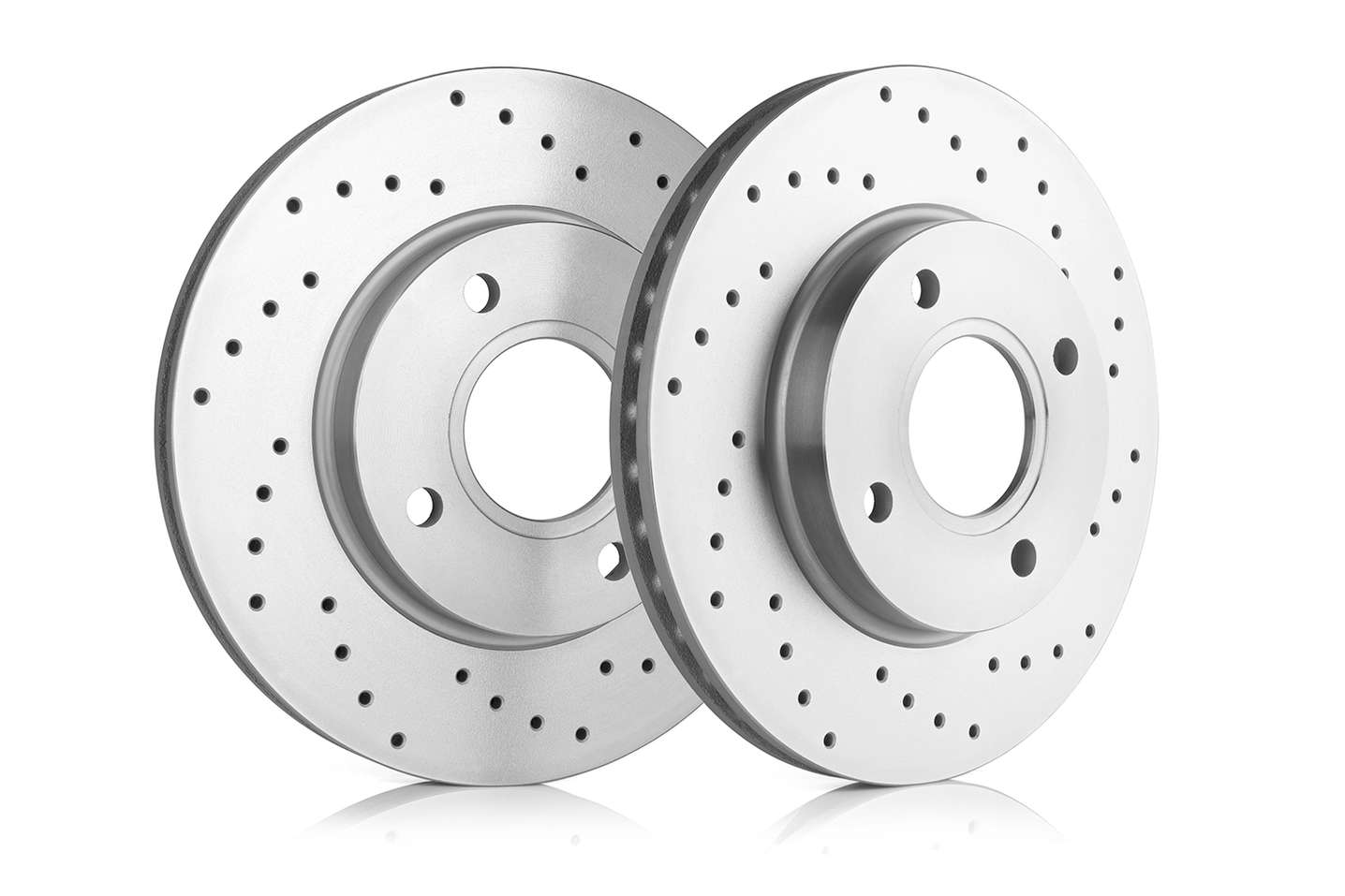 Drilled rotors are like slotted rotors but have holes drilled around each slot. These holes are deeper than those found on slotted rotors and allow even more heat to be released from the brake system under heavy or prolonged braking situations. This helps prevent brake fade under the same conditions that slotted rotors avoid.
Slotted & drilled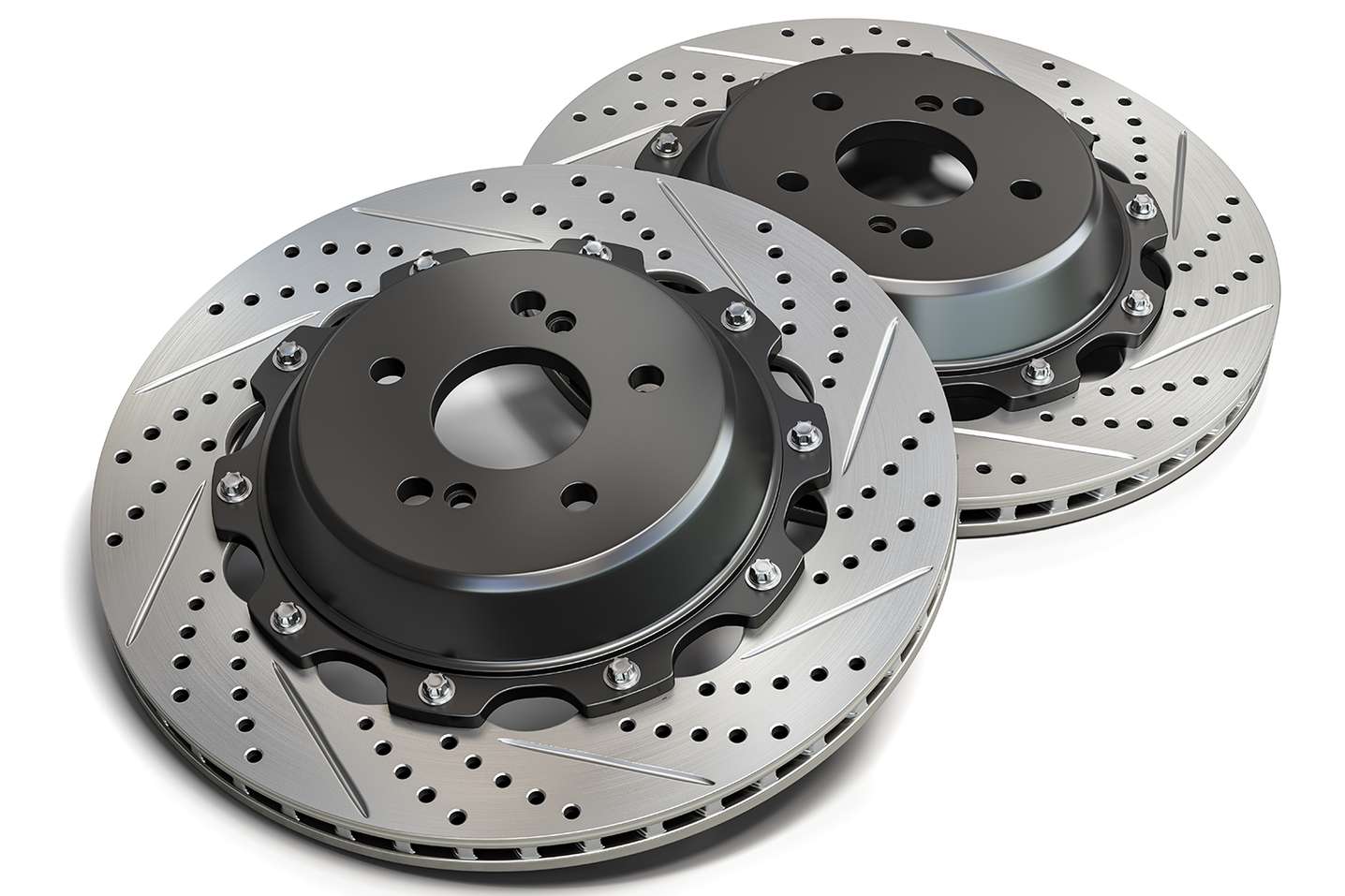 Slotted and drilled rotors combine all the advantages of both types. They have directional vanes like those found on slotted rotors and deeper slots with holes drilled around them like those found on drilled rotors. These types of rotors generally work best for heavy-duty trucks or higher-performance vehicles because they prevent overheating in extreme conditions.
How often should you replace brake rotors?
The general rule for replacement is every 30,000 miles. However, this number heavily depends on driver behavior/habits, weather conditions and driving style.
Brake rotor replacement is usually needed when it reaches the end of its service life. Look for grooves, cracks and signs of excessive wear in the rotor's material.
In some extreme cases, brake rotors may show signs of severe damage after only 10,000 to 20,000 miles. Your rotors' lifespan comes down to driving style and how often you use the brakes while the car is moving. For example, there will be a lot of friction between brake pads and rotor surfaces during repeated severe braking. This friction can overheat the rotor and warp it.
Regardless of what has led to the repair, brake rotor replacement is a maintenance item that you must regularly perform for safe vehicle operation—it's not a one-time service. As always, you should consult your owner's manual or the car manufacturer for more info on the brake system and its replacement interval. Your mileage may vary.
Worn-out brake rotors will also affect several other safety features of your car, such as:
ABS or Anti-lock Braking System
Stability Control
All of these rely on sensors mounted inside the wheel hubs. These sensors send traction and braking force data to the car's ECU to control brake pressure and steering angle. Unfortunately, these systems may not work correctly under heavy braking conditions if this data is incorrect. All these problems can come down to worn brake rotors.
Can I change brake rotors myself?
Yes. Changing brake rotors rarely involves specialty tools. But while the process is often simple, it's seldom easy. Especially if your rotors haven't been changed in a while, prepare to block off some time and muster up some elbow grease.
The first step in replacing your brakes is to ensure you have the correct replacement part for your specific make and model. You may need to check with a local auto parts store if you're unsure what kinds of brakes are installed on your car.
To give you a quick overview, with the vehicle on a level surface, lift one side of the car and support it with a jack stand before removing any parts to access your brakes. On most cars, the process looks something like this:
1. Remove your lug nuts and remove your wheel.
2. Loosen and move your brake caliper.
3. Remove your brake disk.
4. Replace with the new disk.
5. Replace the calipers.
6. Replace the wheel.
7. Remove the jack stands and lower the jack.
Although this removal and replacement is simplified, it's a relatively easy thing to do if you have any mechanical knowledge and some socket wrenches and torque wrench and maybe a mallet to use on the disk.
Because you already have the caliper exposed, most experts recommend changing your brake pads at the same time. If the calipers themselves are old or worn, it's a good time to replace those, too.
How much to change brakes and rotors?
Search your vehicle make or model to find the average repair cost for a set of brake rotors or find your vehicle in the table below.
| Make | Model | Average Cost | Cost Range |
| --- | --- | --- | --- |
| Acura | Legend | $207.85 | $187.00 - $228.70 |
| Acura | NSX | $275.65 | $248.10 - $303.20 |
| Acura | Integra | $304.42 | $274.00 - $334.83 |
| Acura | ZDX | $307.75 | $277.10 - $338.40 |
| Acura | TSX | $338.90 | $305.00 - $372.80 |
| Acura | RSX | $368.00 | $331.30 - $404.70 |
| Acura | RDX | $369.10 | $332.10 - $406.10 |
| Acura | ILX | $376.35 | $338.90 - $413.80 |
| Acura | CL | $380.81 | $342.63 - $419.00 |
| Acura | TLX | $389.40 | $350.50 - $428.30 |
| Acura | RL | $398.10 | $358.30 - $437.90 |
| Acura | TL | $452.75 | $407.60 - $497.90 |
| Acura | SLX | $474.00 | $426.75 - $521.25 |
| Acura | MDX | $484.10 | $435.80 - $532.40 |
| Acura | RLX | $488.00 | $439.25 - $536.75 |
| Alfa Romeo | Stelvio | $365.80 | $329.30 - $402.30 |
| Alfa Romeo | Giulia | $406.50 | $365.90 - $447.10 |
| Alfa Romeo | 4C | $730.10 | $657.10 - $803.10 |
| Audi | S6 | $1,006.65 | $906.00 - $1,107.30 |
| Audi | RS7 | $2,074.55 | $1,867.20 - $2,281.90 |
| Audi | Cabriolet | $234.05 | $210.70 - $257.40 |
| Audi | RS3 | $234.80 | $211.20 - $258.40 |
| Audi | A3 Sportback e-tron | $250.10 | $225.10 - $275.10 |
| Audi | RS4 | $264.95 | $238.60 - $291.30 |
| Audi | A5 Sportback | $274.15 | $246.80 - $301.50 |
| Audi | S5 Sportback | $297.86 | $268.14 - $327.57 |
| Audi | S4 | $306.40 | $275.80 - $337.00 |
| Audi | A4 allroad | $313.30 | $281.90 - $344.70 |
| Audi | A3 Quattro | $318.55 | $286.70 - $350.40 |
| Audi | TT | $328.20 | $295.30 - $361.10 |
| Audi | A4 Quattro | $358.15 | $322.30 - $394.00 |
| Audi | Q3 Quattro | $364.80 | $328.40 - $401.20 |
| Audi | Allroad Quattro | $373.55 | $336.30 - $410.80 |
| Audi | A8 Quattro | $373.90 | $336.60 - $411.20 |
| Audi | TT Quattro | $383.50 | $345.13 - $421.88 |
| Audi | A3 | $417.65 | $375.80 - $459.50 |
| Audi | A4 | $423.90 | $381.50 - $466.30 |
| Audi | A5 Quattro | $425.90 | $383.20 - $468.60 |
| Audi | S3 | $430.85 | $387.80 - $473.90 |
| Audi | A6 | $443.20 | $398.90 - $487.50 |
| Audi | Q3 | $444.25 | $399.90 - $488.60 |
| Audi | Q8 | $446.70 | $402.10 - $491.30 |
| Audi | A5 | $467.35 | $420.50 - $514.20 |
| Audi | A7 Quattro | $506.65 | $456.10 - $557.20 |
| Audi | Q5 | $550.40 | $495.40 - $605.40 |
| Audi | Q7 | $578.15 | $520.40 - $635.90 |
| Audi | S7 | $614.63 | $553.13 - $676.13 |
| Audi | S5 | $626.15 | $563.60 - $688.70 |
| Audi | S8 | $646.07 | $581.57 - $710.57 |
| Audi | allroad | $711.94 | $640.63 - $783.25 |
| Audi | SQ5 | $751.90 | $676.60 - $827.20 |
| Audi | A6 Quattro | $756.60 | $680.90 - $832.30 |
| BMW | M3 | $1,004.10 | $903.70 - $1,104.50 |
| BMW | M5 | $1,231.45 | $1,108.30 - $1,354.60 |
| BMW | X4 | $136.94 | $123.13 - $150.75 |
| BMW | i3s | $199.30 | $179.40 - $219.20 |
| BMW | 325is | $199.75 | $179.80 - $219.70 |
| BMW | 840Ci | $206.10 | $185.50 - $226.70 |
| BMW | 318ti | $211.30 | $190.30 - $232.30 |
| BMW | ActiveHybrid 3 | $213.80 | $192.50 - $235.10 |
| BMW | Alpina B7 | $228.45 | $205.70 - $251.20 |
| BMW | 318is | $229.95 | $206.90 - $253.00 |
| BMW | 328is | $236.70 | $213.00 - $260.40 |
| BMW | 323is | $245.15 | $220.60 - $269.70 |
| BMW | 323Ci | $254.67 | $229.00 - $280.33 |
| BMW | Alpina B7L | $268.80 | $242.10 - $295.50 |
| BMW | Alpina B6 xDrive Gran Coupe | $271.00 | $244.00 - $298.00 |
| BMW | 650i xDrive | $271.95 | $244.70 - $299.20 |
| BMW | i3 | $281.63 | $253.50 - $309.75 |
| BMW | 430i Gran Coupe | $281.80 | $253.60 - $310.00 |
| BMW | 135i | $283.85 | $255.60 - $312.10 |
| BMW | 525xi | $287.20 | $258.50 - $315.90 |
| BMW | 535i GT | $290.00 | $261.00 - $319.00 |
| BMW | 640i xDrive Gran Coupe | $306.85 | $276.20 - $337.50 |
| BMW | 328Ci | $312.85 | $281.60 - $344.10 |
| BMW | 740i | $314.70 | $283.20 - $346.20 |
| BMW | 740iL | $315.50 | $284.00 - $347.00 |
| BMW | 325xi | $328.60 | $295.70 - $361.50 |
| BMW | 750i xDrive | $329.75 | $296.83 - $362.67 |
| BMW | 230i xDrive | $337.20 | $303.40 - $371.00 |
| BMW | 750iL | $338.40 | $304.50 - $372.30 |
| BMW | M550i xDrive | $343.15 | $309.00 - $377.30 |
| BMW | 228i | $344.65 | $310.40 - $378.90 |
| BMW | 330e | $354.25 | $318.90 - $389.60 |
| BMW | 740i xDrive | $357.40 | $321.70 - $393.10 |
| BMW | 528xi | $358.95 | $323.00 - $394.90 |
| BMW | 440i xDrive | $362.20 | $326.10 - $398.30 |
| BMW | 535xi | $363.05 | $326.70 - $399.40 |
| BMW | 760Li | $364.45 | $328.10 - $400.80 |
| BMW | 440i xDrive Gran Coupe | $364.75 | $328.20 - $401.30 |
| BMW | 428i xDrive Gran Coupe | $367.40 | $330.80 - $404.00 |
| BMW | Z3 | $368.75 | $331.90 - $405.60 |
| BMW | 428i xDrive | $372.65 | $335.50 - $409.80 |
| BMW | 330i GT xDrive | $373.75 | $336.40 - $411.10 |
| BMW | X6 | $376.50 | $338.75 - $414.25 |
| BMW | 525i | $378.30 | $340.40 - $416.20 |
| BMW | 430i | $384.60 | $346.10 - $423.10 |
| BMW | 430i xDrive Gran Coupe | $385.25 | $346.80 - $423.70 |
| BMW | 535i xDrive | $386.13 | $347.50 - $424.75 |
| BMW | 330i xDrive | $391.90 | $352.70 - $431.10 |
| BMW | 340i xDrive | $399.85 | $359.80 - $439.90 |
| BMW | 325Ci | $402.55 | $362.20 - $442.90 |
| BMW | M240i xDrive | $404.45 | $364.10 - $444.80 |
| BMW | 760i | $404.65 | $364.20 - $445.10 |
| BMW | 435i xDrive | $404.85 | $364.50 - $445.20 |
| BMW | 328i GT xDrive | $414.29 | $373.00 - $455.57 |
| BMW | 335is | $417.10 | $375.40 - $458.80 |
| BMW | 128i | $422.80 | $380.50 - $465.10 |
| BMW | 340i GT xDrive | $430.40 | $387.40 - $473.40 |
| BMW | 328d xDrive | $432.90 | $389.60 - $476.20 |
| BMW | 328xi | $435.45 | $391.90 - $479.00 |
| BMW | 528i xDrive | $443.15 | $398.90 - $487.40 |
| BMW | 325i | $443.30 | $399.00 - $487.60 |
| BMW | 328i | $444.15 | $399.80 - $488.50 |
| BMW | 530i | $445.28 | $400.67 - $489.89 |
| BMW | 323i | $447.95 | $403.20 - $492.70 |
| BMW | 335i xDrive | $450.25 | $405.25 - $495.25 |
| BMW | 320i | $452.15 | $406.90 - $497.40 |
| BMW | 545i | $452.70 | $407.40 - $498.00 |
| BMW | M240i | $454.00 | $408.60 - $499.40 |
| BMW | 228i xDrive | $457.55 | $411.80 - $503.30 |
| BMW | 328d | $461.40 | $415.20 - $507.60 |
| BMW | 330Ci | $462.00 | $415.90 - $508.10 |
| BMW | 318i | $463.21 | $416.86 - $509.57 |
| BMW | 230i | $470.40 | $423.40 - $517.40 |
| BMW | 335xi | $470.55 | $423.50 - $517.60 |
| BMW | 745i | $471.50 | $424.30 - $518.70 |
| BMW | 335d | $472.63 | $425.38 - $519.88 |
| BMW | 540i | $475.20 | $427.80 - $522.60 |
| BMW | Z4 | $479.80 | $432.00 - $527.60 |
| BMW | ActiveHybrid 5 | $480.85 | $432.90 - $528.80 |
| BMW | 745Li | $487.67 | $439.00 - $536.33 |
| BMW | i8 | $496.65 | $447.00 - $546.30 |
| BMW | 430i xDrive | $498.80 | $449.10 - $548.50 |
| BMW | 320i xDrive | $504.10 | $453.70 - $554.50 |
| BMW | 530xi | $511.65 | $460.60 - $562.70 |
| BMW | 428i | $513.80 | $462.40 - $565.20 |
| BMW | 440i Gran Coupe | $519.25 | $467.25 - $571.25 |
| BMW | X2 | $519.45 | $467.50 - $571.40 |
| BMW | X1 | $524.85 | $472.30 - $577.40 |
| BMW | 740Li xDrive | $529.90 | $477.00 - $582.80 |
| BMW | 428i Gran Coupe | $532.35 | $479.20 - $585.50 |
| BMW | 535i GT xDrive | $535.40 | $481.80 - $589.00 |
| BMW | 340i | $535.90 | $482.20 - $589.60 |
| BMW | 328i xDrive | $543.00 | $488.60 - $597.40 |
| BMW | X3 | $547.20 | $492.50 - $601.90 |
| BMW | 335i | $558.60 | $502.70 - $614.50 |
| BMW | 535d xDrive | $562.00 | $505.90 - $618.10 |
| BMW | 645Ci | $573.80 | $516.50 - $631.10 |
| BMW | 530e | $581.20 | $523.10 - $639.30 |
| BMW | 540i xDrive | $582.90 | $524.60 - $641.20 |
| BMW | 528i | $586.45 | $527.80 - $645.10 |
| BMW | X5 | $587.95 | $529.00 - $646.90 |
| BMW | M235i | $589.30 | $530.30 - $648.30 |
| BMW | 330xi | $594.00 | $534.60 - $653.40 |
| BMW | 550i | $596.20 | $536.60 - $655.80 |
| BMW | 440i | $596.30 | $536.50 - $656.10 |
| BMW | 750Li xDrive | $603.35 | $543.00 - $663.70 |
| BMW | 740Li | $604.80 | $544.30 - $665.30 |
| BMW | 550i xDrive | $636.80 | $573.20 - $700.40 |
| BMW | 750Li | $637.90 | $574.10 - $701.70 |
| BMW | 550i GT | $647.08 | $582.33 - $711.83 |
| BMW | 335i GT xDrive | $649.80 | $584.90 - $714.70 |
| BMW | 750i | $653.80 | $588.40 - $719.20 |
| BMW | 435i | $674.40 | $607.00 - $741.80 |
| BMW | 640i Gran Coupe | $677.20 | $609.60 - $744.80 |
| BMW | 435i Gran Coupe | $687.75 | $619.10 - $756.40 |
| BMW | 330i | $704.00 | $633.70 - $774.30 |
| BMW | 435i xDrive Gran Coupe | $716.50 | $644.80 - $788.20 |
| BMW | 650i Gran Coupe | $723.25 | $651.00 - $795.50 |
| BMW | 650i xDrive Gran Coupe | $724.85 | $652.40 - $797.30 |
| BMW | 535d | $758.70 | $682.80 - $834.60 |
| BMW | 535i | $791.86 | $712.71 - $871.00 |
| BMW | 650i | $799.80 | $719.80 - $879.80 |
| BMW | 640i | $844.06 | $759.75 - $928.38 |
| BMW | M4 | $912.25 | $821.00 - $1,003.50 |
| Buick | Roadmaster | $164.25 | $147.70 - $180.80 |
| Buick | Skylark | $165.45 | $149.00 - $181.90 |
| Buick | Riviera | $179.20 | $161.30 - $197.10 |
| Buick | LaCrosse | $233.85 | $210.50 - $257.20 |
| Buick | Regal TourX | $239.80 | $215.90 - $263.70 |
| Buick | Rainier | $261.60 | $235.40 - $287.80 |
| Buick | Terraza | $281.25 | $253.00 - $309.50 |
| Buick | Park Avenue | $295.05 | $265.40 - $324.70 |
| Buick | LeSabre | $326.10 | $293.40 - $358.80 |
| Buick | Lucerne | $332.70 | $299.30 - $366.10 |
| Buick | Cascada | $338.90 | $305.00 - $372.80 |
| Buick | Encore | $355.33 | $319.78 - $390.89 |
| Buick | Regal | $363.50 | $327.11 - $399.89 |
| Buick | Envision | $380.75 | $342.50 - $419.00 |
| Buick | Rendezvous | $387.50 | $348.90 - $426.10 |
| Buick | Century | $392.00 | $352.60 - $431.40 |
| Buick | Enclave | $396.60 | $357.00 - $436.20 |
| Buick | Verano | $493.45 | $444.20 - $542.70 |
| Cadillac | Catera | $243.75 | $219.30 - $268.20 |
| Cadillac | Eldorado | $253.40 | $228.10 - $278.70 |
| Cadillac | XLR | $287.10 | $258.40 - $315.80 |
| Cadillac | XT5 | $318.40 | $286.60 - $350.20 |
| Cadillac | Seville | $329.30 | $296.40 - $362.20 |
| Cadillac | ELR | $335.40 | $301.90 - $368.90 |
| Cadillac | STS | $347.40 | $312.70 - $382.10 |
| Cadillac | Escalade EXT | $378.44 | $340.44 - $416.44 |
| Cadillac | DTS | $385.00 | $346.40 - $423.60 |
| Cadillac | Escalade ESV | $408.10 | $367.20 - $449.00 |
| Cadillac | CT6 | $415.50 | $373.90 - $457.10 |
| Cadillac | XTS | $485.25 | $436.70 - $533.80 |
| Cadillac | SRX | $488.20 | $439.40 - $537.00 |
| Cadillac | DeVille | $500.50 | $450.50 - $550.50 |
| Cadillac | Escalade | $503.75 | $453.40 - $554.10 |
| Cadillac | CTS | $520.85 | $468.80 - $572.90 |
| Cadillac | ATS | $560.60 | $504.60 - $616.60 |
| Chevrolet | Silverado 1500 LD | $120.00 | $108.00 - $132.00 |
| Chevrolet | Venture | $152.25 | $137.00 - $167.50 |
| Chevrolet | City Express | $160.40 | $144.20 - $176.60 |
| Chevrolet | Silverado 2500 | $161.00 | $144.90 - $177.10 |
| Chevrolet | Metro | $163.20 | $146.90 - $179.50 |
| Chevrolet | Prizm | $165.65 | $149.00 - $182.30 |
| Chevrolet | Corsica | $165.90 | $149.40 - $182.40 |
| Chevrolet | Beretta | $170.25 | $153.25 - $187.25 |
| Chevrolet | Silverado 1500 HD | $219.70 | $197.60 - $241.80 |
| Chevrolet | SSR | $222.45 | $200.30 - $244.60 |
| Chevrolet | Spark EV | $234.75 | $211.20 - $258.30 |
| Chevrolet | G10 | $239.50 | $215.60 - $263.40 |
| Chevrolet | Tracker | $241.10 | $217.00 - $265.20 |
| Chevrolet | Silverado 3500 Classic | $248.50 | $223.70 - $273.30 |
| Chevrolet | Bolt EV | $251.30 | $226.10 - $276.50 |
| Chevrolet | Classic | $252.35 | $227.20 - $277.50 |
| Chevrolet | Aveo5 | $260.40 | $234.40 - $286.40 |
| Chevrolet | C2500 | $260.55 | $234.60 - $286.50 |
| Chevrolet | Aveo | $264.15 | $237.80 - $290.50 |
| Chevrolet | G20 | $277.10 | $249.40 - $304.80 |
| Chevrolet | Volt | $290.00 | $260.88 - $319.13 |
| Chevrolet | Spark | $313.05 | $281.70 - $344.40 |
| Chevrolet | Cavalier | $314.55 | $283.10 - $346.00 |
| Chevrolet | Silverado 1500 Classic | $322.80 | $290.60 - $355.00 |
| Chevrolet | Trax | $323.95 | $291.60 - $356.30 |
| Chevrolet | C3500 | $325.90 | $293.30 - $358.50 |
| Chevrolet | K1500 | $334.35 | $300.90 - $367.80 |
| Chevrolet | HHR | $337.00 | $303.30 - $370.70 |
| Chevrolet | Captiva Sport | $339.55 | $305.60 - $373.50 |
| Chevrolet | Caprice | $346.40 | $311.70 - $381.10 |
| Chevrolet | C1500 | $353.79 | $318.29 - $389.29 |
| Chevrolet | Trailblazer EXT | $362.80 | $326.60 - $399.00 |
| Chevrolet | K3500 | $367.80 | $331.00 - $404.60 |
| Chevrolet | Express 1500 | $368.10 | $331.40 - $404.80 |
| Chevrolet | Corvette | $369.60 | $332.60 - $406.60 |
| Chevrolet | Impala Limited | $370.85 | $333.70 - $408.00 |
| Chevrolet | Silverado 3500 HD | $373.80 | $336.40 - $411.20 |
| Chevrolet | P30 | $379.95 | $342.00 - $417.90 |
| Chevrolet | Malibu Limited | $382.50 | $344.20 - $420.80 |
| Chevrolet | Malibu | $387.40 | $348.70 - $426.10 |
| Chevrolet | Silverado 3500 | $388.50 | $349.50 - $427.50 |
| Chevrolet | C2500 Suburban | $389.57 | $350.57 - $428.57 |
| Chevrolet | Uplander | $391.15 | $352.00 - $430.30 |
| Chevrolet | Trailblazer | $394.25 | $354.80 - $433.70 |
| Chevrolet | Tahoe | $396.40 | $356.80 - $436.00 |
| Chevrolet | C1500 Suburban | $402.95 | $362.70 - $443.20 |
| Chevrolet | Silverado 1500 | $403.60 | $363.30 - $443.90 |
| Chevrolet | Express 2500 | $405.80 | $365.20 - $446.40 |
| Chevrolet | Suburban 3500 HD | $408.65 | $367.80 - $449.50 |
| Chevrolet | G30 | $410.40 | $369.40 - $451.40 |
| Chevrolet | Monte Carlo | $412.90 | $371.60 - $454.20 |
| Chevrolet | Cobalt | $416.65 | $375.00 - $458.30 |
| Chevrolet | Astro | $425.70 | $383.20 - $468.20 |
| Chevrolet | Suburban 2500 | $427.33 | $384.56 - $470.11 |
| Chevrolet | Silverado 2500 HD Classic | $433.70 | $390.30 - $477.10 |
| Chevrolet | K1500 Suburban | $436.95 | $393.40 - $480.50 |
| Chevrolet | SS | $438.60 | $394.90 - $482.30 |
| Chevrolet | Blazer | $439.10 | $395.30 - $482.90 |
| Chevrolet | Impala | $439.55 | $395.50 - $483.60 |
| Chevrolet | Avalanche 1500 | $442.60 | $398.30 - $486.90 |
| Chevrolet | K2500 Suburban | $444.20 | $400.00 - $488.40 |
| Chevrolet | Cruze Limited | $447.75 | $403.10 - $492.40 |
| Chevrolet | Colorado | $457.05 | $411.30 - $502.80 |
| Chevrolet | K2500 | $458.11 | $412.33 - $503.89 |
| Chevrolet | S10 | $459.05 | $413.10 - $505.00 |
| Chevrolet | Suburban 1500 | $463.20 | $416.90 - $509.50 |
| Chevrolet | Traverse | $486.70 | $438.00 - $535.40 |
| Chevrolet | Sonic | $487.90 | $439.20 - $536.60 |
| Chevrolet | Avalanche | $496.40 | $446.70 - $546.10 |
| Chevrolet | Equinox | $502.65 | $452.50 - $552.80 |
| Chevrolet | Silverado 2500 HD | $517.45 | $465.70 - $569.20 |
| Chevrolet | Cruze | $520.50 | $468.30 - $572.70 |
| Chevrolet | Camaro | $550.75 | $495.70 - $605.80 |
| Chevrolet | Suburban | $585.50 | $526.90 - $644.10 |
| Chevrolet | Avalanche 2500 | $68.50 | $61.75 - $75.25 |
| Chevrolet | Express 3500 | $727.70 | $655.00 - $800.40 |
| Chrysler | Grand Voyager | $161.05 | $145.00 - $177.10 |
| Chrysler | LeBaron | $190.60 | $171.50 - $209.70 |
| Chrysler | Crossfire | $202.00 | $181.80 - $222.20 |
| Chrysler | LHS | $217.65 | $195.80 - $239.50 |
| Chrysler | Concorde | $238.67 | $214.67 - $262.67 |
| Chrysler | Voyager | $264.80 | $238.40 - $291.20 |
| Chrysler | 300M | $271.00 | $244.00 - $298.00 |
| Chrysler | Sebring | $299.00 | $269.10 - $328.90 |
| Chrysler | PT Cruiser | $327.30 | $294.50 - $360.10 |
| Chrysler | Town n Country | $341.45 | $307.30 - $375.60 |
| Chrysler | Aspen | $363.75 | $327.38 - $400.13 |
| Chrysler | Cirrus | $397.88 | $358.00 - $437.75 |
| Chrysler | 300 | $398.00 | $358.00 - $438.00 |
| Chrysler | 200 | $400.50 | $360.50 - $440.50 |
| Chrysler | Pacifica | $406.95 | $366.30 - $447.60 |
| Dodge | Spirit | $192.50 | $173.40 - $211.60 |
| Dodge | Neon | $247.30 | $222.50 - $272.10 |
| Dodge | Viper | $260.20 | $234.20 - $286.20 |
| Dodge | Sprinter 3500 | $274.70 | $247.30 - $302.10 |
| Dodge | B1500 | $312.70 | $281.60 - $343.80 |
| Dodge | Avenger | $326.35 | $293.70 - $359.00 |
| Dodge | Dart | $330.20 | $297.20 - $363.20 |
| Dodge | Nitro | $339.05 | $305.20 - $372.90 |
| Dodge | Magnum | $346.50 | $311.70 - $381.30 |
| Dodge | Intrepid | $347.44 | $312.75 - $382.13 |
| Dodge | B3500 | $369.40 | $332.40 - $406.40 |
| Dodge | Caravan | $383.20 | $344.80 - $421.60 |
| Dodge | Caliber | $383.55 | $345.30 - $421.80 |
| Dodge | Ram 3500 Van | $387.20 | $348.60 - $425.80 |
| Dodge | Ram 2500 Van | $394.80 | $355.20 - $434.40 |
| Dodge | Grand Caravan | $411.55 | $370.40 - $452.70 |
| Dodge | Stratus | $415.13 | $373.75 - $456.50 |
| Dodge | Journey | $418.10 | $376.20 - $460.00 |
| Dodge | Dakota | $441.50 | $397.30 - $485.70 |
| Dodge | Ram 1500 | $442.70 | $398.50 - $486.90 |
| Dodge | B2500 | $442.75 | $398.50 - $487.00 |
| Dodge | Ram 1500 Van | $463.50 | $417.20 - $509.80 |
| Dodge | Durango | $463.80 | $417.30 - $510.30 |
| Dodge | Charger | $478.25 | $430.40 - $526.10 |
| Dodge | Sprinter 2500 | $508.20 | $457.50 - $558.90 |
| Dodge | Challenger | $525.80 | $473.30 - $578.30 |
| Dodge | Ram 2500 | $530.50 | $477.50 - $583.50 |
| Dodge | Ram 3500 | $601.00 | $541.10 - $660.90 |
| Fiat | 500X | $402.70 | $362.50 - $442.90 |
| Fiat | 500 | $424.40 | $381.90 - $466.90 |
| Fiat | 500L | $496.70 | $447.10 - $546.30 |
| Fiat | 124 Spider | $594.85 | $535.30 - $654.40 |
| Ford | Contour | $169.33 | $152.67 - $186.00 |
| Ford | Probe | $179.75 | $161.70 - $197.80 |
| Ford | Aspire | $201.00 | $181.00 - $221.00 |
| Ford | F-250 HD | $226.90 | $204.20 - $249.60 |
| Ford | Thunderbird | $247.70 | $223.00 - $272.40 |
| Ford | E-150 Club Wagon | $260.55 | $234.50 - $286.60 |
| Ford | C-Max | $270.15 | $243.30 - $297.00 |
| Ford | Freestar | $275.40 | $247.90 - $302.90 |
| Ford | Police Interceptor Sedan | $285.10 | $256.60 - $313.60 |
| Ford | Aerostar | $292.20 | $263.00 - $321.40 |
| Ford | F-150 Heritage | $302.75 | $272.50 - $333.00 |
| Ford | Transit-350 HD | $311.85 | $280.70 - $343.00 |
| Ford | EcoSport | $313.10 | $281.90 - $344.30 |
| Ford | E-350 Club Wagon | $314.40 | $283.00 - $345.80 |
| Ford | Windstar | $314.90 | $283.30 - $346.50 |
| Ford | Explorer Sport | $315.05 | $283.50 - $346.60 |
| Ford | Ranger | $316.70 | $285.10 - $348.30 |
| Ford | Bronco | $319.88 | $288.00 - $351.75 |
| Ford | Escort | $324.50 | $292.00 - $357.00 |
| Ford | Taurus X | $326.67 | $294.00 - $359.33 |
| Ford | Taurus | $345.45 | $310.90 - $380.00 |
| Ford | Flex | $346.55 | $311.90 - $381.20 |
| Ford | E-150 Econoline Club Wagon | $349.20 | $314.00 - $384.40 |
| Ford | Escape | $374.20 | $336.80 - $411.60 |
| Ford | F-350 | $375.40 | $337.80 - $413.00 |
| Ford | Explorer Sport Trac | $376.10 | $338.60 - $413.60 |
| Ford | Explorer | $382.45 | $344.20 - $420.70 |
| Ford | Crown Victoria | $398.80 | $359.10 - $438.50 |
| Ford | Transit-150 | $406.00 | $365.44 - $446.56 |
| Ford | Edge | $406.40 | $365.90 - $446.90 |
| Ford | Police Interceptor Utility | $409.90 | $368.90 - $450.90 |
| Ford | Fusion | $410.90 | $369.90 - $451.90 |
| Ford | Focus | $413.25 | $372.00 - $454.50 |
| Ford | Fiesta | $425.60 | $383.10 - $468.10 |
| Ford | E-350 Econoline | $428.30 | $385.60 - $471.00 |
| Ford | Five Hundred | $453.00 | $407.70 - $498.30 |
| Ford | Freestyle | $453.75 | $408.20 - $499.30 |
| Ford | E-250 | $458.39 | $412.56 - $504.22 |
| Ford | F-150 | $467.95 | $421.10 - $514.80 |
| Ford | Transit-250 | $486.15 | $437.50 - $534.80 |
| Ford | F-250 | $491.83 | $442.78 - $540.89 |
| Ford | Mustang | $504.50 | $453.70 - $555.30 |
| Ford | Transit-350 | $505.95 | $455.40 - $556.50 |
| Ford | Expedition | $525.35 | $472.80 - $577.90 |
| Ford | F-550 Super Duty | $532.45 | $479.20 - $585.70 |
| Ford | E-150 | $555.55 | $500.00 - $611.10 |
| Ford | E-350 Super Duty | $558.65 | $502.70 - $614.60 |
| Ford | E-450 Econoline Super Duty | $560.35 | $504.20 - $616.50 |
| Ford | Transit Connect | $570.75 | $513.70 - $627.80 |
| Ford | Excursion | $592.70 | $533.60 - $651.80 |
| Ford | F-350 Super Duty | $613.35 | $552.10 - $674.60 |
| Ford | E-450 Super Duty | $626.50 | $563.90 - $689.10 |
| Ford | F-450 Super Duty | $638.80 | $575.00 - $702.60 |
| Ford | F-250 Super Duty | $683.15 | $614.90 - $751.40 |
| Genesis | G90 | $280.10 | $252.10 - $308.10 |
| Genesis | G70 | $327.80 | $295.00 - $360.60 |
| Genesis | G80 | $330.50 | $297.50 - $363.50 |
| GMC | Savana 1500 | $1,318.45 | $1,186.70 - $1,450.20 |
| GMC | Sierra 1500 Limited | $124.40 | $112.20 - $136.60 |
| GMC | Savana 3500 | $160.00 | $144.00 - $176.00 |
| GMC | Sierra 3500 HD | $195.20 | $175.90 - $214.50 |
| GMC | K1500 | $214.40 | $193.10 - $235.70 |
| GMC | Sierra 1500 HD | $215.70 | $194.00 - $237.40 |
| GMC | Sierra 2500 HD | $222.86 | $200.71 - $245.00 |
| GMC | Sonoma | $224.60 | $202.00 - $247.20 |
| GMC | Sierra 2500 HD Classic | $226.80 | $204.20 - $249.40 |
| GMC | G1500 | $240.80 | $216.70 - $264.90 |
| GMC | G2500 | $244.85 | $220.30 - $269.40 |
| GMC | Sierra 3500 | $246.45 | $221.80 - $271.10 |
| GMC | Envoy XUV | $249.75 | $224.70 - $274.80 |
| GMC | K3500 | $251.35 | $226.20 - $276.50 |
| GMC | Jimmy | $255.70 | $230.20 - $281.20 |
| GMC | C2500 | $263.00 | $236.60 - $289.40 |
| GMC | C2500 Suburban | $266.95 | $240.20 - $293.70 |
| GMC | K2500 Suburban | $267.90 | $241.10 - $294.70 |
| GMC | P3500 | $268.45 | $241.70 - $295.20 |
| GMC | Yukon XL | $275.39 | $247.78 - $303.00 |
| GMC | G3500 | $280.45 | $252.50 - $308.40 |
| GMC | Envoy XL | $281.85 | $253.60 - $310.10 |
| GMC | C1500 | $298.30 | $268.40 - $328.20 |
| GMC | C3500 | $313.83 | $282.67 - $345.00 |
| GMC | C1500 Suburban | $319.40 | $287.60 - $351.20 |
| GMC | Sierra 3500 Classic | $336.20 | $302.70 - $369.70 |
| GMC | Yukon XL 2500 | $337.30 | $303.60 - $371.00 |
| GMC | Acadia Limited | $351.30 | $316.30 - $386.30 |
| GMC | Sierra 1500 Classic | $363.00 | $326.60 - $399.40 |
| GMC | Canyon | $369.90 | $332.90 - $406.90 |
| GMC | K1500 Suburban | $370.70 | $333.60 - $407.80 |
| GMC | Acadia | $371.00 | $333.90 - $408.10 |
| GMC | Sierra 2500 | $376.50 | $338.80 - $414.20 |
| GMC | Savana 2500 | $378.05 | $340.10 - $416.00 |
| GMC | Envoy | $394.70 | $355.30 - $434.10 |
| GMC | Terrain | $406.00 | $365.30 - $446.70 |
| GMC | Yukon XL 1500 | $407.60 | $366.70 - $448.50 |
| GMC | Sierra 1500 | $420.95 | $379.00 - $462.90 |
| GMC | Safari | $482.10 | $433.90 - $530.30 |
| GMC | Yukon | $485.90 | $437.40 - $534.40 |
| Honda | Civic del Sol | $165.50 | $148.90 - $182.10 |
| Honda | Accord Crosstour | $173.60 | $156.20 - $191.00 |
| Honda | Insight | $186.50 | $168.00 - $205.00 |
| Honda | CR-Z | $212.75 | $191.40 - $234.10 |
| Honda | Clarity | $308.15 | $277.30 - $339.00 |
| Honda | Prelude | $323.00 | $290.63 - $355.38 |
| Honda | Element | $327.40 | $294.60 - $360.20 |
| Honda | Civic | $345.40 | $310.80 - $380.00 |
| Honda | Fit | $349.00 | $314.10 - $383.90 |
| Honda | S2000 | $352.65 | $317.50 - $387.80 |
| Honda | Crosstour | $376.70 | $338.90 - $414.50 |
| Honda | Accord | $376.80 | $339.10 - $414.50 |
| Honda | CR-V | $383.50 | $345.20 - $421.80 |
| Honda | Ridgeline | $412.95 | $371.70 - $454.20 |
| Honda | HR-V | $424.35 | $381.90 - $466.80 |
| Honda | Pilot | $434.95 | $391.40 - $478.50 |
| Honda | Odyssey | $455.25 | $409.70 - $500.80 |
| Honda | Passport | $514.14 | $462.71 - $565.57 |
| Hummer | H2 | $423.10 | $380.80 - $465.40 |
| Hyundai | XG300 | $206.05 | $185.40 - $226.70 |
| Hyundai | Veracruz | $246.63 | $222.00 - $271.25 |
| Hyundai | XG350 | $285.13 | $256.75 - $313.50 |
| Hyundai | Ioniq | $290.05 | $261.10 - $319.00 |
| Hyundai | Kona | $297.50 | $267.56 - $327.44 |
| Hyundai | Entourage | $330.05 | $297.20 - $362.90 |
| Hyundai | Tiburon | $335.20 | $301.70 - $368.70 |
| Hyundai | Elantra Coupe | $342.70 | $308.40 - $377.00 |
| Hyundai | Equus | $361.95 | $325.70 - $398.20 |
| Hyundai | Elantra GT | $374.15 | $336.70 - $411.60 |
| Hyundai | Accent | $389.00 | $350.10 - $427.90 |
| Hyundai | Azera | $403.05 | $362.70 - $443.40 |
| Hyundai | Elantra | $403.95 | $363.50 - $444.40 |
| Hyundai | Genesis Coupe | $409.20 | $368.20 - $450.20 |
| Hyundai | Tucson | $424.90 | $382.40 - $467.40 |
| Hyundai | Sonata | $426.25 | $383.70 - $468.80 |
| Hyundai | Santa Fe Sport | $441.65 | $397.60 - $485.70 |
| Hyundai | Veloster | $446.05 | $401.50 - $490.60 |
| Hyundai | Santa Fe | $497.05 | $447.30 - $546.80 |
| Hyundai | Genesis | $500.35 | $450.50 - $550.20 |
| Infiniti | J30 | $157.00 | $141.20 - $172.80 |
| Infiniti | G20 | $226.10 | $203.50 - $248.70 |
| Infiniti | Q40 | $232.67 | $209.33 - $256.00 |
| Infiniti | M56 | $236.75 | $213.20 - $260.30 |
| Infiniti | QX30 | $284.00 | $255.60 - $312.40 |
| Infiniti | EX37 | $286.20 | $257.60 - $314.80 |
| Infiniti | Q70 | $286.38 | $257.75 - $315.00 |
| Infiniti | FX50 | $301.00 | $270.83 - $331.17 |
| Infiniti | QX70 | $310.05 | $279.10 - $341.00 |
| Infiniti | G25 | $313.55 | $282.10 - $345.00 |
| Infiniti | Q70L | $324.25 | $291.90 - $356.60 |
| Infiniti | FX37 | $328.57 | $295.86 - $361.29 |
| Infiniti | Q45 | $335.60 | $302.00 - $369.20 |
| Infiniti | QX4 | $344.63 | $310.00 - $379.25 |
| Infiniti | QX50 | $345.15 | $310.60 - $379.70 |
| Infiniti | Q50 | $347.75 | $312.90 - $382.60 |
| Infiniti | QX60 | $373.40 | $336.10 - $410.70 |
| Infiniti | M45 | $375.67 | $338.22 - $413.11 |
| Infiniti | QX56 | $382.05 | $343.90 - $420.20 |
| Infiniti | I35 | $383.40 | $345.00 - $421.80 |
| Infiniti | M37 | $385.10 | $346.50 - $423.70 |
| Infiniti | I30 | $387.35 | $348.60 - $426.10 |
| Infiniti | FX45 | $395.10 | $355.50 - $434.70 |
| Infiniti | M35 | $395.15 | $355.50 - $434.80 |
| Infiniti | FX35 | $422.10 | $379.80 - $464.40 |
| Infiniti | G35 | $427.35 | $384.50 - $470.20 |
| Infiniti | Q60 | $428.80 | $385.90 - $471.70 |
| Infiniti | JX35 | $437.20 | $393.40 - $481.00 |
| Infiniti | G37 | $454.95 | $409.50 - $500.40 |
| Infiniti | EX35 | $460.67 | $414.56 - $506.78 |
| Infiniti | QX80 | $565.10 | $508.60 - $621.60 |
| Isuzu | Rodeo Sport | $201.50 | $181.40 - $221.60 |
| Isuzu | NPR | $259.45 | $233.50 - $285.40 |
| Isuzu | i-370 | $294.70 | $265.20 - $324.20 |
| Isuzu | Ascender | $339.75 | $305.80 - $373.70 |
| Isuzu | Rodeo | $358.67 | $322.67 - $394.67 |
| Isuzu | Trooper | $431.40 | $388.20 - $474.60 |
| Isuzu | Axiom | $526.55 | $473.90 - $579.20 |
| Jaguar | F-Type | $1,052.25 | $947.10 - $1,157.40 |
| Jaguar | XJS | $184.85 | $166.30 - $203.40 |
| Jaguar | XJ12 | $201.90 | $181.70 - $222.10 |
| Jaguar | XKR | $206.81 | $186.13 - $227.50 |
| Jaguar | XJ6 | $249.10 | $224.20 - $274.00 |
| Jaguar | Vanden Plas | $260.55 | $234.40 - $286.70 |
| Jaguar | XFR | $266.40 | $239.70 - $293.10 |
| Jaguar | S-Type | $334.40 | $301.00 - $367.80 |
| Jaguar | XK | $362.30 | $326.10 - $398.50 |
| Jaguar | XJ8 | $447.00 | $402.30 - $491.70 |
| Jaguar | XK8 | $459.10 | $413.10 - $505.10 |
| Jaguar | X-Type | $491.60 | $442.60 - $540.60 |
| Jaguar | XJ | $509.10 | $458.20 - $560.00 |
| Jaguar | XF | $535.35 | $481.80 - $588.90 |
| Jaguar | XJR | $733.07 | $659.86 - $806.29 |
| Jaguar | XE | $746.50 | $671.88 - $821.13 |
| Jaguar | F-Pace | $958.50 | $862.70 - $1,054.30 |
| Jeep | Gladiator | $323.90 | $291.60 - $356.20 |
| Jeep | Compass | $327.35 | $294.70 - $360.00 |
| Jeep | Patriot | $355.80 | $320.20 - $391.40 |
| Jeep | Liberty | $382.20 | $344.00 - $420.40 |
| Jeep | Renegade | $394.70 | $355.30 - $434.10 |
| Jeep | Wrangler JK | $426.35 | $383.60 - $469.10 |
| Jeep | Wrangler | $427.35 | $384.50 - $470.20 |
| Jeep | Commander | $434.05 | $390.60 - $477.50 |
| Jeep | Grand Cherokee | $457.35 | $411.60 - $503.10 |
| Jeep | Cherokee | $462.15 | $416.10 - $508.20 |
| Kia | Amanti | $153.50 | $138.25 - $168.75 |
| Kia | K900 | $242.15 | $218.00 - $266.30 |
| Kia | Sephia | $247.85 | $223.00 - $272.70 |
| Kia | Rio5 | $249.10 | $224.20 - $274.00 |
| Kia | Forte | $265.90 | $239.20 - $292.60 |
| Kia | Rondo | $278.81 | $250.88 - $306.75 |
| Kia | Soul EV | $280.60 | $252.50 - $308.70 |
| Kia | Niro | $300.88 | $270.88 - $330.88 |
| Kia | Sedona | $327.50 | $294.80 - $360.20 |
| Kia | Spectra | $329.05 | $296.20 - $361.90 |
| Kia | Forte Koup | $351.90 | $316.90 - $386.90 |
| Kia | Telluride | $359.30 | $323.30 - $395.30 |
| Kia | Rio | $363.10 | $326.70 - $399.50 |
| Kia | Soul | $369.45 | $332.30 - $406.60 |
| Kia | Forte5 | $371.75 | $334.67 - $408.83 |
| Kia | Cadenza | $396.70 | $357.20 - $436.20 |
| Kia | Spectra5 | $410.70 | $369.70 - $451.70 |
| Kia | Sportage | $423.40 | $381.00 - $465.80 |
| Kia | Optima | $427.80 | $385.10 - $470.50 |
| Kia | Sorento | $448.85 | $404.00 - $493.70 |
| Kia | Borrego | $480.10 | $432.10 - $528.10 |
| Kia | Stinger | $741.75 | $667.60 - $815.90 |
| Land Rover | Defender 90 | $242.60 | $218.30 - $266.90 |
| Land Rover | LR3 | $327.80 | $295.10 - $360.50 |
| Land Rover | Range Rover Velar | $360.00 | $324.00 - $396.00 |
| Land Rover | Discovery Sport | $444.85 | $400.40 - $489.30 |
| Land Rover | Range Rover Evoque | $476.95 | $429.40 - $524.50 |
| Land Rover | LR2 | $507.25 | $456.63 - $557.88 |
| Land Rover | Range Rover | $530.10 | $477.00 - $583.20 |
| Land Rover | Discovery | $547.80 | $493.00 - $602.60 |
| Land Rover | Freelander | $586.80 | $528.20 - $645.40 |
| Land Rover | LR4 | $641.40 | $577.20 - $705.60 |
| Land Rover | Range Rover Sport | $727.15 | $654.50 - $799.80 |
| Lexus | LX570 | $192.33 | $173.00 - $211.67 |
| Lexus | NX300h | $229.85 | $206.80 - $252.90 |
| Lexus | RX350L | $230.05 | $207.00 - $253.10 |
| Lexus | GS400 | $245.63 | $221.00 - $270.25 |
| Lexus | LS500 | $254.60 | $229.10 - $280.10 |
| Lexus | NX300 | $256.75 | $231.10 - $282.40 |
| Lexus | GS460 | $257.80 | $232.00 - $283.60 |
| Lexus | RC200t | $268.90 | $242.00 - $295.80 |
| Lexus | HS250h | $295.50 | $266.00 - $325.00 |
| Lexus | LX450 | $299.40 | $269.50 - $329.30 |
| Lexus | SC430 | $315.55 | $284.00 - $347.10 |
| Lexus | ES300h | $323.50 | $291.30 - $355.70 |
| Lexus | SC400 | $338.45 | $304.60 - $372.30 |
| Lexus | RX400h | $339.35 | $305.60 - $373.10 |
| Lexus | ES330 | $345.35 | $310.90 - $379.80 |
| Lexus | LS600h | $347.75 | $312.90 - $382.60 |
| Lexus | ES350 | $351.10 | $315.90 - $386.30 |
| Lexus | NX200t | $352.50 | $317.20 - $387.80 |
| Lexus | CT200h | $354.75 | $319.20 - $390.30 |
| Lexus | RX300 | $354.81 | $319.38 - $390.25 |
| Lexus | ES300 | $359.45 | $323.50 - $395.40 |
| Lexus | SC300 | $362.10 | $325.80 - $398.40 |
| Lexus | RC300 | $363.95 | $327.60 - $400.30 |
| Lexus | IS300 | $364.50 | $328.10 - $400.90 |
| Lexus | GS450h | $371.50 | $334.40 - $408.60 |
| Lexus | RC350 | $372.60 | $335.40 - $409.80 |
| Lexus | GS300 | $373.50 | $336.10 - $410.90 |
| Lexus | RX450h | $374.20 | $336.90 - $411.50 |
| Lexus | LS460 | $376.80 | $339.10 - $414.50 |
| Lexus | GS350 | $378.40 | $340.60 - $416.20 |
| Lexus | GX470 | $392.44 | $353.33 - $431.56 |
| Lexus | IS350 | $394.10 | $354.70 - $433.50 |
| Lexus | IS200t | $395.40 | $355.90 - $434.90 |
| Lexus | LS400 | $399.60 | $359.60 - $439.60 |
| Lexus | IS F | $399.70 | $359.70 - $439.70 |
| Lexus | LX470 | $408.35 | $367.50 - $449.20 |
| Lexus | IS250 | $446.10 | $401.50 - $490.70 |
| Lexus | RX330 | $478.20 | $430.30 - $526.10 |
| Lexus | LS430 | $505.00 | $454.50 - $555.50 |
| Lexus | GX460 | $524.50 | $472.00 - $577.00 |
| Lexus | RX350 | $571.70 | $514.60 - $628.80 |
| Lexus | GS430 | $581.40 | $523.40 - $639.40 |
| Lexus | RC F | $801.30 | $721.20 - $881.40 |
| Lincoln | Mark VIII | $140.36 | $126.29 - $154.43 |
| Lincoln | Mark LT | $168.61 | $151.89 - $185.33 |
| Lincoln | Continental | $207.00 | $186.33 - $227.67 |
| Lincoln | MKC | $208.70 | $187.80 - $229.60 |
| Lincoln | Blackwood | $244.10 | $219.60 - $268.60 |
| Lincoln | Zephyr | $326.75 | $294.13 - $359.38 |
| Lincoln | Aviator | $383.30 | $345.10 - $421.50 |
| Lincoln | MKZ | $384.45 | $346.10 - $422.80 |
| Lincoln | MKX | $424.25 | $381.80 - $466.70 |
| Lincoln | LS | $439.95 | $396.00 - $483.90 |
| Lincoln | Town Car | $465.30 | $418.80 - $511.80 |
| Lincoln | Navigator | $471.00 | $423.90 - $518.10 |
| Lincoln | MKS | $494.70 | $445.20 - $544.20 |
| Lincoln | MKT | $498.00 | $448.30 - $547.70 |
| Mazda | MX-6 | $179.85 | $161.80 - $197.90 |
| Mazda | MX-3 | $180.10 | $162.10 - $198.10 |
| Mazda | B4000 | $184.30 | $166.00 - $202.60 |
| Mazda | B2500 | $191.85 | $172.70 - $211.00 |
| Mazda | Millenia | $212.25 | $191.00 - $233.50 |
| Mazda | CX-3 | $216.63 | $194.75 - $238.50 |
| Mazda | Protege5 | $222.71 | $200.57 - $244.86 |
| Mazda | MX-5 Miata | $237.15 | $213.30 - $261.00 |
| Mazda | B3000 | $253.83 | $228.50 - $279.17 |
| Mazda | B2300 | $258.60 | $232.60 - $284.60 |
| Mazda | RX-8 | $261.19 | $235.13 - $287.25 |
| Mazda | Miata | $285.40 | $256.90 - $313.90 |
| Mazda | 6 | $309.75 | $278.70 - $340.80 |
| Mazda | 2 | $310.80 | $279.70 - $341.90 |
| Mazda | Protege | $341.75 | $307.60 - $375.90 |
| Mazda | CX-5 | $411.85 | $370.60 - $453.10 |
| Mazda | CX-9 | $412.90 | $371.60 - $454.20 |
| Mazda | Tribute | $424.17 | $381.83 - $466.50 |
| Mazda | 3 | $441.00 | $396.80 - $485.20 |
| Mazda | 5 | $459.35 | $413.40 - $505.30 |
| Mazda | CX-7 | $513.60 | $462.20 - $565.00 |
| Mercedes-Benz | E63 AMG | $1,162.40 | $1,046.30 - $1,278.50 |
| Mercedes-Benz | CLK63 AMG | $1,390.35 | $1,251.30 - $1,529.40 |
| Mercedes-Benz | S63 AMG | $1,769.00 | $1,592.10 - $1,945.90 |
| Mercedes-Benz | SL65 AMG | $1,809.35 | $1,628.50 - $1,990.20 |
| Mercedes-Benz | AMG GT 63 S | $122.80 | $110.40 - $135.20 |
| Mercedes-Benz | CLK350 | $162.33 | $146.00 - $178.67 |
| Mercedes-Benz | C220 | $168.50 | $151.70 - $185.30 |
| Mercedes-Benz | SLK300 | $174.40 | $157.00 - $191.80 |
| Mercedes-Benz | CLK320 | $191.80 | $172.70 - $210.90 |
| Mercedes-Benz | SL63 AMG | $2,238.65 | $2,014.80 - $2,462.50 |
| Mercedes-Benz | CL63 AMG | $2,296.15 | $2,066.50 - $2,525.80 |
| Mercedes-Benz | CLS63 AMG | $2,356.40 | $2,120.80 - $2,592.00 |
| Mercedes-Benz | SLK280 | $205.35 | $184.80 - $225.90 |
| Mercedes-Benz | CLS63 AMG S | $209.05 | $188.20 - $229.90 |
| Mercedes-Benz | S320 | $211.10 | $190.00 - $232.20 |
| Mercedes-Benz | S350 | $214.15 | $192.80 - $235.50 |
| Mercedes-Benz | ML55 AMG | $217.70 | $196.00 - $239.40 |
| Mercedes-Benz | AMG GT | $223.22 | $201.00 - $245.44 |
| Mercedes-Benz | E250 | $227.10 | $204.40 - $249.80 |
| Mercedes-Benz | SLK230 | $228.40 | $205.60 - $251.20 |
| Mercedes-Benz | E420 | $229.10 | $206.30 - $251.90 |
| Mercedes-Benz | SL600 | $234.10 | $210.70 - $257.50 |
| Mercedes-Benz | SL320 | $235.60 | $212.10 - $259.10 |
| Mercedes-Benz | ML63 AMG | $237.05 | $213.40 - $260.70 |
| Mercedes-Benz | C55 AMG | $238.95 | $215.00 - $262.90 |
| Mercedes-Benz | Sprinter 1500 | $249.15 | $224.30 - $274.00 |
| Mercedes-Benz | CLK430 | $249.45 | $224.60 - $274.30 |
| Mercedes-Benz | G65 AMG | $253.85 | $228.30 - $279.40 |
| Mercedes-Benz | CLK500 | $258.00 | $232.20 - $283.80 |
| Mercedes-Benz | SL450 | $260.45 | $234.40 - $286.50 |
| Mercedes-Benz | CLS55 AMG | $264.70 | $238.30 - $291.10 |
| Mercedes-Benz | SLC300 | $274.25 | $247.00 - $301.50 |
| Mercedes-Benz | R320 | $282.85 | $254.60 - $311.10 |
| Mercedes-Benz | C280 | $289.30 | $260.30 - $318.30 |
| Mercedes-Benz | E400 | $290.88 | $261.75 - $320.00 |
| Mercedes-Benz | S400 | $299.50 | $269.50 - $329.50 |
| Mercedes-Benz | GL320 | $306.55 | $275.90 - $337.20 |
| Mercedes-Benz | A220 | $312.90 | $281.60 - $344.20 |
| Mercedes-Benz | C240 | $313.15 | $281.80 - $344.50 |
| Mercedes-Benz | G55 AMG | $313.70 | $282.30 - $345.10 |
| Mercedes-Benz | GLK250 | $324.15 | $291.80 - $356.50 |
| Mercedes-Benz | G550 | $328.15 | $295.40 - $360.90 |
| Mercedes-Benz | SL55 AMG | $330.88 | $297.88 - $363.88 |
| Mercedes-Benz | G500 | $331.43 | $298.14 - $364.71 |
| Mercedes-Benz | S420 | $332.25 | $299.00 - $365.50 |
| Mercedes-Benz | S600 | $335.60 | $302.00 - $369.20 |
| Mercedes-Benz | C320 | $338.65 | $304.80 - $372.50 |
| Mercedes-Benz | CLS400 | $339.00 | $305.20 - $372.80 |
| Mercedes-Benz | ML430 | $339.80 | $305.70 - $373.90 |
| Mercedes-Benz | SLK32 AMG | $344.30 | $309.90 - $378.70 |
| Mercedes-Benz | SLK350 | $344.90 | $310.30 - $379.50 |
| Mercedes-Benz | E320 | $345.75 | $311.20 - $380.30 |
| Mercedes-Benz | SLK250 | $346.95 | $312.30 - $381.60 |
| Mercedes-Benz | E55 AMG | $352.50 | $317.20 - $387.80 |
| Mercedes-Benz | C230 | $353.10 | $317.70 - $388.50 |
| Mercedes-Benz | ML320 | $356.50 | $320.80 - $392.20 |
| Mercedes-Benz | E430 | $365.80 | $329.20 - $402.40 |
| Mercedes-Benz | SLK320 | $368.40 | $331.60 - $405.20 |
| Mercedes-Benz | SLS AMG | $370.35 | $333.30 - $407.40 |
| Mercedes-Benz | SL500 | $372.33 | $335.11 - $409.56 |
| Mercedes-Benz | C350e | $383.40 | $344.90 - $421.90 |
| Mercedes-Benz | ML500 | $384.60 | $346.10 - $423.10 |
| Mercedes-Benz | ML250 | $385.10 | $346.70 - $423.50 |
| Mercedes-Benz | AMG GT S | $388.10 | $349.40 - $426.80 |
| Mercedes-Benz | S55 AMG | $388.38 | $349.63 - $427.13 |
| Mercedes-Benz | Maybach S600 | $396.30 | $356.50 - $436.10 |
| Mercedes-Benz | C450 AMG | $400.15 | $360.20 - $440.10 |
| Mercedes-Benz | S430 | $403.80 | $363.40 - $444.20 |
| Mercedes-Benz | GLC350e | $405.45 | $364.90 - $446.00 |
| Mercedes-Benz | GLC43 AMG | $407.90 | $367.20 - $448.60 |
| Mercedes-Benz | CL600 | $426.10 | $383.40 - $468.80 |
| Mercedes-Benz | E500 | $427.10 | $384.40 - $469.80 |
| Mercedes-Benz | GLE400 | $427.50 | $384.60 - $470.40 |
| Mercedes-Benz | GLK350 | $432.60 | $389.40 - $475.80 |
| Mercedes-Benz | G63 AMG | $435.55 | $392.10 - $479.00 |
| Mercedes-Benz | C250 | $436.55 | $392.90 - $480.20 |
| Mercedes-Benz | C400 | $437.50 | $393.75 - $481.25 |
| Mercedes-Benz | R350 | $443.00 | $398.60 - $487.40 |
| Mercedes-Benz | GL450 | $444.00 | $399.60 - $488.40 |
| Mercedes-Benz | Sprinter 2500 | $444.85 | $400.30 - $489.40 |
| Mercedes-Benz | S450 | $445.20 | $400.70 - $489.70 |
| Mercedes-Benz | CLA250 | $447.50 | $402.70 - $492.30 |
| Mercedes-Benz | E350 | $448.70 | $404.00 - $493.40 |
| Mercedes-Benz | SL400 | $452.85 | $407.50 - $498.20 |
| Mercedes-Benz | GLE450 AMG | $453.90 | $408.60 - $499.20 |
| Mercedes-Benz | C350 | $456.95 | $411.10 - $502.80 |
| Mercedes-Benz | CLS550 | $458.25 | $412.50 - $504.00 |
| Mercedes-Benz | GLA250 | $458.25 | $412.40 - $504.10 |
| Mercedes-Benz | CLS500 | $463.00 | $416.70 - $509.30 |
| Mercedes-Benz | Metris | $465.20 | $418.70 - $511.70 |
| Mercedes-Benz | CLK550 | $465.70 | $419.10 - $512.30 |
| Mercedes-Benz | CLK55 AMG | $466.40 | $419.80 - $513.00 |
| Mercedes-Benz | ML550 | $468.45 | $421.60 - $515.30 |
| Mercedes-Benz | R500 | $468.55 | $421.70 - $515.40 |
| Mercedes-Benz | E550 | $469.40 | $422.40 - $516.40 |
| Mercedes-Benz | ML350 | $474.40 | $427.00 - $521.80 |
| Mercedes-Benz | S550 | $478.40 | $430.50 - $526.30 |
| Mercedes-Benz | CL500 | $488.20 | $439.40 - $537.00 |
| Mercedes-Benz | GLS550 | $488.40 | $439.70 - $537.10 |
| Mercedes-Benz | S560 | $492.30 | $443.10 - $541.50 |
| Mercedes-Benz | GL550 | $493.30 | $444.00 - $542.60 |
| Mercedes-Benz | E450 | $494.20 | $444.90 - $543.50 |
| Mercedes-Benz | GLE350 | $496.70 | $446.90 - $546.50 |
| Mercedes-Benz | GLE43 AMG | $507.36 | $456.71 - $558.00 |
| Mercedes-Benz | Sprinter 3500 | $512.15 | $460.90 - $563.40 |
| Mercedes-Benz | S500 | $513.90 | $462.60 - $565.20 |
| Mercedes-Benz | C63 AMG S | $518.00 | $466.20 - $569.80 |
| Mercedes-Benz | CL550 | $519.90 | $468.00 - $571.80 |
| Mercedes-Benz | GLC300 | $520.40 | $468.30 - $572.50 |
| Mercedes-Benz | SL550 | $552.50 | $497.30 - $607.70 |
| Mercedes-Benz | GL63 AMG | $562.15 | $505.90 - $618.40 |
| Mercedes-Benz | C300 | $562.60 | $506.40 - $618.80 |
| Mercedes-Benz | E300 | $563.50 | $507.10 - $619.90 |
| Mercedes-Benz | C63 AMG | $564.33 | $508.00 - $620.67 |
| Mercedes-Benz | CL55 AMG | $572.00 | $514.70 - $629.30 |
| Mercedes-Benz | S550e | $595.60 | $536.10 - $655.10 |
| Mercedes-Benz | GLS63 AMG | $597.90 | $538.10 - $657.70 |
| Mercedes-Benz | C43 AMG | $600.10 | $540.00 - $660.20 |
| Mercedes-Benz | SLK55 AMG | $609.60 | $548.60 - $670.60 |
| Mercedes-Benz | E43 AMG | $611.45 | $550.20 - $672.70 |
| Mercedes-Benz | CLA45 AMG | $611.60 | $550.40 - $672.80 |
| Mercedes-Benz | GL350 | $643.35 | $578.80 - $707.90 |
| Mercedes-Benz | GLE63 AMG S | $656.55 | $590.90 - $722.20 |
| Mercedes-Benz | GLS450 | $750.90 | $675.70 - $826.10 |
| Mercedes-Benz | S65 AMG | $83.40 | $75.00 - $91.80 |
| Mercury | Tracer | $189.55 | $170.60 - $208.50 |
| Mercury | Mystique | $203.70 | $183.40 - $224.00 |
| Mercury | Sable | $242.40 | $218.20 - $266.60 |
| Mercury | Marauder | $267.60 | $240.80 - $294.40 |
| Mercury | Milan | $350.85 | $315.80 - $385.90 |
| Mercury | Mariner | $360.00 | $323.90 - $396.10 |
| Mercury | Mountaineer | $389.45 | $350.40 - $428.50 |
| Mercury | Montego | $431.13 | $388.00 - $474.25 |
| Mercury | Cougar | $481.50 | $433.40 - $529.60 |
| Mercury | Grand Marquis | $485.90 | $437.40 - $534.40 |
| Mini | Cooper Paceman | $262.85 | $236.60 - $289.10 |
| Mini | Cooper Clubman | $290.25 | $261.25 - $319.25 |
| Mini | Cooper | $416.75 | $375.00 - $458.50 |
| Mini | Cooper Countryman | $427.20 | $384.50 - $469.90 |
| Mitsubishi | 3000GT | $176.40 | $158.70 - $194.10 |
| Mitsubishi | Mighty Max | $178.90 | $161.10 - $196.70 |
| Mitsubishi | Outlander PHEV | $197.40 | $177.70 - $217.10 |
| Mitsubishi | Eclipse Cross | $215.25 | $193.60 - $236.90 |
| Mitsubishi | Montero Sport | $220.57 | $198.43 - $242.71 |
| Mitsubishi | Raider | $236.55 | $213.00 - $260.10 |
| Mitsubishi | Mirage | $314.55 | $283.00 - $346.10 |
| Mitsubishi | Diamante | $315.75 | $284.13 - $347.38 |
| Mitsubishi | Endeavor | $339.56 | $305.63 - $373.50 |
| Mitsubishi | Outlander Sport | $362.40 | $326.20 - $398.60 |
| Mitsubishi | Eclipse | $363.45 | $327.10 - $399.80 |
| Mitsubishi | Mirage G4 | $366.50 | $329.88 - $403.13 |
| Mitsubishi | Galant | $387.10 | $348.30 - $425.90 |
| Mitsubishi | Lancer | $402.60 | $362.30 - $442.90 |
| Mitsubishi | Outlander | $403.25 | $362.90 - $443.60 |
| Mitsubishi | Montero | $472.13 | $425.00 - $519.25 |
| Nissan | 200SX | $154.30 | $138.90 - $169.70 |
| Nissan | Pickup | $168.36 | $151.43 - $185.29 |
| Nissan | Kicks | $209.90 | $188.80 - $231.00 |
| Nissan | Leaf | $243.00 | $218.50 - $267.50 |
| Nissan | 240SX | $252.75 | $227.40 - $278.10 |
| Nissan | Rogue Select | $257.67 | $232.00 - $283.33 |
| Nissan | Cube | $287.20 | $258.60 - $315.80 |
| Nissan | 370Z | $288.00 | $259.10 - $316.90 |
| Nissan | 300ZX | $311.15 | $280.10 - $342.20 |
| Nissan | NV3500 | $312.79 | $281.57 - $344.00 |
| Nissan | Versa | $313.20 | $281.80 - $344.60 |
| Nissan | Pathfinder Armada | $319.55 | $287.70 - $351.40 |
| Nissan | Versa Note | $354.50 | $319.10 - $389.90 |
| Nissan | Sentra | $366.30 | $329.60 - $403.00 |
| Nissan | Juke | $371.30 | $334.20 - $408.40 |
| Nissan | Rogue Sport | $372.20 | $334.80 - $409.60 |
| Nissan | NV200 | $384.10 | $345.60 - $422.60 |
| Nissan | Xterra | $387.00 | $348.30 - $425.70 |
| Nissan | Frontier | $390.65 | $351.70 - $429.60 |
| Nissan | Quest | $392.65 | $353.30 - $432.00 |
| Nissan | Rogue | $393.60 | $354.20 - $433.00 |
| Nissan | Titan XD | $403.60 | $363.20 - $444.00 |
| Nissan | Altima | $420.05 | $377.90 - $462.20 |
| Nissan | Maxima | $420.40 | $378.40 - $462.40 |
| Nissan | 350Z | $427.00 | $384.20 - $469.80 |
| Nissan | Pathfinder | $427.60 | $384.90 - $470.30 |
| Nissan | NV1500 | $435.30 | $391.70 - $478.90 |
| Nissan | Armada | $436.55 | $392.80 - $480.30 |
| Nissan | Titan | $443.95 | $399.70 - $488.20 |
| Nissan | Murano | $473.80 | $426.60 - $521.00 |
| Nissan | NV2500 | $509.65 | $458.70 - $560.60 |
| Pontiac | Sunfire | $151.25 | $136.25 - $166.25 |
| Pontiac | Trans Sport | $167.40 | $150.70 - $184.10 |
| Pontiac | G3 | $187.30 | $168.70 - $205.90 |
| Pontiac | G5 | $236.35 | $212.70 - $260.00 |
| Pontiac | Solstice | $239.50 | $215.50 - $263.50 |
| Pontiac | Montana | $240.60 | $216.40 - $264.80 |
| Pontiac | Aztek | $262.40 | $236.20 - $288.60 |
| Pontiac | G6 | $313.05 | $281.70 - $344.40 |
| Pontiac | GTO | $342.60 | $308.50 - $376.70 |
| Pontiac | Bonneville | $359.25 | $323.50 - $395.00 |
| Pontiac | Vibe | $364.60 | $328.20 - $401.00 |
| Pontiac | Grand Prix | $365.38 | $328.75 - $402.00 |
| Pontiac | Grand Am | $434.35 | $390.80 - $477.90 |
| Pontiac | Torrent | $554.05 | $498.70 - $609.40 |
| Pontiac | G8 | $577.60 | $519.80 - $635.40 |
| Porsche | 718 Boxster | $144.80 | $130.40 - $159.20 |
| Porsche | 718 Cayman | $268.20 | $241.30 - $295.10 |
| Porsche | Boxster | $382.50 | $344.30 - $420.70 |
| Porsche | 911 | $415.20 | $373.70 - $456.70 |
| Porsche | Panamera | $522.80 | $470.40 - $575.20 |
| Porsche | Cayman | $615.85 | $554.30 - $677.40 |
| Porsche | Cayenne | $686.45 | $617.80 - $755.10 |
| Porsche | Macan | $804.20 | $723.80 - $884.60 |
| Ram | ProMaster 3500 | $224.10 | $201.70 - $246.50 |
| Ram | ProMaster 1500 | $239.60 | $215.60 - $263.60 |
| Ram | C V | $245.15 | $220.60 - $269.70 |
| Ram | 1500 Classic | $320.35 | $288.20 - $352.50 |
| Ram | ProMaster City | $347.65 | $312.90 - $382.40 |
| Ram | ProMaster 2500 | $432.35 | $389.10 - $475.60 |
| Ram | 1500 | $466.50 | $419.90 - $513.10 |
| Ram | Dakota | $51.43 | $46.29 - $56.57 |
| Ram | 2500 | $642.90 | $578.60 - $707.20 |
| Ram | 3500 | $730.20 | $657.10 - $803.30 |
| Saab | 3-Sep | $192.25 | $173.00 - $211.50 |
| Saab | 5-Sep | $195.30 | $175.70 - $214.90 |
| Saab | 9-3X | $200.55 | $180.60 - $220.50 |
| Saab | 9-2X | $220.55 | $198.50 - $242.60 |
| Saab | 9-7x | $224.10 | $201.80 - $246.40 |
| Saab | 900 | $280.25 | $252.17 - $308.33 |
| Saab | 44077 | $296.60 | $266.90 - $326.30 |
| Saab | 9-4X | $300.15 | $270.20 - $330.10 |
| Saab | 44079 | $344.63 | $310.25 - $379.00 |
| Saturn | L300 | $136.30 | $122.70 - $149.90 |
| Saturn | LW200 | $169.60 | $152.70 - $186.50 |
| Saturn | LS | $171.25 | $154.20 - $188.30 |
| Saturn | LW300 | $172.80 | $155.40 - $190.20 |
| Saturn | Sky | $204.60 | $184.20 - $225.00 |
| Saturn | SC1 | $208.33 | $187.33 - $229.33 |
| Saturn | L200 | $212.35 | $191.10 - $233.60 |
| Saturn | SW1 | $212.90 | $191.60 - $234.20 |
| Saturn | LS2 | $214.25 | $192.83 - $235.67 |
| Saturn | LW2 | $215.40 | $193.80 - $237.00 |
| Saturn | SW2 | $218.95 | $197.00 - $240.90 |
| Saturn | LS1 | $219.10 | $197.10 - $241.10 |
| Saturn | LW1 | $222.45 | $200.20 - $244.70 |
| Saturn | SC2 | $223.40 | $201.00 - $245.80 |
| Saturn | SL | $234.40 | $211.00 - $257.80 |
| Saturn | Astra | $258.90 | $233.20 - $284.60 |
| Saturn | L100 | $264.86 | $238.29 - $291.43 |
| Saturn | SL1 | $281.30 | $253.20 - $309.40 |
| Saturn | Relay | $292.85 | $263.60 - $322.10 |
| Saturn | Outlook | $321.30 | $289.20 - $353.40 |
| Saturn | Aura | $375.05 | $337.60 - $412.50 |
| Saturn | Ion | $393.40 | $354.00 - $432.80 |
| Saturn | Vue | $440.90 | $396.90 - $484.90 |
| Scion | xD | $196.69 | $176.88 - $216.50 |
| Scion | iQ | $217.90 | $196.20 - $239.60 |
| Scion | FR-S | $339.05 | $305.20 - $372.90 |
| Scion | iM | $345.10 | $310.60 - $379.60 |
| Scion | xA | $352.15 | $316.90 - $387.40 |
| Scion | iA | $384.15 | $345.70 - $422.60 |
| Scion | xB | $390.90 | $352.00 - $429.80 |
| Scion | tC | $397.85 | $358.00 - $437.70 |
| Smart | Fortwo | $418.40 | $376.60 - $460.20 |
| Subaru | B9 Tribeca | $248.75 | $223.90 - $273.60 |
| Subaru | Crosstrek | $271.70 | $244.60 - $298.80 |
| Subaru | BRZ | $273.30 | $246.00 - $300.60 |
| Subaru | WRX STI | $277.00 | $249.40 - $304.60 |
| Subaru | Tribeca | $284.39 | $255.78 - $313.00 |
| Subaru | WRX | $323.45 | $291.10 - $355.80 |
| Subaru | Baja | $331.00 | $298.00 - $364.00 |
| Subaru | Forester | $359.35 | $323.30 - $395.40 |
| Subaru | XV Crosstrek | $366.05 | $329.40 - $402.70 |
| Subaru | Impreza | $383.10 | $344.80 - $421.40 |
| Subaru | Legacy | $440.10 | $396.10 - $484.10 |
| Subaru | Outback | $470.50 | $423.40 - $517.60 |
| Suzuki | X-90 | $160.25 | $144.30 - $176.20 |
| Suzuki | Swift | $167.25 | $150.60 - $183.90 |
| Suzuki | Reno | $202.60 | $182.30 - $222.90 |
| Suzuki | Verona | $214.80 | $193.30 - $236.30 |
| Suzuki | Vitara | $231.20 | $208.00 - $254.40 |
| Suzuki | Esteem | $236.40 | $212.80 - $260.00 |
| Suzuki | Kizashi | $263.60 | $237.20 - $290.00 |
| Suzuki | XL-7 | $311.60 | $280.50 - $342.70 |
| Suzuki | SX4 | $326.14 | $293.43 - $358.86 |
| Suzuki | Forenza | $336.13 | $302.50 - $369.75 |
| Suzuki | Aerio | $355.75 | $320.00 - $391.50 |
| Suzuki | Grand Vitara | $413.88 | $372.50 - $455.25 |
| Tesla | X | $172.25 | $155.10 - $189.40 |
| Tesla | 3 | $272.05 | $244.80 - $299.30 |
| Tesla | S | $718.95 | $647.00 - $790.90 |
| Toyota | Pickup | $155.55 | $140.00 - $171.10 |
| Toyota | MR2 Spyder | $189.55 | $170.60 - $208.50 |
| Toyota | MR2 | $191.90 | $172.60 - $211.20 |
| Toyota | Prius Prime | $206.95 | $186.30 - $227.60 |
| Toyota | Supra | $214.55 | $193.20 - $235.90 |
| Toyota | Previa | $220.35 | $198.30 - $242.40 |
| Toyota | Tercel | $221.60 | $199.60 - $243.60 |
| Toyota | Echo | $239.25 | $215.30 - $263.20 |
| Toyota | T100 | $245.60 | $221.00 - $270.20 |
| Toyota | Prius Plug-In | $271.28 | $244.11 - $298.44 |
| Toyota | Prius C | $303.83 | $273.33 - $334.33 |
| Toyota | Prius V | $321.20 | $289.00 - $353.40 |
| Toyota | Land Cruiser | $360.45 | $324.40 - $396.50 |
| Toyota | Yaris | $379.85 | $341.90 - $417.80 |
| Toyota | Yaris iA | $380.80 | $342.90 - $418.70 |
| Toyota | 86 | $389.40 | $350.50 - $428.30 |
| Toyota | FJ Cruiser | $392.30 | $353.10 - $431.50 |
| Toyota | Matrix | $406.25 | $365.50 - $447.00 |
| Toyota | RAV4 | $408.85 | $367.90 - $449.80 |
| Toyota | Camry | $410.40 | $369.40 - $451.40 |
| Toyota | Avalon | $416.65 | $375.00 - $458.30 |
| Toyota | Corolla iM | $417.40 | $375.60 - $459.20 |
| Toyota | C-HR | $420.05 | $378.00 - $462.10 |
| Toyota | Prius | $431.50 | $388.10 - $474.90 |
| Toyota | Solara | $439.20 | $395.40 - $483.00 |
| Toyota | Corolla | $440.75 | $396.70 - $484.80 |
| Toyota | Sienna | $444.55 | $400.10 - $489.00 |
| Toyota | 4Runner | $459.25 | $413.40 - $505.10 |
| Toyota | Highlander | $466.60 | $420.00 - $513.20 |
| Toyota | Venza | $471.55 | $424.50 - $518.60 |
| Toyota | Tacoma | $479.75 | $431.80 - $527.70 |
| Toyota | Sequoia | $507.00 | $456.40 - $557.60 |
| Toyota | Tundra | $589.20 | $530.40 - $648.00 |
| Toyota | Celica | $635.13 | $571.63 - $698.63 |
| Volkswagen | Eos | $197.00 | $177.30 - $216.70 |
| Volkswagen | Golf Alltrack | $201.15 | $181.00 - $221.30 |
| Volkswagen | Golf SportWagen | $210.88 | $189.75 - $232.00 |
| Volkswagen | Arteon | $230.10 | $207.10 - $253.10 |
| Volkswagen | R32 | $237.95 | $214.10 - $261.80 |
| Volkswagen | e-Golf | $247.70 | $222.90 - $272.50 |
| Volkswagen | Rabbit | $259.33 | $233.33 - $285.33 |
| Volkswagen | Tiguan Limited | $301.80 | $271.60 - $332.00 |
| Volkswagen | EuroVan | $322.80 | $290.40 - $355.20 |
| Volkswagen | Routan | $335.10 | $301.40 - $368.80 |
| Volkswagen | Cabrio | $343.56 | $309.38 - $377.75 |
| Volkswagen | Beetle | $362.25 | $326.00 - $398.50 |
| Volkswagen | Jetta | $394.30 | $354.90 - $433.70 |
| Volkswagen | Golf R | $395.05 | $355.50 - $434.60 |
| Volkswagen | CC | $401.85 | $361.70 - $442.00 |
| Volkswagen | Passat | $415.05 | $373.60 - $456.50 |
| Volkswagen | Golf | $416.20 | $374.50 - $457.90 |
| Volkswagen | GTI | $422.00 | $379.80 - $464.20 |
| Volkswagen | Atlas | $441.60 | $397.40 - $485.80 |
| Volkswagen | Tiguan | $497.15 | $447.40 - $546.90 |
| Volkswagen | Touareg | $511.50 | $460.60 - $562.40 |
| Volvo | 960 | $182.90 | $164.50 - $201.30 |
| Volvo | 940 | $186.30 | $167.70 - $204.90 |
| Volvo | V90 | $206.75 | $186.20 - $227.30 |
| Volvo | S60 Cross Country | $216.25 | $194.60 - $237.90 |
| Volvo | V60 Cross Country | $233.80 | $210.60 - $257.00 |
| Volvo | V50 | $241.10 | $216.90 - $265.30 |
| Volvo | S70 | $258.60 | $232.90 - $284.30 |
| Volvo | XC40 | $269.15 | $242.20 - $296.10 |
| Volvo | C70 | $287.70 | $258.90 - $316.50 |
| Volvo | S80 | $312.45 | $281.30 - $343.60 |
| Volvo | 850 | $316.15 | $284.50 - $347.80 |
| Volvo | V40 | $316.25 | $284.60 - $347.90 |
| Volvo | S40 | $350.15 | $315.10 - $385.20 |
| Volvo | V70 | $352.40 | $317.10 - $387.70 |
| Volvo | S90 | $379.65 | $341.80 - $417.50 |
| Volvo | C30 | $391.70 | $352.50 - $430.90 |
| Volvo | S60 | $399.55 | $359.60 - $439.50 |
| Volvo | V60 | $452.90 | $407.60 - $498.20 |
| Volvo | XC90 | $484.85 | $436.40 - $533.30 |
| Volvo | XC70 | $496.17 | $446.56 - $545.78 |
| Volvo | XC60 | $508.10 | $457.30 - $558.90 |
| {.table .expandy .is-hoverable} |   |   |   |