Acronyms are super helpful, except when they're not. Some are simple to puzzle out, like IRS. After filing taxes for years, you'll likely never forget the shorthand for Internal Revenue Service. But what about car acronyms? What does SRT mean? We can tell you it's not Silicone Reclining Teacup. Here's what it does mean.
What does SRT mean?
The SRT meaning is Street and Racing Technology. Originally the name of a small group of performance-minded engineers within Chrysler who worked on fine-tuning vehicles, the SRT badge is now applied to the brand's high-performance specialty vehicles.
Vehicles are made of thousands of parts, often with a compromise between performance, fuel efficiency, emissions, durability and price. These engineers spent time working on performance parts for the various SRT models, adding turbochargers, upgraded exhaust systems, larger fuel injectors and better shocks and struts paired with lowering springs while even improving the brakes and tires. The resulting SRT vehicles are the pinnacle of the model: a faster, better handling, quicker stopping, fire-breathing hot rod compared to the base version. Primarily found on Dodge vehicles today, the badge also found its way onto Plymouth, Chrysler and Jeep models.
The SRT badge alone lets you know there's more performance under the hood, but the individual badges on each model also provide additional information. The figure after the SRT label indicates the number of cylinders in the engine. An SRT-4 means an inline four-cylinder engine packing extra horsepower; SRT-6 is a V6, while SRT-8 is a V8. The SRT-10 is as large as it gets, packing the manufacturer's V10 engine. While the Neon SRT-4 in 2003 was the first vehicle with the official name, SRT's roots go back nearly a decade and a half before that hot rod compact.
SRT history
While SRT is mainly a 21st-century brand, its origins go back to 1989. At the time, Chrysler wanted to build an outrageous performance supercar that would generate hype and increase brand reputation and sales. Chrysler assembled a small team of performance-minded engineers who built what would become the 1992 Dodge Viper.
It's easy to forget what a sensation the Viper was 30 years ago. With a gigantic eight-liter V10 engine producing 400 horsepower, the Viper was the most powerful car made in the United States. The closest competitor, the Chevrolet Corvette, made 250 horsepower that year. The Viper looked as subtle as a Dwayne "The Rock" Johnson movie and was just as explosive, going a still-impressive 0-to-60 mph in 4.5 seconds and a respectable 13.2 seconds in the quarter mile. Three decades ago, those numbers were bananas.
The success of Team Viper encouraged Chrysler to take other risks, and soon the group merged with the newly-formed Team Prowler to build exciting vehicles of the future. The combined effort received a few name changes, including the accurate-but-boring Specialty Vehicle Engineering and the slightly better Performance Vehicle Operations, before settling on the SRT label in 2004. What does SRT stand for? The current production vehicles illustrate the SRT group's single objective: performance.
Current Dodge SRT vehicles
While several vehicles previously carried the SRT badge, only four feature it today. While the Ram TRX is an awesome truck, it's not technically an SRT model. If you're shopping for a new ride with punch, check out the current SRT lineup.
Dodge Challenger SRT Super Stock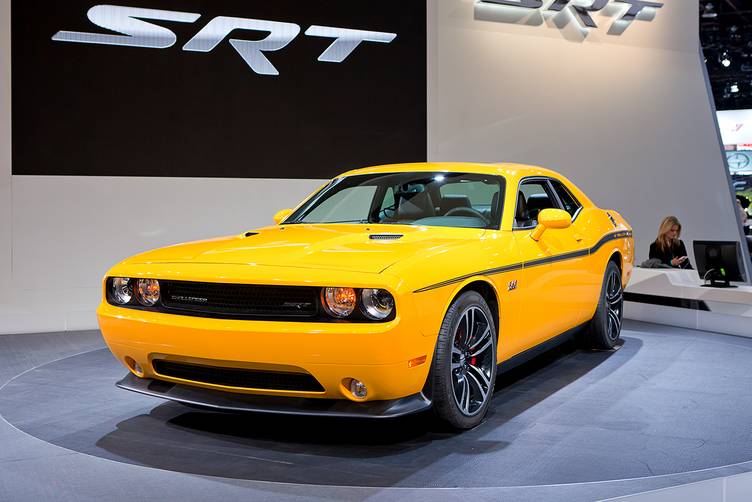 The big coupe with classic muscle car looks is packing way more firepower than a 1960s model. If the Ford Mustang and Chevrolet Camaro lean too far into the sports car segment, the Challenger, a dedicated muscle car built for speed and comfortable highway cruising, is your ride. Note that your "base" Challenger SRT is "only" 707 horsepower. The Redeye package adds 90 horsepower, and the drag strip-ready Super Stock gets another 10.
0-to-60 mph: 3.3 seconds
Quarter mile: 10.5 seconds
Horsepower: 807
MSRP: $81,945
Dodge Charger SRT Hellcat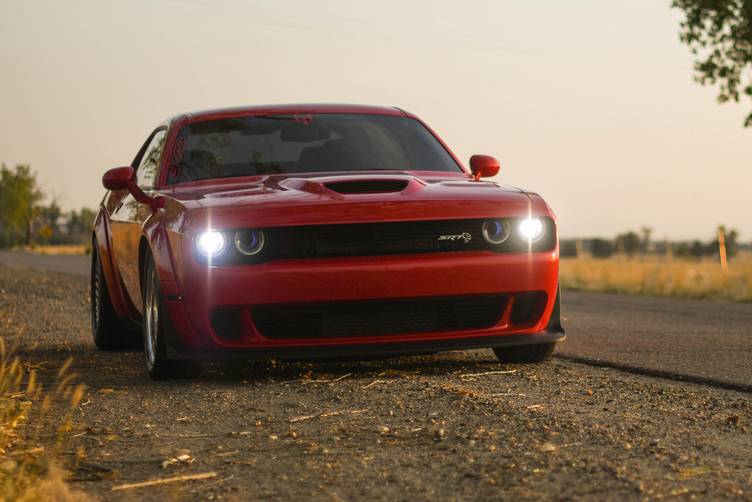 Take SRT and Hemi performance and add four doors and you get one of the ultimate performance sedans. That's not an exaggeration either, as this super sedan tops out over 200 mph.
0-to-60 mph: 3.5 seconds
Quarter mile: 10.6 seconds
Horsepower: 797
MSRP: $80,945
Dodge Durango SRT Hellcat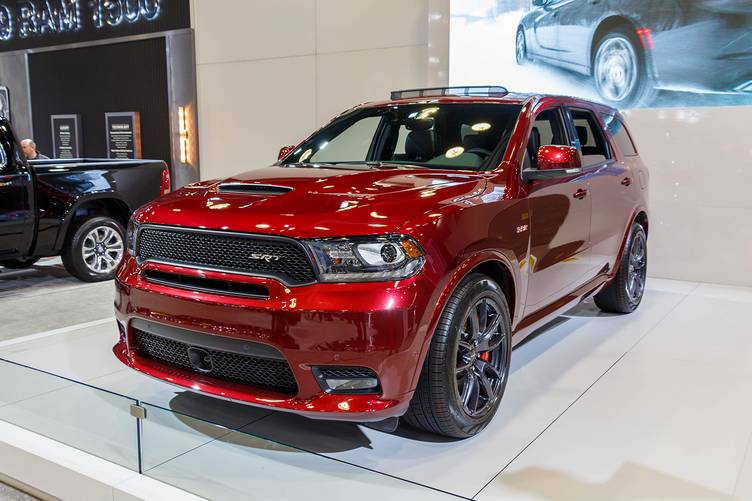 Need to quickly haul a lot of stuff ? While most SUVs in this class have V6 or V8 engines, Dodge provides the fun for your practical ride with the SRT Durango. It has all-wheel drive and can tow 8,700 pounds, so you can tell your spouse it's a totally practical SUV.
0-to-60 mph: 3.5 seconds
Quarter mile: 11.5 seconds
Horsepower: 710
MSRP: $80,995
Jeep Grand Cherokee SRT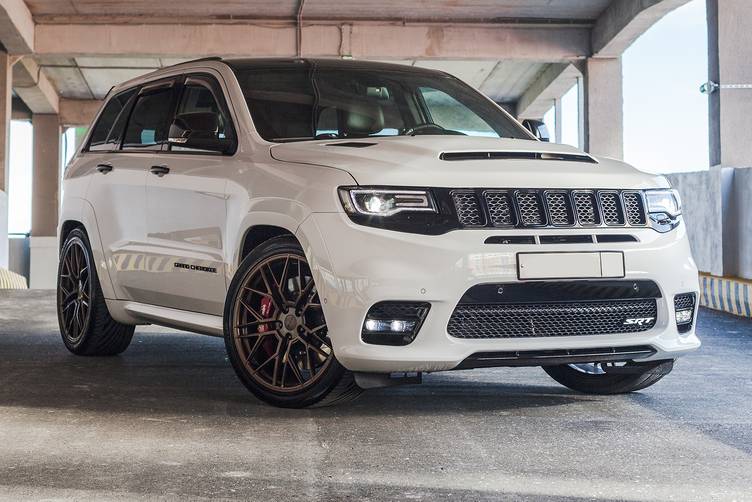 Maybe you're more of a Jeep person. You can't currently get a Wrangler SRT, but check out the Grand Cherokee SRT. The 2006 Grand Cherokee SRT-8 was one of the first modern performance SUVs, with 420 horsepower and all-wheel drive. The second generation dropped the "8" from the name and raised the power but took second place in the Cherokee lineup to the 707 horsepower Trackhawk.
0-to-60 MPH: 4.4 seconds
Quarter mile: 13.0 seconds
Horsepower: 470
MSRP: $69,860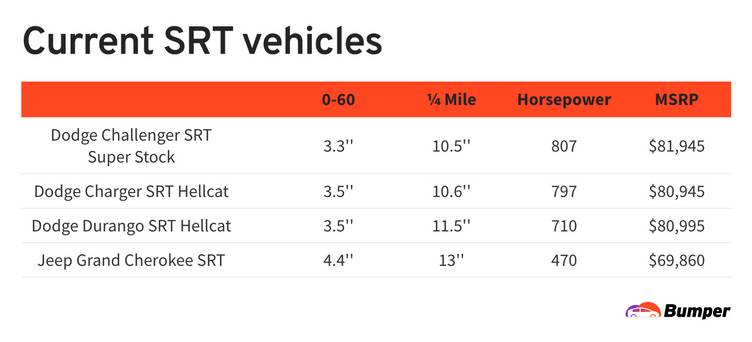 Past SRT vehicles
Think new vehicles are priced too high? We get it, and fortunately there are several previous SRT models to choose from, spanning compacts to trucks. You can likely still find many available for sale used today. Here are the SRT's previous models.
Dodge Neon (2003-2005)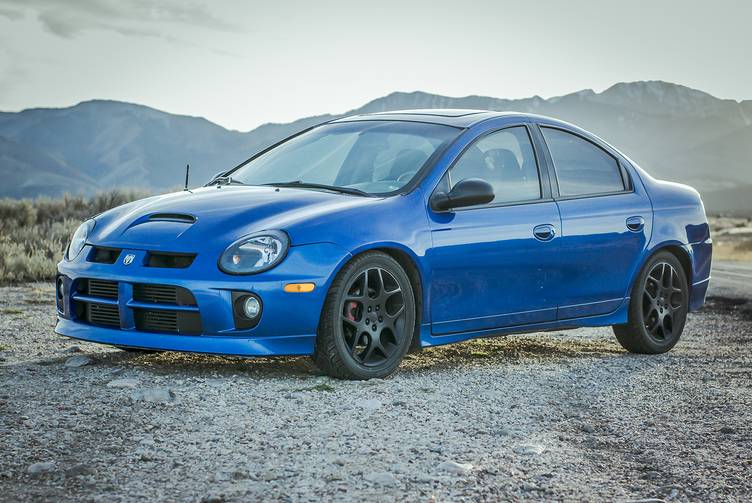 The humble and compact Neon sedan had a reputation as a cheap and friendly car, with goofy commercials where the car smiled at you and said hi. SRT turned those teeth into fangs with the Neon SRT-4. A turbocharger boosted power to 215 (and the next year to 230), dropped the 0-to-60 time to 5.3 seconds and helped the Neon win the sport compact wars 20 years ago.
Dodge Caliber (2008-2009)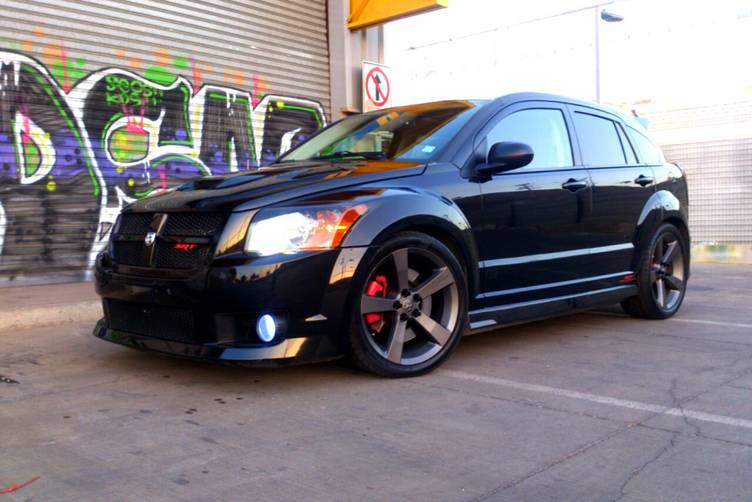 While the lightweight Neon made for a fun compact car, its replacement, the Caliber SRT-4, featured a similar drivetrain in a chunky and heavier body. High boost pressure forgives many sins, and the improved 2.4-liter engine crushed out 285 horsepower. Zero-to-60 mph in 5.9 seconds and a quarter mile in 14.4 seconds made this the quickest box on the road.
Dodge Viper SRT-10 (1992-2017)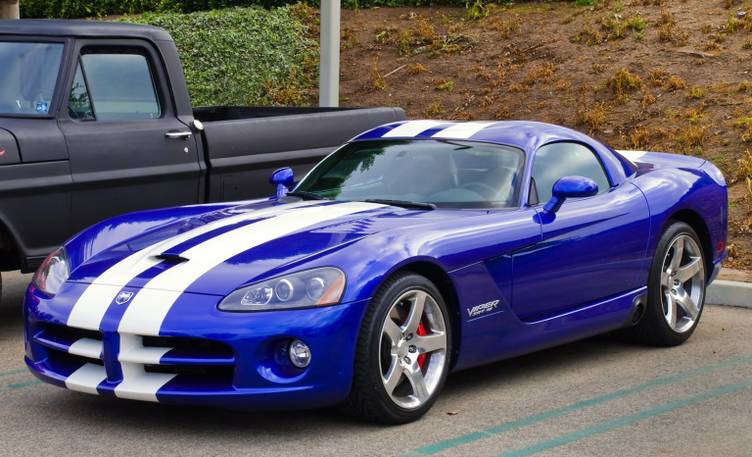 Originally making just 500 horsepower in 2003, Dodge decided the SRT-10 wasn't fast enough and kicked it up to 600 horsepower for 2008. The last generation Viper dropped the 10 to become the very fitting Viper SRT, with 645 horsepower and a 0-to-60 run in a whiplash-causing 3.5 seconds.
Chrysler 300C SRT-8 (2006-2014)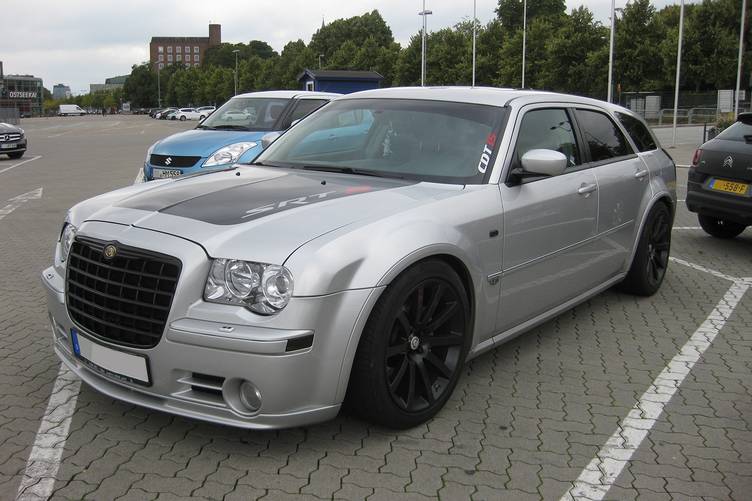 Chrysler introduced the 300C in 2004, instantly gaining street cred and appearing in hip-hop videos. The next year's SRT-8 turned the big car into an unusual muscle luxury sedan, like a weird mix of Notorious B.I.G. and Conor McGregor. Packing a 6.1-liter Hemi V8 engine making 425 horsepower, the big sedan goes from classy to sassy in 4.7 seconds on its way to a 13.2-second quarter mile. Think of it as a 2005 Pontiac GTO with more doors and interior space.
Chrysler Crossfire SRT-6 (2005-2006)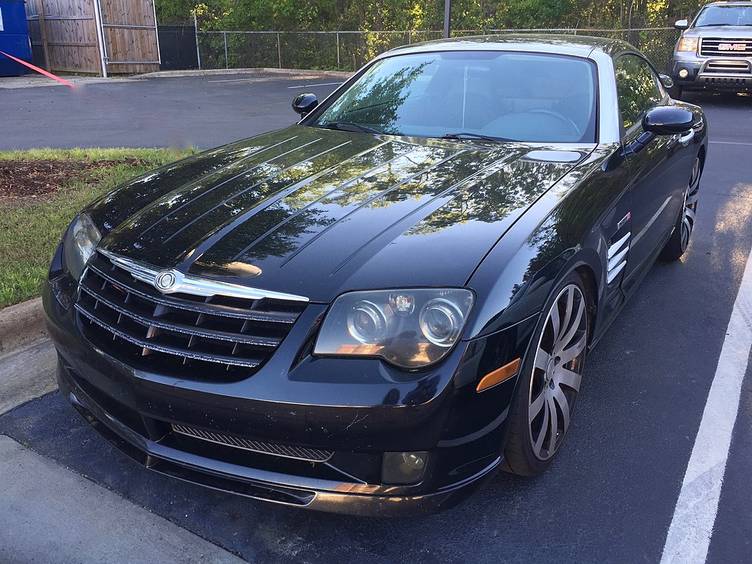 Here's something different. Are you searching for art deco looks with Mercedes parts underneath on a vehicle available at your local Chrysler dealer? You need a Crossfire! The SRT-6 improves the suspension and adds exterior bits, but the big news is under the hood in the form of a supercharger. The 3.2-liter V6 makes 330 horsepower, which, combined with the Toyota Supra-like weight of 3,200 pounds, makes for a fun ride. Zero-to-60 passes in 5.1 seconds on the way to a 13.5-second quarter mile, equivalent to a same-year Mustang GT.
Dodge Magnum SRT-8 (2006-2008)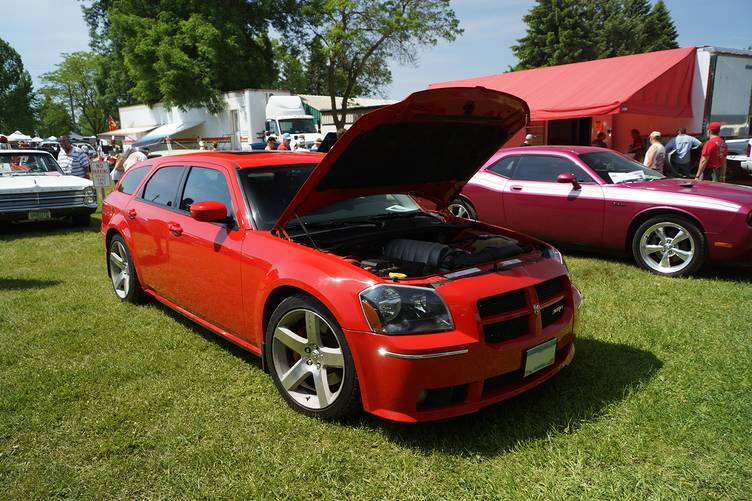 Dodge was throwing high-power V8s into everything back in 2006, including wagons. Essentially a cousin of the Charger and 300C, the Magnum's trick was its huge storage capacity in the rear. Like the Crossfire, the Magnum in SRT trim was good for 5.1 seconds to go from 0-to-60 mph, and a mid-13-second quarter mile. That's impressive for a pony car of the era and really good for something that can haul 20 bags of mulch.
Dodge Ram SRT-10 (2004-2006)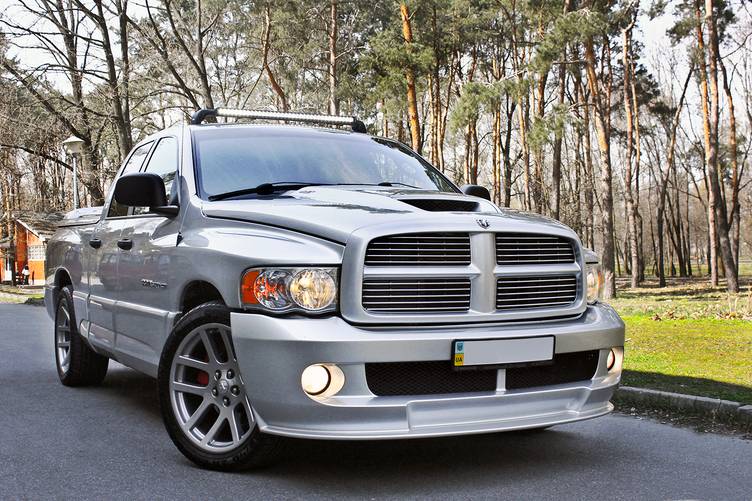 The Viper's V10 was actually affordable to make because it used the same casting as the Ram Heavy Duty's engine, which came into use in the early 1990s. That was a low-output truck engine meant for towing, but SRT engineers realized the Viper version could drop right in. Thus, the Viper truck. Five-hundred horsepower means you can tow 7,000 pounds, and the truck tops out over 150 mph—but please don't try to do both at the same time. This truck also gets just nine miles per gallon in city driving, so prepare to pay up if you plan to use it as your daily driver.
Do other brands make SRT cars?
Because SRT is an FCA trademark, no manufacturer other than Chrysler is allowed to make vehicles with SRT badges. Although nothing is stopping you from putting SRT badges on a Toyota Prius, people will know they're not legitimate.
However, auto manufacturers over the past 30 years considered an in-house performance division a great idea. If you're looking for an SRT car from another manufacturer, here are the equivalent badges to look for.
Ford SVT
The SVT brand brought upgraded parts and models to Ford's cars and trucks.
· Focus: With only 170 horsepower, the Focus SVT was fun but couldn't match the Neon SRT-4.
· Contour: Smaller than a Taurus, the Contour SVT brought Europe's Mondeo to the US, with excellent handling and 200 horsepower from a 2.5-liter V6.
· Lightning: Before the Raptor, Ford built a street truck predating the Ram SRT-10. While Ford's 5.4-liter V8 couldn't match the V10, a supercharger helped get up to 380 horsepower.
· Cobra: From 1993-2004, the ultimate Mustang wasn't the GT500. The Cobra varied in performance, starting at 235 horsepower and ending up well past 390 in the Terminator.
Pontiac GXP
Toward the end of the Pontiac brand's existence, General Motors experimented with adding horsepower, suspension and exterior upgrades to most of its cars. That made them better but wasn't enough to save Pontiac.
· G6: The G6 GXP gained a 3.6-liter V6 with 255 horsepower and that's all you can really say about this rental car.
· G8: The G8 GT was a nice ride in standard trim, but the GXP added a 415-horsepower, 6.2-liter V8 and upgraded suspension and included massive brakes.
· Solstice: This strange little competitor to the Miata brought way more firepower than the Mazda could handle. A turbo 2.0-liter I4 sent 260 horsepower to the rear wheels, making this a baby Corvette.
Cadillac V-Series
Cadillac introduced the V-Series cars as an answer to growing sales (and profits) among the Mercedes AMG and BMW M performance divisions.
· CTS-V: A big Corvette-derived V8 stuffed into a classy mid-size sedan, the 2004 edition had 400 horsepower, while the 2019 version had 640.
· STS-V: The STS was the large car grandpas drove. The V gained a 469 horsepower supercharged 4.4-liter V8 with a 0-to-60 quick enough to rattle dentures.
·ATS-V: As Cadillac's first serious BMW M3 competitor, the compact ATS-V packed 464 horsepower into a 3.6-liter V6, good enough for a sprint to 60 mph in 3.7 seconds. Still, it lacks the visual attitude of SRT vehicles.