Ask most car buyers what the difference is between a coupe and a sedan, and they'll probably say coupes have two doors and sedans have four. They would be wrong. Sure, those are the current marketing terms for two-door and four-door cars, but the real definitions behind coupe or sedan pre-date the automobile.
What is a sedan?
A fancy box with a chair in it was the first sedan, which was widely used in 17th century Europe by the upper class to get from point A to point B. Being carried by two chairmen was a popular mode of transportation to navigate narrow streets, mud, poor sanitation conditions and alas, excrement, but sedans disappeared as cities became too large to easily traverse in the mid-19th century.
When people gave up horses for cars, manufacturers stuck with the familiar label and applied it to the modern car. Technically, "sedan" means a car with a fixed roof (as the first cars were convertibles), and 33 square feet or more of passenger space in the back. Most larger cars have four doors and coincidentally have plenty of space in back, so manufacturers didn't bother explaining it and gradually convinced the buying public that "sedan" equals "four doors."
What is a coupe?
This name, "coupe," also pre-dates the car, with the name originally applied to horseless carriages with just two seats. These looked like the back half had been chopped off, hence the French word "coupé," translating to English as "chopped off" or "cut." These carriages were lighter than the big four-door versions, and probably the sports cars of their day. When automobiles replaced carriages, the definition carried over since it translated well. Car buyers liked that the coupe was cheaper than the sedan, and considered safer for the kids in a pre-seatbelt era.
Today, a modern coupe also features a fixed roof, but offers less than 33 square feet of space behind the front seats. Most two-door cars are limited in rear cargo space, so most two-door cars naturally are coupes. This became so prevalent that car shoppers assumed all two-door cars are coupes. They are unusual, but four-door coupes and two-door sedans exist.
Sedan vs. Coupe: Practical Differences
All the history and trivia aside, you're probably still looking for the real-world differences between coupe and sedan styles. Here's a closer look at the practical differences.
Coupe vs. sedan: Doors
Back to the doors. Tautological definitions aside, most coupes do have two doors, while sedans have four. Most of the time this is just a style preference, until you need to have a friend sit in the back or load a car seat. Ingress and egress are simply easier when everyone has their own door.
Sedan vs. coupe: Seating
Open a rear door on a Honda Accord (sedan) and you'll see seating available for three passengers. Have a look at the back seats of a Subaru BRZ (coupe), and there are only two seats. Sedans generally maximize seating with a small middle seat, while coupes lack interior room and don't even pretend to have room for three, sticking with two seats in the back. Sports coupes sometimes do away with rear seats entirely, examples being the Nissan 370Z and Chevy Corvette.
Coupe vs. sedan: Body style
Have a look at the current Honda Civic. It's available in coupe or sedan (or hatchback) body styles. The coupe looks sleeker, thanks to a shorter roofline and smaller rear windows, giving a more aerodynamic and sporty appearance. Notice that the doors start at the same place in the bodywork, but the coupe has longer doors and glass up front, so the b-pillar (where the driver's door meets the bodywork) is farther back. This means the driver's sightlines, what you can see from the driver's seat, differs from coupe or sedan, even in the same model.
They aren't just externally different, but will feel slightly different when driving. These differences are common across manufacturers. Car designers assume, probably correctly, that since a coupe buyer isn't planning on using the car to shuttle a family around, they're more interested in a sportier look and feel.
Sedan vs. coupe: Performance
This question mattered more 50 years ago, when lighter coupes usually offered higher-performance engines to back up the sporty looks. Today, auto makers seem to offer the same engines and transmissions in either coupe or sedan styles. Look to the Infiniti Q50 sedan and Q60 coupe as an example, with both styles offering the same 400 horsepower turbocharged 3.0L engine.
If the coupe version of a given model comes in a little lighter than the sedan, then you may realize some nominal performance gains. But they aren't intentional, and shouldn't be a motivating factor in your decision.
Coupe vs. sedan: Gas mileage
This question is less relevant today than in the past. A coupe used to be lighter and more aerodynamic than a sedan, which helped it reach slightly higher fuel economy numbers. Using the above Civic and G50/G60 coupe and sedan as examples, both versions are equal in MPG, according to fueleconomy.gov, while a 20-year-old Chevy Cavalier sees the sedan hit 1 more MPG in the city. Don't use gas mileage as a deciding factor here.
Sedan vs. coupe: Cargo space
If you're looking to maximize your interior space, the sedan is where it's at. Taking a step back 10 years, the Chevy Cobalt delivered more rear seat room in the sedan, and slightly more legroom for front passengers in the coupe. Sedans win here due to their increased headroom and overall larger interior volume.
Coupe vs. sedan: Safety
The National Highway Traffic Safety Administration provides useful crash-test information for comparison. The NHTSA shows the Civic coupe as receiving the highest score of five stars. They also tested the same generation sedan, which also earned five stars, so a safe car is safe regardless of body style. There is a thought that the sedan's extra b-pillar in between the doors could be providing more side-impact protection, but really you should shop for the modern safety features you want.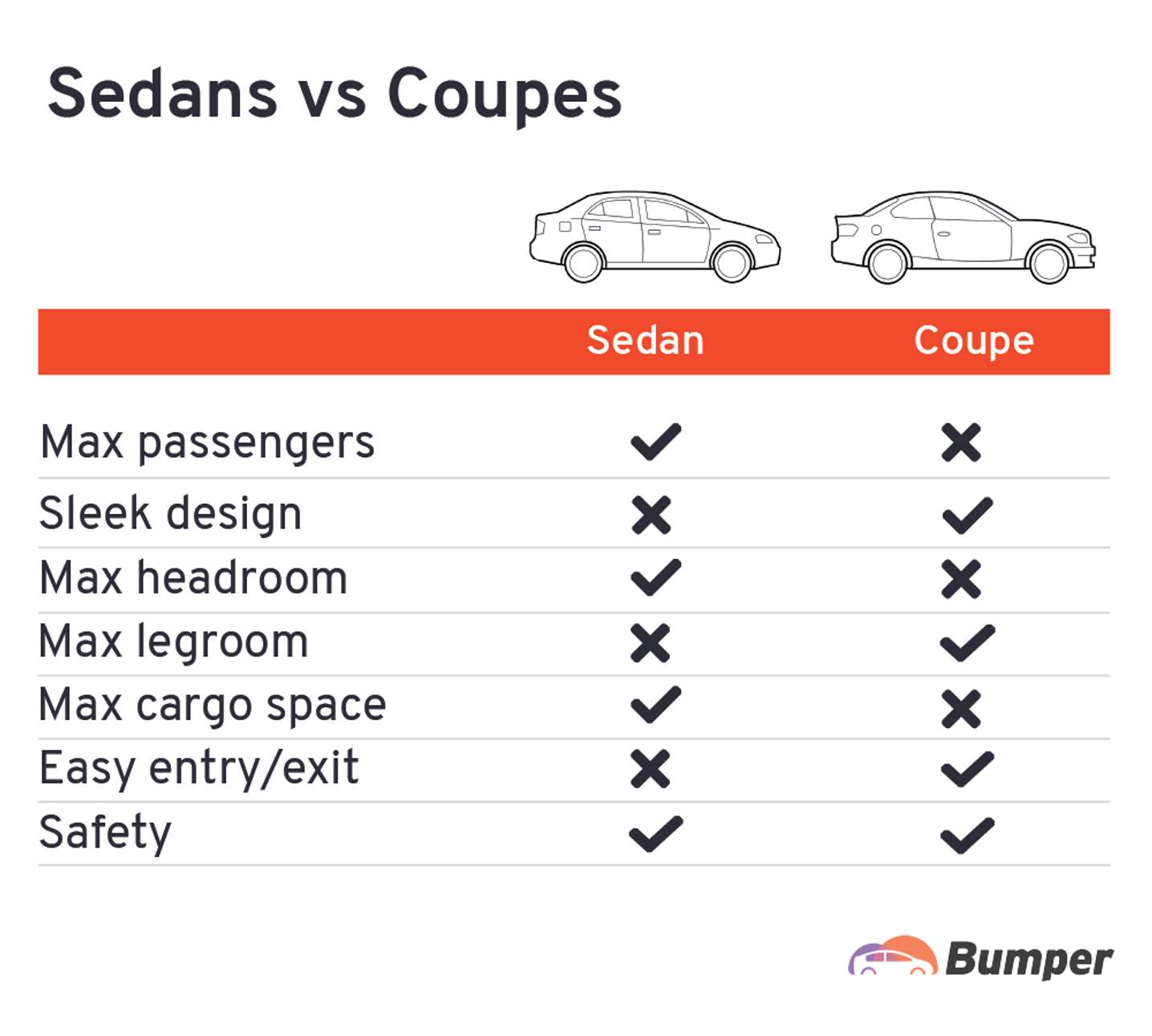 Coupe or Sedan: Which one is right for you?
Still undecided? Here's the quick version that should help you figure out which one should be your next ride.
A coupe is probably your ideal ride if:
You drive alone or bring only one passenger.
You highly value a sleeker-looking exterior.
The coupe you're looking at has an ideal cargo space that fits your lifestyle, such as the Toyota 86's ability to carry sport tires to the racetrack.
You need the extra front legroom for tall passengers.
You like the sightlines of the coupe you are interested in.
A sedan is probably the better choice if:
You regularly park in compact spaces or parking garages where shorter doors offer easier entry/exit.
You or a regular passenger have mobility issues, as a sedan is usually easier to enter and exit.
The sedan's cargo ability fits your lifestyle, such as golf bags fitting in the trunk.
You drive for a rideshare service, or have considered it.
Tall kids will appreciate the rear headroom of a sedan.
You like the sightlines of the sedan you are interested in.
Coupe vs. Sedan: Your call
What is the final verdict, do you likely need a coupe or sedan? Both body styles offer a different experience for car buyers. If you haul passengers often, you probably want to consider the sedan. If you want the front legroom or prefer the two-door look, you may want to go for the coupe. With that decision out of the way, you've narrowed down your vehicle choices and are one step closer to the perfect ride.