A few years ago, the Toyota Camry lost the title of best-selling car in the United States. The car that replaced it as sales king? The car-based Toyota RAV4. Selling a massive 448,000 vehicles in 2019, the RAV4 is the most popular CUV on the road. Despite strong sales, buyers still face some confusion on the SUV vs CUV choice. While there is some clear overlap, there are also huge differences. Let's break it down so you know which is perfect for you.
Looking at a used car? See if there's anything in its history you'd want to know about beforehand with a VIN Lookup – run 50 vehicle searches per month with a Bumper subscription!
What is an SUV?
You probably already know SUVs are sport utility vehicles, with the "sport" meaning off-road potential, and the "utility" referring to work capability. An SUV is traditionally a body-on-frame design, like a full-size pickup, where the cabin and exterior body parts are a separate unit bolted to the frame containing the suspension and drivetrain components. It's built like this for toughness and durability, to withstand the work demands of heavy cargo and multiple passengers and solid ground clearance for heading up logging roads or out to an oil rig.
Like pickups, SUVs were initially only popular for work or off-roading enthusiasts, but as comfort and convenience features increased in the early '90s, drivers traded in their minivans for the same passenger capacity in tough-guy SUV form. Popular early SUV examples are the Land Rover Defender, Chevrolet Blazer and Ford Bronco.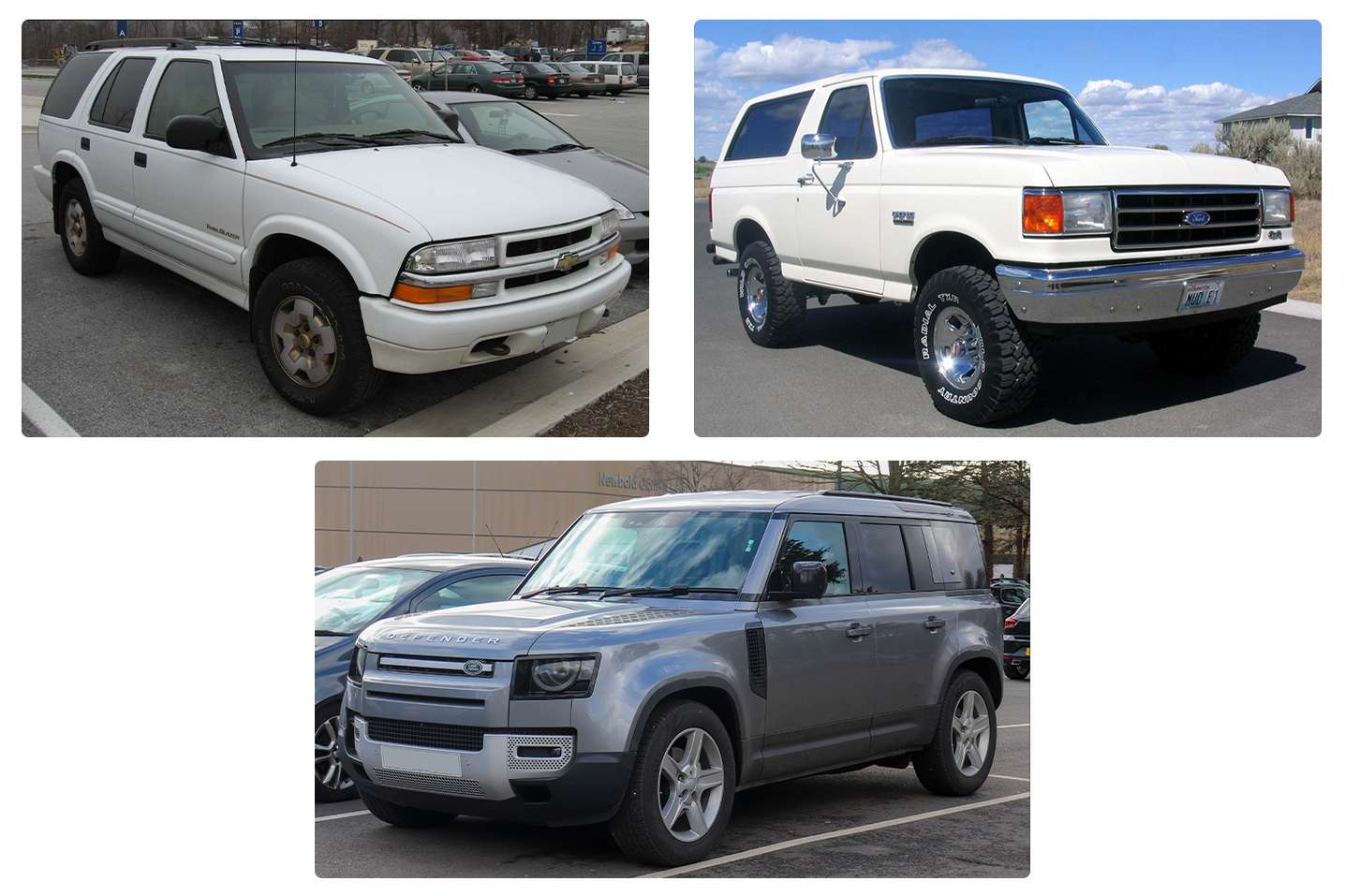 What is a CUV?
A CUV is a crossover utility vehicle, sometimes called a crossover SUV, or just crossover. The name implies that the vehicle is stretching segments, and in a refreshing example of marketing honesty, that's not far from the truth. Traditionally, and unlike SUVs, crossovers are car-based vehicles. This means they are a unibody design, where the body structure acts as the anchor point for the vehicle components, instead of a traditional frame.
Generally, this means crossovers are usually much lighter than SUVs, but also less work-capable. Crossovers blend the fuel efficiency and easy-to-drive handling characteristics of a car, but "cross over" segments to provide more seating and cargo value. But they usually lose ground clearance and towing capability compared to SUVs. Crossovers gained steam in the late '90s, with popular models like the Toyota RAV4, Subaru Outback and Ford Escape.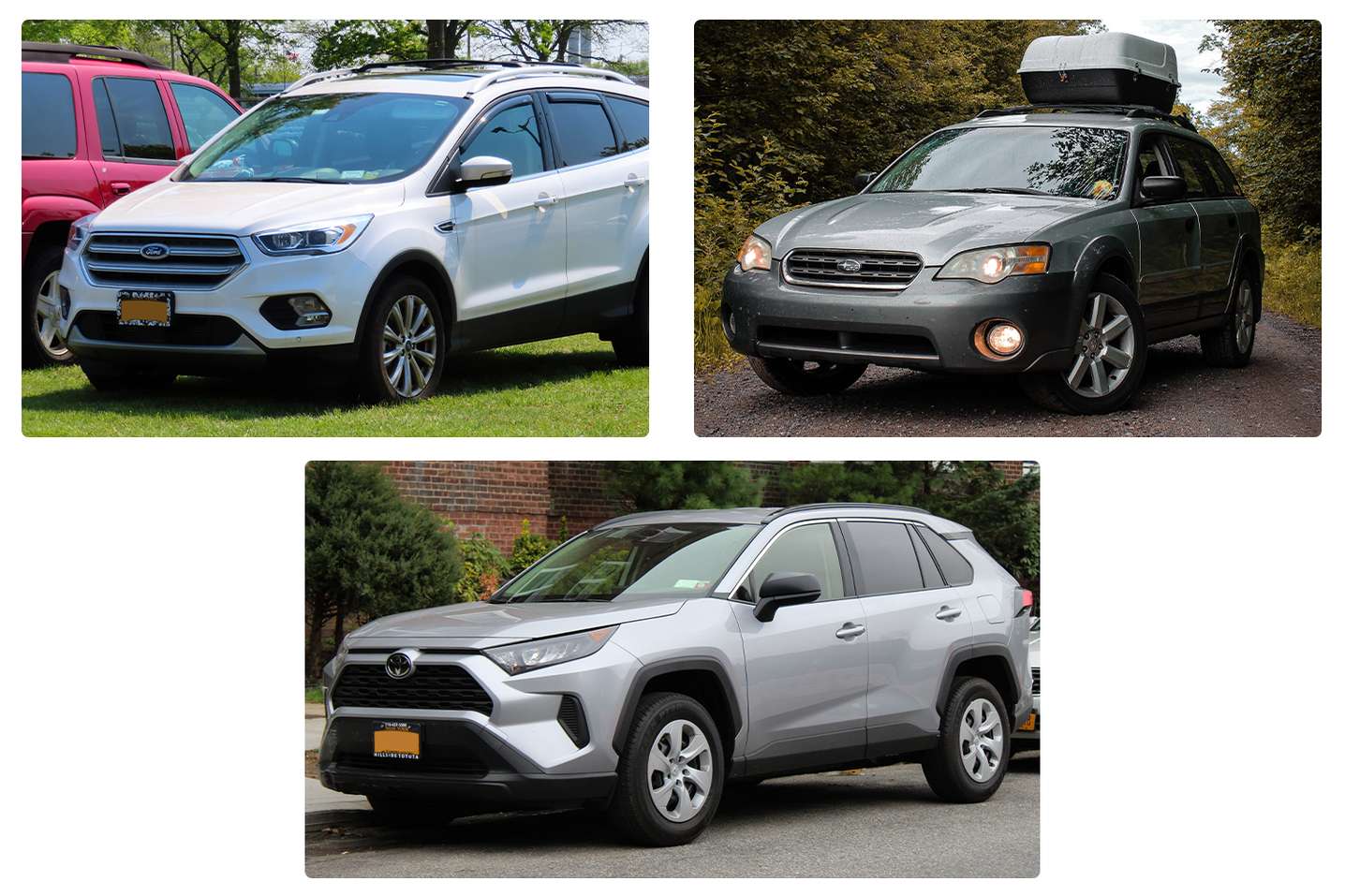 SUV vs. CUV: Understanding the differences
The CUV vs SUV debate depends on what you're really after in a vehicle. The marketing isn't always clear, with some traditional SUVs selling an image of luxury (Cadillac Escalade), while some crossovers reach for heavy hauling (Porsche Cayenne) and even off-roading (Jeep Renegade). Even some cars, like the Subaru Forester, seemingly defy all categorization. What most buyers want to know is, what is the difference between a crossover and an SUV? Here are a few of the highlights.
SUV vs. CUV: Chassis
Twenty years ago, the difference between SUVs and CUVs was as big as cable vs dial-up internet. With SUVs always having a body-on-frame design, and CUVs always unibody, the differences were vast. Manufacturers know the body-on-frame design, while work-ready, isn't great for gas mileage—but with ever-increasing gas mileage standards, the unibody chassis design won.
That's why previously body-on-frame SUVs, like the Ford Explorer and Chevrolet Blazer, are now unibody designs, and there's only a dozen or so "real" SUVs left. From the average buyer's perspective, you won't notice much difference, with a unibody design usually offering better fuel efficiency, and less noise, vibration and road harshness in the cabin.
CUV vs. SUV: Engine
Once upon a time, SUVs were all powered by V-8 engines, save for a few oddball outliers that sported a straight-six. When crossovers debuted, they were all four-cylinder engines for the first few years. Today, there's little separation under the hood between CUVs vs SUVs, especially as engines of all types downsize and add turbochargers to chase efficiency. Subcompacts and compacts are all four cylinders. Full-size are usually V-8s in SUVs, and V-6 or V-8 in CUVs. Midsize can be anything from four, six or eight cylinders depending on the brand.
Just know that a larger engine usually means more power, torque and towing ability, with reduced fuel economy. If you really care about the engine size, a larger vehicle generally has a larger engine.
SUV vs. CUV: Cargo space
Cargo space isn't really an SUV vs CUV issue. If cargo space matters to you, then it's not the category of vehicle you should be shopping, but the class size. For example, the midsize Toyota 4Runner SUV has 88.8 cubic feet in back, compared to the midsize Ford Explorer CUV with 87.8 cubic feet of cargo space. Looking for more room? The full-size Buick Enclave CUV offers 97.6 cubic feet while the Chevy Tahoe SUV offers 122.9. If you need lots of space, buy the full-size CUV or SUV that meets your needs. For less space, get the midsize or compact SUV or crossover that you love.
CUV vs. SUV: Passenger room
Here's another area where you want to shop by class, not category. Traditionally, SUVs offered more passenger space, for hauling work crews out to their job site. However, the modern CUV segment is highly competitive, seeing the new Hyundai Palisade, Kia Telluride, VW Atlas, Subaru Ascent, Mazda CX-9 and so on. All of them are crossovers delivering seating in three rows. Keep in mind that SUVs are usually longer, making for more legroom. For example, the Telluride crossover offers a third-row passenger headroom of 38.1 inches, and legroom at 31.4 inches. The Lincoln Navigator SUV delivers almost as much headroom, but plenty of space to stretch with 40.9 inches of legroom.
CUV vs. SUV: Ground clearance
Notice how SUV commercials often portray them blasting across sand dunes, while CUV commercials might show drivers hitting up the farmers market? The main reason for the trail versus street capability comes from the chassis design, with truck-based SUVs claiming superior ground clearance.
The all-wheel-drive Honda HR-V (a CUV based on the Honda Fit) clears 6.7 inches—about 3 inches more than a Chevrolet Corvette's meager 4 inches. In contrast, the Jeep Wrangler (one of the original SUVs) claims 9.7 inches of clearance, making it better suited for scrambling over rocks in Moab or fording small rivers like in Oregon Trail.
SUV vs. CUV: Towing capacity
Got a boat? Or maybe a competition barbecue trailer? No matter what you're towing, a full-size SUV should be able to handle it. Remember the chassis and engine design discussed earlier? That's the key to class-leading towing ability. Since SUVs are built similar to pickups, they can do nearly the same work. A properly equipped Ford Expedition can haul 9,300 lbs, making you ask "Who needs a truck?"
On the CUV side, a Ford EcoSport (based on the tiny Fiesta engine and chassis) is great at sipping gas, but it's tow rating maxes out at 2,000 lbs, meaning it can't even tow another EcoSport. If you'll regularly tow, get the SUV. If you'll tow a bicycle trailer at most, a crossover will be fine.
CUV vs. SUV: Fuel economy
Long gone are the days of the Hummer H2 and Ford Excursion struggling to reach 13 mpg with a tail wind. The gorgeous Volvo XC90 hybrid scores a Prius-like 55 mpge, while the similarly sized (and non hybrid) Ford Explorer maxes out at 29 mpg. While SUVs have come a long way in saving you gas money, crossovers are still the leaders here.
With a smaller, lighter, more aerodynamic design, plus usually a four-cylinder under the hood, 30+ mpg highway is common in the crossover spec sheet. Select the hybrid option—like ones offered by the Ford Escape, Toyota RAV4 and Lexus UX 250h—and you can expect 40 mpg or better.
SUV vs. CUV: Image
"Image is everything" in fashion, but it matters for vehicles, too. If your primary concern is towing or gas mileage, you probably already know which vehicle you need. If you don't care about either, then you get to choose like a freshman deciding on a homecoming date: based on looks.
Blocky, capable SUVs come off as rugged, like a man with a beard wearing cargo shorts. You probably won't pack all eight seats with a hockey team, but then Mr. Cargo Shorts never uses all of his pockets, either—it's all about looking the part.
On the other hand, some see the SUV as wasteful excess, using resources and damaging the environment. By contrast, CUVs are often seen as a smart compromise, playing to the strengths of multiple types of vehicles—but they're also portrayed (perhaps unfairly) as the new style minivan for soccer moms.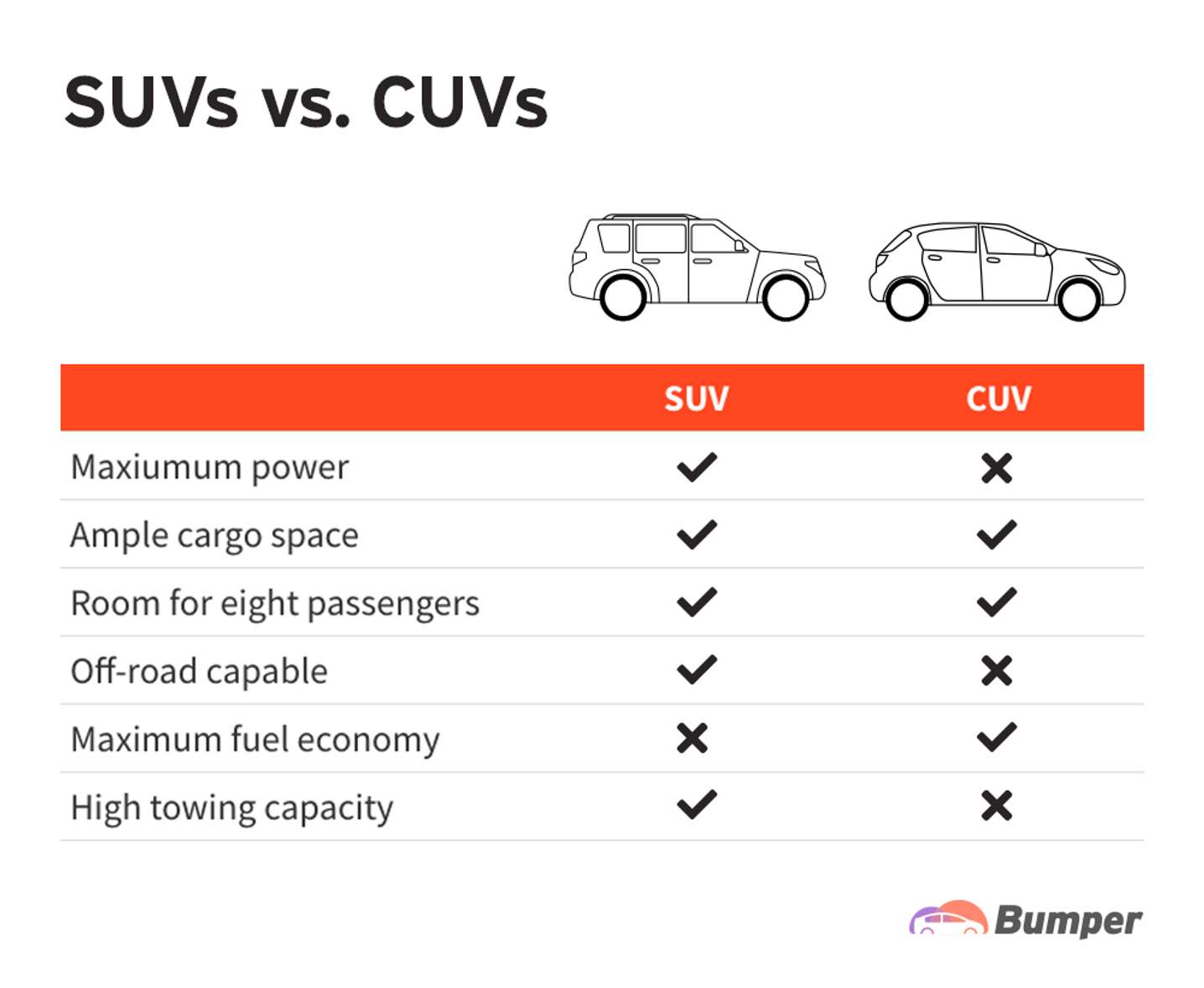 CUV vs. SUV: Which one is right for me?
Like a lot of other choices in life, you should ignore what the crowd says and buy what makes you happy. This makes even more sense with the common segment-mixing happening in the SUV and CUV market over the last decade. They're close to the same thing now, so most buyers should be satisfied with either one. However, to make a final decision, here's the short checklist version.
Buying an SUV might be right if you:
Need a lot of storage space.
Have a lot of passengers that value legroom.
Commonly tow heavy things.
Like to go off the beaten path.
A CUV might be the right choice if you:
Value comfort and quiet over ruggedness.
Demand better fuel economy.
Need sharp city cornering and smooth highway handling.
Don't have many towing needs.
The SUV vs CUV debate is less important as the vehicles become more alike, but the differences still matter to some drivers. If you're one of them, get the vehicle that best suits your needs and you shouldn't have any regrets.