The GMC Sierra has been a mainstay in the pickup market for several decades, serving as the professional grade counterpart to the Chevrolet Silverado. "Professional grade" originally meant options that were designed for the urban contractor, whereas the Silverado targeted rural farmers. As the truck-buying market changed, manufacturers started adjusting their models, resulting in a modern Sierra that is a luxury powerhouse. 
The GMC Sierra is known for its robust performance, comfortable interiors, and a wide assortment of available features, ranging from super useful to wildly out there. A wide range of engines, choice of rear or four-wheel drive, long or short bed length, and multiple cab options define the full-size truck. The truck has been through several generational updates, with its design and features evolving to keep pace with modern standards. Through it all, the Sierra delivers cargo capability, powerful four-wheel drive, huge towing abilities, and an interior worthy of your family. Here's an in-depth look at the Sierra, so you know which one is perfect for your lifestyle.
Get 50 GMC Sierra searches and vehicle history reports per month with a Bumper subscription!
​​​​​Decode a GMC Sierra VIN
Every vehicle has a 17-character Vehicle Identification Number (VIN) that provides details about its specifics. Let's break down what each character in the VIN represents for the GMC Sierra:
Decode a Sierra's VIN and get its vehicle history report right here!
World Manufacturer Identifier (WMI): This indicates the country of origin and the manufacturer.

1GT is a common WMI for GMC vehicles made in the United States.

Vehicle Descriptor Section (VDS):

4th Character (Series/Trim):

K – Sierra 1500
V – Sierra 2500
U – Sierra 3500

5th Character (Engine Type):

A – 4.3L V6
C – 5.3L V8 (Flex Fuel)
J – 6.2L V8
L – 5.3L V8 (Gasoline)

6th to 8th Characters: These typically encode the model and series.

Vehicle Identifier Section (VIS):

9th Character: This is a check digit for validation.
10th Character (Model Year): Encoded annually. For example, M might stand for 2022.
11th Character (Assembly Plant):

Z – Fort Wayne, Indiana, USA
T – Roanoke, Indiana, USA (for certain heavy-duty models)

12th to 17th Characters: These are sequential numbers for production identification.
History of the GMC Sierra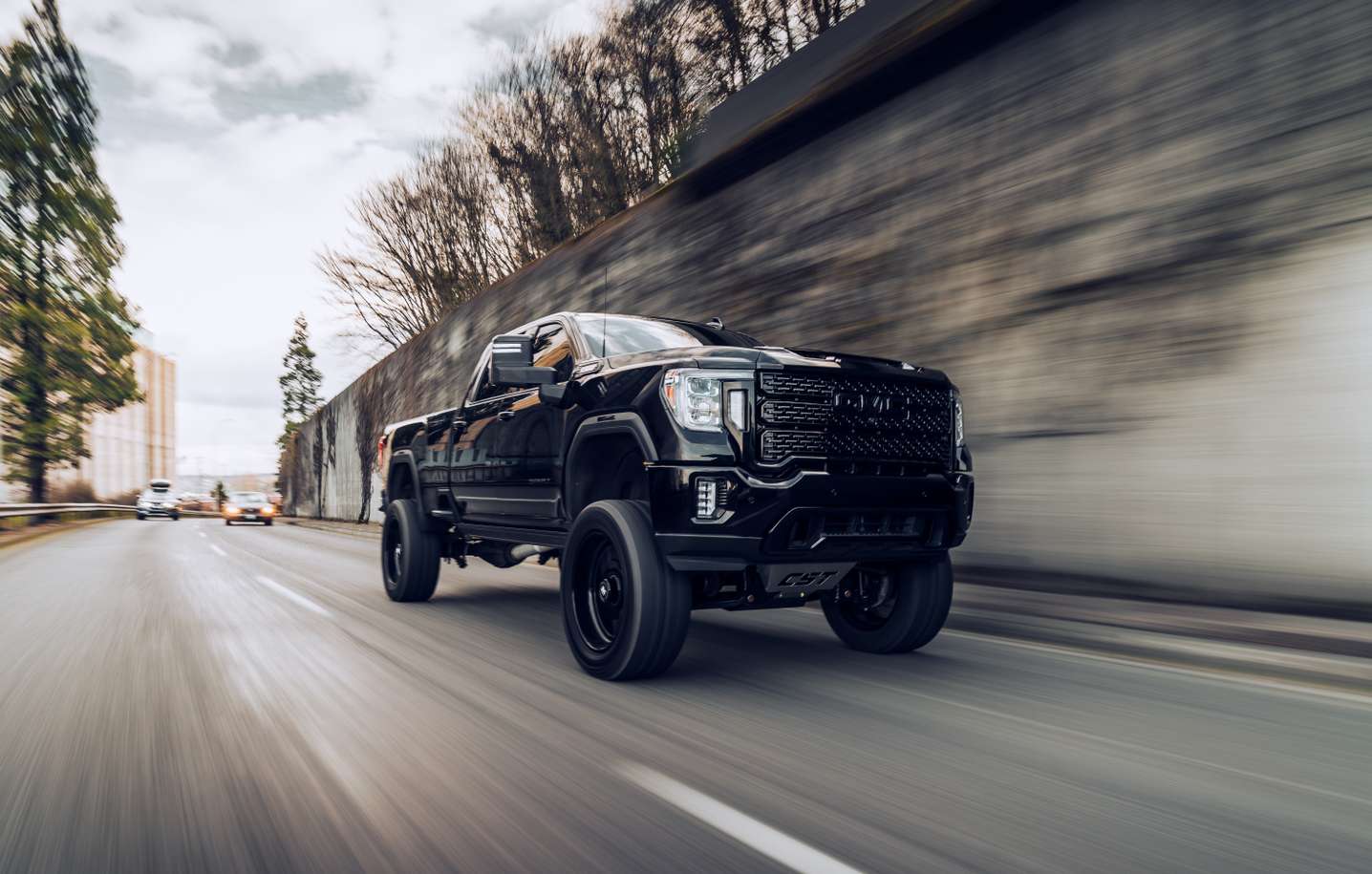 Brandon Woyshnis/Shutterstock.com  
The original Sierra was visually distinctive, thanks to its square body, and four separate rectangular headlights. It came in V6, V8, diesel power, rear-wheel drive or four-wheel drive. The 4.3L V6 still has a solid reputation today, even if under-powered at 160 horsepower. Collectors snub the 5.0L V8, but it is perfectly reliable. The 5.7L V8, modeled on the Chevrolet Camaro, is valued as a powerhouse, especially when paired to a stick shift. The 7.4L V8 is the classic "454" dressed in modern measurements, and provides maximum 230 hp and 385 lb-ft torque. The diesel 6.2L V8 has a laughable 130 hp, but the 230 lb-ft was acceptable for towing, and GMC's real goal was fuel economy, which could hit 20 MPG. It's an interesting design as a mechanical engine. There are no electronics and it still has a fanbase today. 
The first iteration did not cater to the cushy commuter we know today, and offered a single or extended cab. It could seat up to six people if you have the front bench seat and hate your kids, while the single cab seated as few as two with bucket seats. Top-tier SLE trim added such luxuries as cloth seats and carpet, as opposed to base SL, which had vinyl seats and rubber floors. Five-speed manual transmission was standard at all trim levels, with a four-speed automatic an option. Estimated maximum tow rating depends on engine, transmission, and axle ratio, but this first Sierra set the bar high, between 5,500 lbs for the V6, and 7,500 lbs for the diesel. This is a classic truck, great for restoration, as a nostalgic cruiser, or show truck. It's also good as a work truck, if you know the vehicle's maintenance history. 
Second generation (1999-2006)
The Chevrolet Silverado was big news in the summer of '98, debuting for the 1999 model year, and introducing us to the second iteration of the Sierra. You probably noticed the model year overlap, as the previous model Sierra continued to be sold as Sierra Classic at a cheaper price for fleet service. Visually, you will recognize this truck, which looks as if all the corners and sharp angles were rounded off in Photoshop. The '90s aesthetic is strong, but familiar cues like rectangular headlights remain. The biggest news is under the hood, with new engines based on the then-new Chevrolet Corvette's LS1. This brings lightweight aluminum and increased horsepower, as well as, surprisingly, fuel efficiency. 
For maximum towing, look for a Sierra with the towing package. This adds a hitch, trailer wiring, and a transmission cooler. GMC introduced this as a luxury truck we are familiar with today, with leather upholstery, heated front seats, and a stereo system that includes CD and cassette player. The 4.3L V6 is the base engine with 190 hp. A new 4.8L V8 delivers 255 hp, while the most common V8 is the 5.3L, making 270 hp in 1999 and improving to 295 by 2004. Top-of-the-line trims received a 6.0L V8 with 300 hp. Highlights are smooth and reliable drivetrains, roomy and comfortable seats, and a quiet-for-a-truck ride. Note that the early years of this Sierra were not available with four doors. Rear-wheel steering is a rare but cool feature that reduces turning radius. Parts are discontinued, so avoid it if you're not up for the maintenance headaches. This generation truck is probably the best bet for a low purchase price, heavy hauling ability, and modern features.
Third generation (2007-2014)
Sharp lines are back. Recognizable for its modern single-unit headlights inspired by the previous look, with large grille and bumpers. It looks muscular, with a bank vault vibe implying toughness. Four doors were available from the start. What's interesting here is how comfort and utility have improved, with rear windows able to fully retract into the door, and double-hinged rear doors that swing open 170-degrees. Crew Cab models received standard stability control and head curtain airbags. Inside, the dash gained real wood trim, leather is almost standard, but you could still find a bench seat up front. Luxury options included a power sunroof, rain-sensing wipers, a heated washer fluid reservoir, and touchscreen infotainment. 
The base still gets the 4.3L, now falling behind at 195 hp. The 4.8L, 5.3L, and 6.0L returned, with the top-tier Denali trim receiving a 6.2L with 400 hp. Towing varies by the options, with 4,300 on the low end, and 10,500 maxing out the big V8. GMC focused on fuel economy, too, with the V6 and 5.3L able to hit 20+ MPG highway. While previous Sierras had a "dead spot" in their steering, this generation earned praise with its precise steering and well-controlled handling, and confidence-inspiring brakes. If you tow heavy equipment, this will do it. This Sierra is even better as a family truck, quiet, and with the space and features everyone wants.  
Fourth generation (2014-2019)
Called the "gentleman's pickup," this Sierra is recognizable for going to a single projector headlight design, surrounded by prominent LED driving lights and turn signals. The sculpted hood looks aggressive, the wheel arches bulge, and even the front bumper shows off tow hooks. It's a muscly evolutionary design over the previous year. While the interior is the same as the Chevy version, the Sierra swaps painted silver plastic trim with real aluminum trim, with real wood accents for spice on the SLT and higher. New features include a soft-touch dash, HD screens, hill start assist, and more USB ports. Driver assistance technology shows up in force here, mostly an option on the lower trims. Apple CarPlay and Android Auto showed up as options in 2016. A mild hybrid system improves city fuel economy in some 2018 models. 
The 4.3L returns, but is now an aluminum LS-design like the V8s. The 5.3L ate its spinach and now makes 355 hp. This V8 gets better gas mileage than the Ford F-150 with 3.5L V6. This Sierra runs zero to 60 in 6.7 seconds, keeping pace with a same-year Subaru BRZ, but you can also pull 9,600 lbs. EPA-estimated fuel economy is low 20s on the highway (not while towing). Other features, which are now standard, included steering wheel infotainment controls and an 8-inch touchscreen. Even quieter than before, this Sierra makes the case for a luxury pickup. It's also a driver's truck, with plenty of low-end torque, even in the base V6. The brakes have been called sports-car-like, and the handling is composed over any road conditions. Comfortable, quiet, confident luxury. 
Fifth generation (2019-present)
GM really tried to differentiate from the Silverado this time. Wild exterior. Active dampers similar to high-end sports cars, not available in other trucks. Aluminum hood, doors, and tailgate reduce weight and improve MPG. A longer wheelbase than the previous Sierra means more leg room. The new AT4 trim has two-inch suspension lift. The 4.3L has six-speed auto, while the 6.2L has 10-speed. It can tow 12,200 lbs, or put over 2,200 in the cargo bed. New engines include a turbocharged 2.7L four-cylinder, and a 3.0L turbo-diesel inline-six. Not as smooth driving as the Dodge Ram from that year, but better handling, thanks to precise steering and lack of body roll in corners. Huge center console cubby, plus more storage around the interior. Options include heated/cooled front seats, head-up display in the windshield, and blind-spot monitoring.
Looking for a new Sierra? Check out our huge inventory right here!
Conclusion
The GMC Sierra is a reliable and versatile option for those seeking a powerful truck with a touch of luxury. With its range of trims and engine options, it caters to both the casual driver and the heavy-duty hauler. As always, Sierra buyers should use tools like ourVIN Lookup or license plate search, vehicle inspections, and test drives to help ensure they're getting a vehicle in good condition.